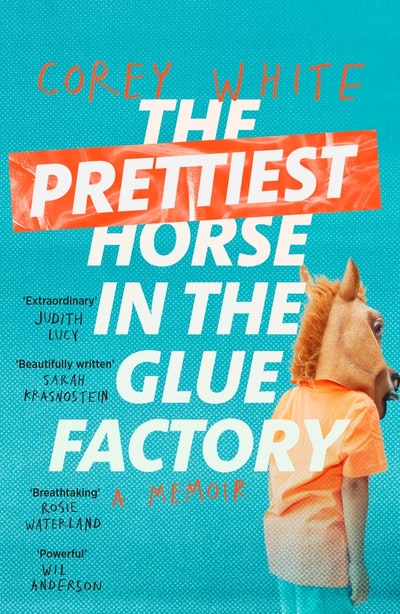 Published:

18 August 2020

ISBN:

9781760899134

Imprint:

Penguin

Format:

Paperback

Pages:

288

RRP:

$22.99
The Prettiest Horse in the Glue Factory
---
---
---
'So beautifully written, so important, so absolutely unflinching as it gently takes you by the hand to show you exactly what the difference is between falling and flying.' Sarah Krasnostein, author of The Trauma Cleaner
Corey White was a golden child. He knew this because his father would hit his mother and his sisters but not him. And his mother adored him so much she let him drop out of primary school.
After losing his father to jail and his mother to heroin, though, he became a target for cruelty and dysfunction in foster homes. A scholarship to a prestigious boarding school lifted him out of foster care and awakened a love of learning and reading for him, but this was soon overwhelmed by a crushing depression and drug addiction.
Through it all, he kept thinking – sometimes hoping, sometimes fearing – that he was destined for something bigger. Would he find salvation in the halls of a university, or a poetically grimy crack den, or through love? Or would the golden glow that had been in him since childhood ultimately fade, leaving only darkness and ruin?
The Prettiest Horse in the Glue Factory is a memoir of trauma and survival that will break your heart and then show you how to rebuild it. It is a powerful, lyrical and darkly funny debut from one of Australia's brightest young comedians.
'Equal parts hilarious and horrifying, Corey's story is one of the most powerful I have ever read.' Wil Anderson
'Look back in anger. Look around in acceptance. Look forward in love. Harrowing, and yet hopeful.' Tim Rogers
Published:

18 August 2020

ISBN:

9781760899134

Imprint:

Penguin

Format:

Paperback

Pages:

288

RRP:

$22.99
Praise for The Prettiest Horse in the Glue Factory
'So beautifully written, so important, so absolutely unflinching as it gently takes you by the hand to show you exactly what the difference is between falling and flying.'

Sarah Krasnostein
'Equal parts hilarious and horrifying, Corey's story is one of the most powerful I have ever read.'

Wil Anderson
'Look back in anger. Look around in acceptance. Look forward in love. Harrowing, and yet hopeful.'

Tim Rogers
'There are so many reasons that I loved this book but one of them is that, while Corey's story is extraordinary, his honesty will make it touch anyone with a heart (and that might be the corniest thing that I've ever written). Just read it.'

Judith Lucy
'A breathtaking memoir that will leave you aching with laughter and sorrow in equal measure. Corey has written a new, essential Australian classic, about the kind of life we don't realise many Aussie kids are surviving behind closed doors. What a spectacular talent. I felt this book in my bones for days.'

Rosie Waterland
Melbourne comedian Corey White's memoir is as compelling as it is brutal. Full of heartbreak with veins of hope and humour, this unflinching roller coaster won't leave you in a hurry.

Megan Miller, Herald Sun
'This memoir is very funny, impossibly sad, and ultimately hopeful. White's story is a damning indictment of drug law, clinical care and, most importantly, of the foster care system, which is portrayed as a breeding ground for professional incompetence, systemic corruption and abuse. The anger and bitterness that drive the early pages are well earned, as is the emotional conclusion of this profoundly moving, harrowing, but hilarious book. This is a story that advocates for a better system, and one that all Australians would do well to read.'

Liam Pieper, The Weekend Australian
Australian Book Industry Awards
Shortlisted • 2020 • Biography Book of the Year
Australian Book Design Awards Longlist Announced
A huge congratulations to Penguin Random House designers Louisa Maggio, Marina Messiha and Tony Palmer, who have all been longlisted for Australian Book Design Awards in 2020. The awards 'celebrate the bravest and brightest, the most original and beautiful books published in Australia', and is administered by the Australian Book Designers Association (ABDA).
Here are our longlisted titles:
Best Designed Children's Fiction Book
Running with the Horses by Alison Lester
Best Designed Children's Illustrated Book
Lights Out Leonard by Josh Pyke
Best illustrated Children's Book
Lottie and Walter by Anna Walker
Best Designed Children's/Young Adult Series
Shout Out to the Girls, High Five to the Boys and Stand Up for the Future
Best Designed Autobiography/Biography/Memoir Nonfiction Cover
The Prettiest Horse in the Glue Factory by Corey White
Emerging Designer of the Year
Louisa Maggio
The shortlist will be announced in April and the winners will be announced at an awards party on 22 May. To learn more about the awards, and to see the longlists for all categories, see the ABDA website.
Article
Comedy therapy
In the wreckage of his childhood, Corey White found a path to self-acceptance.
Article