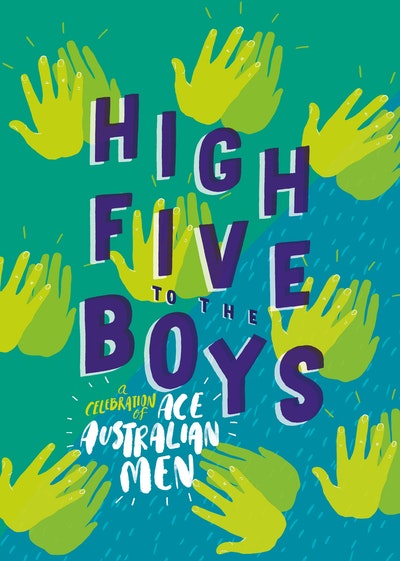 Published:

30 July 2018

ISBN:

9780143791782

Imprint:

Random House Australia Children's

Format:

Hardback

Pages:

224

RRP:

$32.99
High Five to the Boys
A Celebration of Ace Australian Men
---
---
Let's cheer for the men who have done amazing things in Australia's history and for its future!
Australia has some seriously ace men who have broken new ground, stood up for what they believed in, achieved incredible things and defied stereotypes. You'll find some of those men inside the pages of this book – from astronaut Andy Thomas to YouTube maths teacher Eddie Woo, sportsman Johnathan Thurston and dancer David McAllister. Whether they end up being role models for girls or boys, it doesn't matter, because they're ace regardless!
Brought to life by colourful illustrations from Australian male artists, High Five to the Boys is an uplifting and illuminating read for all ages.
Royalties from sales of this book go to The Smith Family.
Published:

30 July 2018

ISBN:

9780143791782

Imprint:

Random House Australia Children's

Format:

Hardback

Pages:

224

RRP:

$32.99
Praise for High Five to the Boys
A great book to read together but if tackling it alone then High Five to the Boys suits 10+ readers, it would also serve as handy reference book or starting point for school assignments. A great addition to the growing collection of books about inspirational role models, this is a must for boys and girls who are curious about these outstanding, fellow Australians.

Better Reading
Whoever they are and whatever their story, each has a clear one-page bio and a portrait by one of Australia's leading illustrators, themselves all men whose work should be celebrated, making this a book that will attract the young reader out of interest rather than just being a resource for "Investigate the life of a famous Australian". It has its place as a kickstart for that sort of inquiry as young researchers are led to learn more about their chosen hero, but more importantly it will affirm and inspire.

Barbara Braxton, The Bottom Shelf blog
Produced by the same team who brought readers the equally wonderful Shout Out To the Girls earlier this year, the format is the same, with short, sharp and well-written biographies accompanied by gorgeous, full-page illustrations by various male artists.

Frances Whiting, Courier Mail
High Five To The Boys presents positive male role models in a wonderfully contemporary and responsible fashion.

Dr Lara Cain Gray, Charming Language blog
A suitable companion to the many books about amazing women published in recent times, it's refreshing to browse a title about men that is so inclusive.

Tina Cavanaough, Magpies Magazine
This one is a book that has been needed for a while now and it doesn't disappoint.

Megan Daley, Children's Books Daily
This format is so very suitable for young readers to dip into with snapshot mini-bio's faced by funky illustrations.

Sue Warren, Just So Stories blog
It is a joy to find a book that celebrates "Ace Australian Men" from the past and present, old and young, who have made constructive contributions to our world and who are worthy of admiration.

John Nolan, CBCA Reading Time
Australian Book Design Awards
Longlisted • 2020 • Best Designed Children's/Young Adult Series
Australian Book Design Awards Longlist Announced
A huge congratulations to Penguin Random House designers Louisa Maggio, Marina Messiha and Tony Palmer, who have all been longlisted for Australian Book Design Awards in 2020. The awards 'celebrate the bravest and brightest, the most original and beautiful books published in Australia', and is administered by the Australian Book Designers Association (ABDA).
Here are our longlisted titles:
Best Designed Children's Fiction Book
Running with the Horses by Alison Lester
Best Designed Children's Illustrated Book
Lights Out Leonard by Josh Pyke
Best illustrated Children's Book
Lottie and Walter by Anna Walker
Best Designed Children's/Young Adult Series
Shout Out to the Girls, High Five to the Boys and Stand Up for the Future
Best Designed Autobiography/Biography/Memoir Nonfiction Cover
The Prettiest Horse in the Glue Factory by Corey White
Emerging Designer of the Year
Louisa Maggio
The shortlist will be announced in April and the winners will be announced at an awards party on 22 May. To learn more about the awards, and to see the longlists for all categories, see the ABDA website.
Article
Teachers' notes