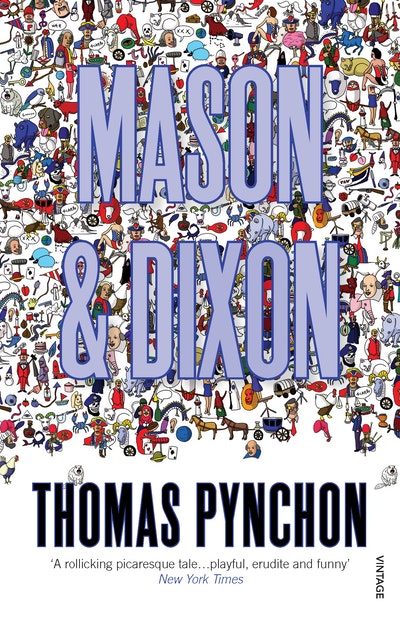 Published:

1 May 1998

ISBN:

9780099771913

Imprint:

Vintage Classics

Format:

Paperback

Pages:

784

RRP:

$24.99
Mason & Dixon
---
---
A hugley ambitious, epic work from this most inventive and creative author.
Charles Mason (1728 -1786) and Jeremiah Dixon (1733-1779) were the British Surveyors best remembered for running the boundary between Pennsylvania and Maryland that we know today as the Mason-Dixon Line. Here is their story as re-imagined by Thomas Pynchon, in an updated eighteenth-century novel featuring Native Americans and frontier folk, ripped bodices, naval warfare, conspiracies erotic and political and major caffeine abuse.
We follow the mismatch'd pair - one rollicking, the other depressive; one Gothic, the other pre-Romantic - from their first journey together to the Cape of Good Hope, to pre-Revoluntionary America and back, through the stange yet redemptive turns of fortune in their later lives, on a grand tour of the Enlightenment's dark hemisphere, as they observe and participate in the many opportunities for insanity presented them by the Age of Reason.
Published:

1 May 1998

ISBN:

9780099771913

Imprint:

Vintage Classics

Format:

Paperback

Pages:

784

RRP:

$24.99
Pynchon's finest work yet...if anyone is still looking for the Great American Novel...then this may well be it

Brian Morton, Scotland on Sunday
A rollicking, picaresque tale... playful, erudite and funny

New York Times
Very grand and mad and beautiful...I can't remember ever having reviewed a more original novel... and if America produces a novel to come near this marvellous, proliferating thing this decade, I promise to eat it

Philip Hensher, Spectator
Pynchon offers readers a trip as long and full of yearning as that of his heroes

New Yorker
A hugely ambitous epic...show cases all of Mr Pynchon's gifts as a writer: his magical abilty to fuse history and fable, science and science fiction; his Swiftean grasp of satire and his vaudevillian's sense of farce. It's a book that testifies to his remarkable powers of invention and his sheer power as a storyteller... as moving as it is cerebral, as poignant as it is daring

New York Times
Achingly funny and infuriatingly erudite, every page so effortlessly well-constructed it made me want to give up writing

Tablet, *Summer Reads of 2021*