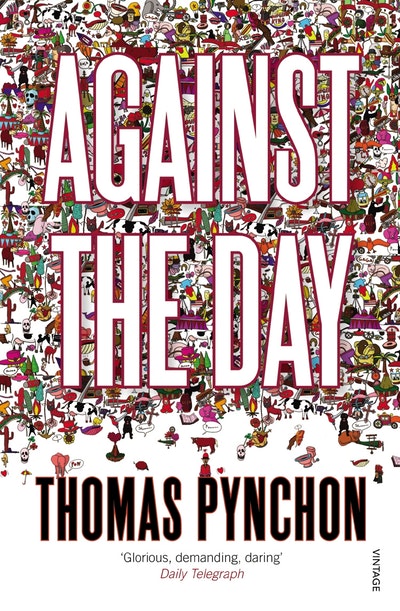 Published:

1 November 2007

ISBN:

9780099512332

Imprint:

Vintage

Format:

Paperback

Pages:

1232

RRP:

$27.99
Against the Day
---
---
'All that is glorious and exhilarating about Pynchon is found here... a mighty novel that will delight Pynchonians and seduce newcomers' - Observer.
Spanning the period between the Chicago World's Fair of 1893 and the years just after World War I, Against the Day moves from the labour troubles in Colorado to turn-of-the-century New York; from London to Venice, to Siberia, to Mexico during the revolution; silent-era Hollywood, and one or two places not strictly speaking on the map at all.
It is a time of unrestrained corporate greed, false religiosity, moronic fecklessness, and evil intent in high places. Maybe it's not the world, but with a minor adjustment or two it's what the world might be.
Published:

1 November 2007

ISBN:

9780099512332

Imprint:

Vintage

Format:

Paperback

Pages:

1232

RRP:

$27.99
Praise for Against the Day
All that is glorious and exhilarating about Pynchon is found here... a mighty novel that will delight Pynchonians and seduce new-comers

David Gale, Observer
A fine example of a successful marriage between the popular and intellectual, between fiction and science... gloriously, demandingly, daringly, Pynchon has rediscovered vulgarity and continues to prove the novel has never been more vibrant, more various or better able to represent our complex world. Give this book your time - you'll agree its worth it

Michael Moorcock, Daily Telegraph
Against the Day is a rollercoaster ride that soars, plummets and often loops the loop.... A fantastic chronicle of how the world came into being... there is a beautifully humane, compassionate energy arcing through the book...Pynchon is the only living American author who unreservedly deserves the Nobel Prize for Literature

Stuart Kelly, Scotland on Sunday
It is a serious book and the finest thing Pynchon has done since Gravity's Rainbow. It should be acknowledged, nonetheless that Against The Day is immensely funny, an intricate, wheezing shaggy dog joke holds you in its grip for a thousand pages. Quite a feat

Tom Adair, Scotsman
Now aged 70 [Pynchon's] astonishing sense of place is undiminished...That such a heavy book should ber such a light-hearted message is one final irony - yet another example of Pynchon's wayward brilliance

Mark Sanderson, Sunday Telegraph
It is brilliant...There's a wonderful gathering tenderness - and Pynchon writes some of the most beautiful sentences you are ever likely to come across

Spectator
Expertly spoofing Victorian pulp and western dime novels, as well as paying tribute to more contemporary genres..the tone is pitched a a generally jaunty angle to the apocalyptic subject matter, and whatever drawbacks of this it certainly keeps the book moving at a good clip

James Lasdun, Guardian
Heart-stopping felicities of description lurk around every corner

Tim Martin, Independent on Sunday
Pynchon can be totally maddening, but he has a great sense of mischief

Douglas Kennedy, The Times
Clever and inventive in a mad professor kind of way...Intermittently warmed by paragraph-long sunbeams of iridescent prose-poetry

Economist
A fast elasticism running from slangy to stately, a voice full of echoes, littered with jokes and songs, and often reaching into a curious tenderness, a tone of laid back elegy.... this amazing writer continues to be amazing, and in much the same way he always was

London Review of Books