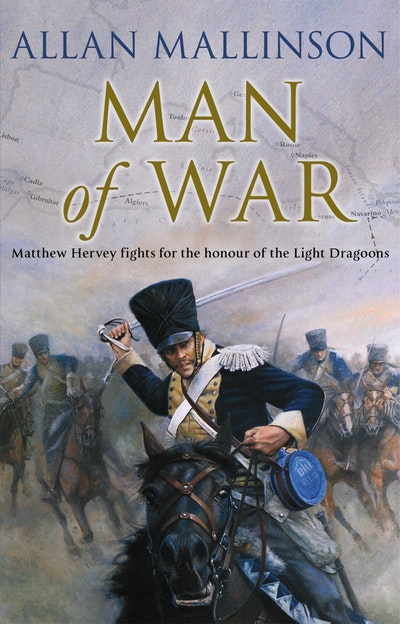 Published:

1 May 2008

ISBN:

9780553816761

Imprint:

Bantam

Format:

Paperback

Pages:

496

RRP:

$22.99
Man Of War
(The Matthew Hervey Adventures: 9): A thrilling and action-packed military adventure from bestselling author Allan Mallinson that will make you feel you are in the midst of the battle
---
---
---
War at sea: Matthew Hervey is set to re-join his regiment in England, while his close friend Captain Peto is at sea preparing his mighty line-of-battle ship for war with the Turks.
Perfect for fans of Patrick O'Brian, Bernard Cornwell and CS Forester, another engrossing Matthew Hervey adventure from the pen of THE SUNDAY TIMES BESTSELLING AUTHOR Allan Mallinson.
"Hervey's thrilling battles against the vivid backdrop of the developing British Empire make for richly engaging storytelling" -- DAILY MAIL
"Captain Matthew Hervey is as splendid a hero as ever sprang from an author's pen" -- THE TIMES
"The heir to Patrick O'Brian and C. S. Forester" -- OBSERVER
"Absolutely brilliant" -- ***** Reader review
"An absolute delight" -- ***** Reader review
***********************************************************
1827: Britain and the Mediterranean
Captain Sir Laughton Peto, recently engaged to Matthew Hervey's sister, is sailing his mighty line-of-battle ship towards Navarino Bay, and war with the Turks.
Six months on, and Matthew Hervey is in London recovering from another bout of malaria and the wound from his battle with the Zulu. All is set for his marriage to the eminently suitable Lady Lankester, and his return to active duty at the Cape.
But trouble lies ahead as familial commitments clash with affairs of the heart and Hervey finds himself embroiled in a military inquiry that could result in public humiliation. As the cataclysmic battle of Navarino Bay looms ever closer for Peto and his crew, Hervey faces a crisis that could change both his life and his military career...
Man of War is the ninth book in Allan Mallinson's Matthew Hervey series. His adventures continue in Warrior. Have you read his previous adventures A Close Run Thing, The Nizam's Daughters, A Regimental Affair, A Call to Arms, The Sabre's Edge, Rumours of War, An Act of Courage and A Company of Spears?
Published:

1 May 2008

ISBN:

9780553816761

Imprint:

Bantam

Format:

Paperback

Pages:

496

RRP:

$22.99
[A] splendid literary cavalry charge. This book finds Brigadier Mallinson at the top of his game. Pitch-perfect dialogue, deeply researched historical references ... well-drawn and moving.

Evening Standard
The climactic battle is as tense, exciting, vivid and gory as we've come to expect for this master of military fiction

The Spectator
Rich in illuminating detail ... from the trivial to the arcane. The sea battle of Navarino is as thrilling as any fought on land by Hervey and the manoeuvres into which Hervey is accidentally drawn are as exciting as any battle.

The Times