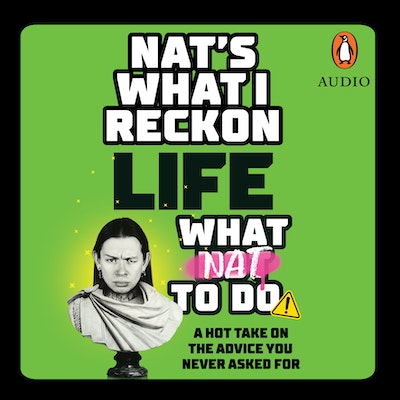 Published:

15 November 2022

ISBN:

9781761049859

Imprint:

Penguin Random House Australia Audio

Format:

Audio Download

Length:

3 hr 46 min

Narrator:

Nat's What I Reckon

RRP:

$32.99
Life: What Nat to Do
A hot take on the advice you never asked for
---
---
---
Free yourself from crappy clichés telling you how to live your life.
Forget what you should do.
This is what NAT to do.
Some advice suits certain people more than others.
Some advice is . . . redundant waffle.
And Nat's What I Reckon refuses to let it slide! Ya see, Nat's got a loud mouth and a taste for taking the piss out of stuff – it's how he lives, laughs and loves.
Now, his target's the tired old life advice he's had enough of:
Man up. Good vibes only. No pain no gain. Carpe diem.
What a punish!
Nat has zero qualifications as a philosopher or life coach, and he doesn't feel like becoming one anytime soon. But as someone who has struggled to find the ray of positivity in most days of his life, he knows what it's like to feel the relief from a moment of joy.
So buckle up for Nat's unrequested take on pushing back against expectations and rolling through life with some laughs and kindness like a real, righteous ratbag!
Published:

15 November 2022

ISBN:

9781761049859

Imprint:

Penguin Random House Australia Audio

Format:

Audio Download

Length:

3 hr 46 min

Narrator:

Nat's What I Reckon

RRP:

$32.99
Australian Book Design Awards
Longlisted • 2022 • Best Designed Non-Fiction Book
Australian Book Design Awards
Longlisted • 2022 • Best Designed Series Covers
Australian Book Industry Awards
Shortlisted • 2023 • Audiobook of the Year