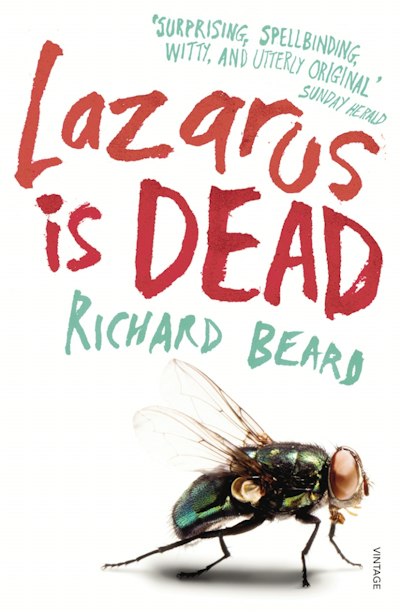 Published:

3 October 2011

ISBN:

9781446468227

Imprint:

Vintage Digital

Format:

EBook

Pages:

272
Lazarus Is Dead
---
---
---
Meet Lazarus: hero of the best story ever told about second chances. A novel like no other about a life like no other.
Like most men in their early thirties, Lazarus has plans that don't involve dying. He is busy organising his sisters, his business and his women. Life is mostly good, until far away in Galilee, without warning, his childhood best friend turns water into wine.
Immediately, Lazarus falls ill. And with each subsequent miracle his health deteriorates:a nasty cough blooms into an alarming panorama of afflictions. His sisters think Jesus can help, but given the history of their friendship Lazarus disagrees. What he is sure of is that he'll try everything in his power to make himself well. Except for calling on Jesus.
Lazarus dies. Jesus weeps. This part we all know.
But as Lazarus is about to find out, returning from the dead isn't easy. You think you want a second chance at life, but what do you do when you get it? Lazarushas his own story, he is his own man, and he isdetermined to avoid the mistakes he made the first time round.
A thrillingly inventive, genre-bending novel, Lazarus is Dead is the definitive account of the life, death and life of Lazarus, as never told before.
Published:

3 October 2011

ISBN:

9781446468227

Imprint:

Vintage Digital

Format:

EBook

Pages:

272
Praise for Lazarus Is Dead
He can stir emotion quickly and simply... his essayistic digressions temper the mythic luminosity of his subject

TLS
The approach is unusual, the narrative bold and exhilarating...this book with its melding of fiction and non-fiction, critical analysis and detective work, consolidation and controversy, is a potent combination that breathes life not only into the 'imaginative representations' of historical events but also into the possibilities of what we think a novel might be able to achieve

Just William's Luck
So good it's almost off the scale for me. Brave, brilliant and utterly readable

The Bookbag
A thoughtful, enjoyable book

Simon Baker, Spectator
Beard writes with sharp clarity; short unadorned sentences that contain an unforced, incisive wit.' '(Lazarus's) legend continues to fascinate in this totally original book

Sara Keating, Sunday Business Post
Beautiful prose...this is a challenging, thoughtful read, even for the die-hard heathen

Stracia Briggs, Eastern Daily Press
A fascinating mixture of fiction and academic essay...using biblical sources and other, less orthodox ones, Beard weaves a compelling tale portrait of first-century Israel, of Jerusalem with its factions and sects, and of Jesus, Lazarus's enigmatic friend, as he makes his journey towards the Cross

Catholic Herald
I finished the book at a sitting. What makes it so gripping is Beard's limitless curiosity

James Russell Blog