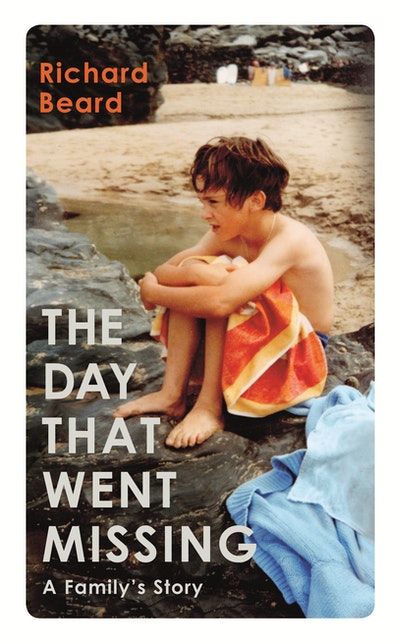 Published:

15 March 2018

ISBN:

9781784703141

Imprint:

Vintage

Format:

Paperback

Pages:

288

RRP:

$19.99
The Day That Went Missing
---
---
A memoir of exceptional power and universal relevance - about loss, carrying on, and recovering a brother's life and death.

*WINNER OF THE PEN ACKERLEY PRIZE 2018*
My younger brother's name is Nicholas Beard. He was nine years old, and I was with him in the water when he drowned.
Life changes in an instant.
On a family holiday in Cornwall in 1978, Richard and Nicholas are in the sea, jumping the waves. Suddenly and inexplicably Nicholas is out of his depth and then, shockingly, so is Richard. Only one of the brothers returns to the shore.
Richard does not attend Nicholas's funeral and afterwards the family return to Cornwall to continue the holiday. Soon they stop speaking of that day at the beach altogether. Years later, haunted by grief, Richard sets out to piece together the story. Who was Nicholas? What really happened that day? And why did the family never speak of it again?
SHORTLISTED FOR THE RATHBONES FOLIO PRIZE 2018
SHORTLISTED FOR THE JAMES TAIT BLACK PRIZE 2018
'This captivating book, both heart-rending and jaw-dropping, unfolds like a detective story' Daily Mail
'A memoir of real truth and heartbreaking emotional heft' Sunday Times
Published:

15 March 2018

ISBN:

9781784703141

Imprint:

Vintage

Format:

Paperback

Pages:

288

RRP:

$19.99
Praise for The Day That Went Missing
A memoir of real truth and heartbreaking emotional heft

Sunday Times
This captivating book, both heart-rending and jaw-dropping, unfolds like a detective story

Daily Mail
A touching, painful disquisition on memory and forgetting and the tendrils that tie us to the past

Caroline Moorehead, Guardian
Clear-eyed, very sad, funny at times and, despite the story it tells, ultimately uplifting in its determination to confront buried truths.

Sebastian Faulks
A masterpiece

Craig Brown
A devastating forage into memory and the brutality of the stiff upper lip

Evie Wyld, Observer
What a wonderful book about tragedy, the tricks that memory plays on us all, and the bottomless capacity for denial that lies at the heart of a public school upbringing. I was quite undone by it - and also surprised, at times, by eruptions of laughter. For it proves, if proof is needed, that there's nothing stranger than a conventional English family

Deborah Moggach
A compelling autobiography showing the need to erase an early tragedy and the necessity, many years later, to discover what exactly happened. This is an unforgettable family story that explores human nature and involves us all

Michael Holroyd
I read nothing this year that I admired quite as much

Tom Holland, New Statesman
This is an absorbing, unsettling and at times painfully difficult read but by the end of the book it is clear that Richard found it cathartic to dig up the past. His story is an important examination of grief and denial and the huge damage caused by the idea that feelings and emotions are something best packed away and ignored

Mernie Gilmore, Daily Express
Jorge Semprun could not speak of what he had witnessed when he was released in April 1945 after 18 months in the death camp at Buchenwald… Richard Beard is scissored from Semprun's cloth… As he proves time and time again in The Day That Went Missing, a wonderful memoir in which he writes himself back to life, the language does exist to make sense of grief. His book deserves to stand on the same shelf as William Fienne's The Music Room, as a remarkable homage to a lost brother

Spectator
A moving, harrowing tale that is artfully told

Tatler
This brave, necessary memoir finds Beard struggling to bring the facts back to the surface… Some people still think it best to "move on" from trauma quickly, with minimal discussion. Beard's book shows the price we pay for that illusion of movement is, emotionally, never to move on at all

Helen Brown, Daily Telegraph
One of the most impressive things about this most impressive book is Beard's anxiety is that without the tragedy he would never have become a writer… Beard's is a book about forgetting, about a very particular amnesia of sorrow. Beard is one of our most accomplished authors, and this is perhaps his most readerly book, in that it is all about decoding and deciphering, interpreting and imagining. But it is also just stricken. When he, eventually after nigh on 40 years, first cries on the beach, I dare the reader not to do so as well

Stuart Kelly, Scotland on Sunday
This memoir breaks all the rules. It's brimful of anger and guilt, fails to deliver an uplifting ending and opens with a death… Beard has written an enriching rather than uplifting book

Marina Benjamin, New Statesman
Beard's book is a belated attempt to confront the truths he had previously repressed, and it makes for both painful and riveting reading… The talent he foregrounds here is ultimately that of keeping emotion at bay – the devastating product of a scalpel-sharp intellect and an English boarding school education

Stephanie Cross, Lady
The Day That Went Missing is a book about a family tragedy that has the momentum of his brother's life. It also has something of the mystery and intrigue of a metaphysical quest, since it is an attempt to capture the essence of someone long dead… Written in pellucid prose and artfully constructed, The Day That Went Missing is never sentimental or self-pitying and is all the more moving as a consequence… An act of love which honours and memorialises the brother he lost so traumatically

Jason Cowley, New Statesman
A family story of exceptional power and universal relevance

VIP
It is more than just a study on grief, exploring memory and the savagery of the stiff upper lip. No book has moved me more this year

Rosamund Urwin, Evening Standard
It is written in a searingly honest way and is quite unlike any other book I've ever read.

Nick Hillman, Times Higher Education
Extraordinary.

James Walton, Reader's Digest
In this haunting and courageous memoir, Beard at last confronts the events of the day his brother died.

Jane Shilling, Daily Mail