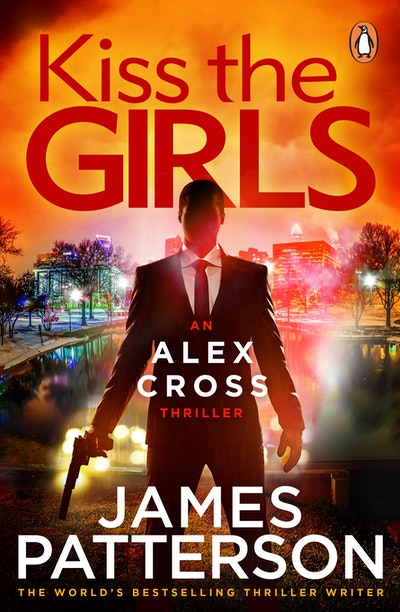 Published:

4 August 2022

ISBN:

9781784757489

Imprint:

Arrow

Format:

Paperback

Pages:

512

RRP:

$22.99
Kiss the Girls
(Alex Cross 2)
---
---
---
Detective Alex Cross is investigating the disappearance of his own niece in the second novel in James Patterson's worldwide bestselling series
DETECTIVE ALEX CROSS'S NIECE IS MISSING
Cross fears the disappearance could be linked to a string of recent abductions and murders that are terrorising the US.
Two killers, operating on opposite sides of the country, are collaborating and competing to commit increasingly horrific crimes.
If he's to rescue his niece, Cross must hunt down these two brutal masterminds. All the while, countless lives hang in the balance.
Published:

4 August 2022

ISBN:

9781784757489

Imprint:

Arrow

Format:

Paperback

Pages:

512

RRP:

$22.99
Other books in the series
Praise for Kiss the Girls
It's no mystery why James Patterson is the world's most popular thriller writer: his uncanny skill in creating living, breathing characters we truly feel for and seamless, lightning-fast plots. I do this for a living, and he still manages to keep me guessing from the first to last page ... Simply put: Nobody does it better

JEFFREY DEAVER
Behind all the noise and the numbers, we shouldn't forget that no one gets this big without amazing natural storytelling talent - which is what Jim has, in spades. The Alex Cross series proves it.

LEE CHILD, bestselling author of the Jack Reacher series
James Patterson is The Boss. End of.

IAN RANKIN, bestselling author of the Inspector Rebus series
Twenty years ago, I wrote, "Along Came a Spider is the best thriller I've come across in many a year. It deserves to be this season's no. 1 bestseller and should instantly make James Patterson a household name." A household name, indeed.

NELSON DEMILLE
Every once in a while a writer comes along and fundamentally changes the way people read. He or she is so bright, so innovative, so industrious that what they envision and create becomes the measure by which all others are judged. In 1993 one such writer - James Patterson - began to do just that ... James Patterson is the gold standard by which all others are judged.

STEVE BERRY, bestselling author of the Colton Malone series
[Alex Cross] has become one of the greatest fictional detectives of all time, a character for the ages.

DOUGLAS PRESTON and LINCOLN CHILD
Alex Cross is a legend.

HARLAN COBEN
Patterson boils a scene down to the single, telling detail, the element that defines a character or moves a plot along. It's what fires off the movie projector in the reader's mind.

MICHAEL CONNELLY
Patterson hit the ball out of the park with his last go-around, the bestselling Along Came a Spider. Kiss the Girls is even better.

DALLAS MORNING NEWS
Tough to put down... ticks like a time bomb, always full of threat and tension.

LA TIMES
A ripsnorting, terrific read

LARRY KING, USA Today
Patterson knows where our deepest fears are buried... there's no stopping his imagination.

NEW YORK TIMES BOOK REVIEW
Patterson is in a class by himself.

VANITY FAIR
It's no mystery why James Patterson is the world's most popular thriller writer: his uncanny skill in creating living, breathing characters we truly feel for and seamless, lightning-fast plots. I do this for a living, and he still manages to keep me guessing from the first to last page ... Simply put: Nobody does it better

JEFFREY DEAVER
Behind all the noise and the numbers, we shouldn't forget that no one gets this big without amazing natural storytelling talent - which is what Jim has, in spades. The Alex Cross series proves it.

LEE CHILD, bestselling author of the Jack Reacher series
James Patterson is The Boss. End of.

IAN RANKIN, bestselling author of the Inspector Rebus series
Twenty years ago, I wrote, "Along Came a Spider is the best thriller I've come across in many a year. It deserves to be this season's no. 1 bestseller and should instantly make James Patterson a household name." A household name, indeed.

NELSON DEMILLE
Patterson knows where our deepest fears are buried... there's no stopping his imagination.

NEW YORK TIMES BOOK REVIEW
Patterson is in a class by himself.

VANITY FAIR
A ripsnorting, terrific read

LARRY KING, USA Today
Tough to put down... ticks like a time bomb, always full of threat and tension.

LA TIMES
Patterson hit the ball out of the park with his last go-around, the bestselling Along Came a Spider. Kiss the Girls is even better.

DALLAS MORNING NEWS
Patterson boils a scene down to the single, telling detail, the element that defines a character or moves a plot along. It's what fires off the movie projector in the reader's mind.

MICHAEL CONNELLY
Alex Cross is a legend.

HARLAN COBEN
[Alex Cross] has become one of the greatest fictional detectives of all time, a character for the ages.

DOUGLAS PRESTON and LINCOLN CHILD
Every once in a while a writer comes along and fundamentally changes the way people read. He or she is so bright, so innovative, so industrious that what they envision and create becomes the measure by which all others are judged. In 1993 one such writer - James Patterson - began to do just that ... James Patterson is the gold standard by which all others are judged.

STEVE BERRY, bestselling author of the Colton Malone series