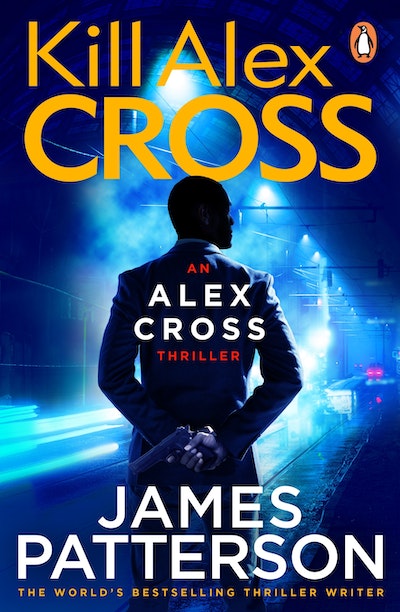 Published:

1 June 2012

ISBN:

9780099550044

Imprint:

Arrow

Format:

Paperback

Pages:

512

RRP:

$22.99
Kill Alex Cross
(Alex Cross 18)
---
---
---
The President's children have been kidnapped. The water supply for Washington DC has been poisoned. Alex Cross is on both cases.
____________________________________
'No one gets this big without amazing natural storytelling talent - which is what Jim has, in spades. The Alex Cross series proves it.' LEE CHILD, international bestselling author of the Jack Reacher series
____________________________________
The eighteenth novel in the bestselling Alex Cross series
The President's children have been kidnapped. Detective Alex Cross faces a ticking clock.
First on the scene to a crime that rocks the world, Alex Cross grapples with an impossible crime - and with political pressure, finding himself shunted to the sidelines.
But a terrible week gets worse as a deadly contaminant in the Washington D.C. water supply cripples the capital, and Cross, under extraordinary stress, realises that the cases are connected. America is under attack.
Tasked by the desperate First Lady with finding her children, Cross is racing against the clock - and to have any chance of saving them, he must make a desperate decision that goes against everything he believes in...
Published:

1 June 2012

ISBN:

9780099550044

Imprint:

Arrow

Format:

Paperback

Pages:

512

RRP:

$22.99
Other books in the series
Praise for Kill Alex Cross
Kill Alex Cross is a thriller with family at its heart... Underneath the fast-and-furious action, Patterson is exploring what it means to be a father, a man and, ultimately, a human being in an increasingly complex and dangerous world.

WASHINGTON POST
It's no mystery why James Patterson is the world's most popular thriller writer: his uncanny skill in creating living, breathing characters we truly feel for and seamless, lightning-fast plots. I do this for a living, and he still manages to keep me guessing from the first to last page ... Simply put: Nobody does it better.

JEFFERY DEAVER
Behind all the noise and the numbers, we shouldn't forget that no one gets this big without amazing natural storytelling talent - which is what Jim has, in spades. The Alex Cross series proves it.

LEE CHILD, bestselling author of the Jack Reacher series
James Patterson is The Boss. End of.

IAN RANKIN, bestselling author of the Inspector Rebus series
I wrote, "Along Came a Spider is the best thriller I've come across in many a year. It deserves to be this season's no. 1 bestseller and should instantly make James Patterson a household name." A household name, indeed.

NELSON DEMILLE
Every once in a while a writer comes along and fundamentally changes the way people read. He or she is so bright, so innovative, so industrious that what they envision and create becomes the measure by which all others are judged. In 1993 one such writer - James Patterson - began to do just that ... James Patterson is the gold standard by which all others are judged.

STEVE BERRY, bestselling author of the Colton Malone series
[Alex Cross] has become one of the greatest fictional detectives of all time, a character for the ages.

DOUGLAS PRESTON and LINCOLN CHILD
Alex Cross is a legend.

HARLAN COBEN
Patterson boils a scene down to the single, telling detail, the element that defines a character or moves a plot along. It's what fires off the movie projector in the reader's mind.

MICHAEL CONNELLY
Patterson knows where our deepest fears are buried... there's no stopping his imagination.

NEW YORK TIMES BOOK REVIEW
Patterson is in a class by himself.

VANITY FAIR