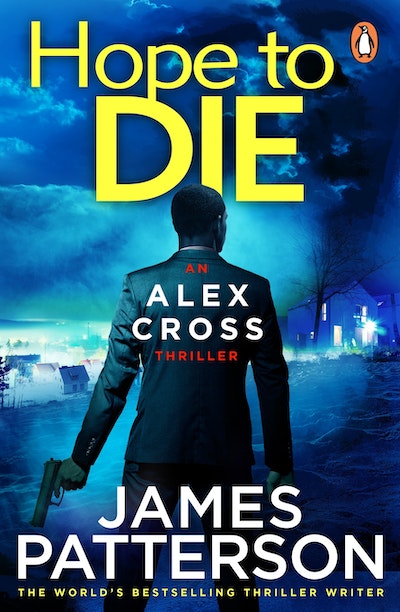 Published:

2 November 2015

ISBN:

9780099574088

Imprint:

Arrow

Format:

Paperback

Pages:

512

RRP:

$22.99
Hope to Die
(Alex Cross 22)
---
---
---
The mind-blowing sequel to bestseller Cross My Heart
_______________________________________
'No one gets this big without amazing natural storytelling talent - which is what Jim has, in spades. The Alex Cross series proves it.' LEE CHILD, international bestselling author of the Jack Reacher series
The mind-blowing sequel to CROSS MY HEART
Detective Alex Cross has lost everything.
Thierry Mulch, a lethal and obsessive enemy, is holding his family hostage. Driven by hatred and revenge, Mulch is threatening to kill them all - and destroy Alex Cross forever.
But Cross is fighting back. In a race against time, he must defeat Mulch in an intricate battle of wits to save his wife and children - no matter what it takes.
The endgame is here.
______________________________________
The final part of a shocking duology by bestselling author James Patterson, preceded by CROSS MY HEART
Published:

2 November 2015

ISBN:

9780099574088

Imprint:

Arrow

Format:

Paperback

Pages:

512

RRP:

$22.99
Other books in the series
It's no mystery why James Patterson is the world's most popular thriller writer: his uncanny skill in creating living, breathing characters we truly feel for and seamless, lightning-fast plots. I do this for a living, and he still manages to keep me guessing from the first to last page ... Simply put: Nobody does it better.

JEFFERY DEAVER
Behind all the noise and the numbers, we shouldn't forget that no one gets this big without amazing natural storytelling talent - which is what Jim has, in spades. The Alex Cross series proves it.

LEE CHILD, bestselling author of the Jack Reacher series
James Patterson is The Boss. End of.

IAN RANKIN, bestselling author of the Inspector Rebus series
I wrote, "Along Came a Spider is the best thriller I've come across in many a year. It deserves to be this season's no. 1 bestseller and should instantly make James Patterson a household name." A household name, indeed.

NELSON DEMILLE
James Patterson is the gold standard by which all others are judged.

STEVE BERRY, bestselling author of the Colton Malone series
[Alex Cross] has become one of the greatest fictional detectives of all time, a character for the ages.

DOUGLAS PRESTON and LINCOLN CHILD
Alex Cross is a legend.

HARLAN COBEN
Patterson boils a scene down to the single, telling detail, the element that defines a character or moves a plot along. It's what fires off the movie projector in the reader's mind.

MICHAEL CONNELLY
Alex Cross is one of the best-written heroes in American fiction.

LISA SCOTTOLINE
Patterson knows where our deepest fears are buried... there's no stopping his imagination.

NEW YORK TIMES BOOK REVIEW
Patterson is in a class by himself.

VANITY FAIR