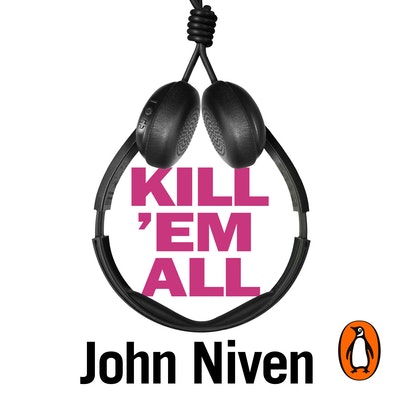 Published:

4 October 2018

ISBN:

9781473565463

Imprint:

Cornerstone Digital

Format:

Audio Download

Length:

8 hr 32 min

RRP:

$19.99
Kill 'Em All
---
---
---
The long-awaited sequel to Kill Your Friends.
Random House presents the audiobook edition of Kill 'Em All by John Niven, read by Tom Riley. _____________________The long-awaited sequel to KILL YOUR FRIENDS
It is 2017 - the time of Trump, Brexit and fake news. And time for the return of Steven Stelfox, exactly twenty years on from his Britpop heyday.
Now forty-seven and rich beyond the dreams of avarice, Stelfox works only occasionally as a music industry 'consultant'. A fixer. A problem solver. He's had a call from his old friend James Trellick, now president of Unigram, one of the largest record companies in America. Trellick has a huge headache on his hands in the shape of...
Lucius Du Pre. The biggest pop star on earth. Well, once the biggest pop star on earth. Now he's a helpless junkie and a prolific, unrepentant sexual predator. Through a programme of debt restructuring so complex even Trellick can barely understand it, Du Pre is massively in hock to the record company. The only way he can possibly pay it off is to embark on a worldwide comeback tour he's in no shape to do. The picture is further complicated when the parents of one of Du Pre's 'special friends' begin blackmailing him. If their video gets out, Du Pre's brand will be utterly toxic and will take Unigram down with it.
Enter Stelfox stage right. Only he has the lack of morality to spin this one. With stealth and cunning he begins to chart a road out of the nightmare and to make a killing in the process. For this age of 'American carnage' - of populism, of the lowest common denominator, of the Big Lie - is truly Stelfox's time to shine. But in this time of uncertainty, nothing is a given._____________________
'A banging action satirical thriller. But it's also a proper novel about the Trumpian era, of the reality TV era, the fake news era. It's managed to say a lot of things in a way that very few other novels are doing and in a very comedic way' IRVINE WELSH
'A bruising triumph; Amis' MONEY for the Trump generation. What a monster he's created' IAN RANKIN
'John Niven understands our era better than almost anyone' DOUGLAS COUPLAND
'A scabrously entertaining satire of what it is like to be rich and white in the land of the free if you are utterly depraved, "where money doesn't just talk, or swear, it nukes". . There is a twisted poetry in Niven's mastery of invective' THE TIMES
'Savagely, viciously witty, this frantic hymn to greed is filthy, frenetic and totally fabulous' SUNDAY MIRROR'A full-throttle send up of toxic masculinity . Niven at full tilt is always something to behold.'METRO
Published:

4 October 2018

ISBN:

9781473565463

Imprint:

Cornerstone Digital

Format:

Audio Download

Length:

8 hr 32 min

RRP:

$19.99
A banging action satirical thriller. But it's also a proper novel about the Trumpian era, of the reality TV era, the fake news era. It's managed to say a lot of things in a way that very few other novels are doing and in a very comedic way.

Irvine Welsh
John Niven understands our era better than almost anyone.

Douglas Coupland
The off-colour banter, hellbent on causing offence to all and sundry, masks an unimpeachable commitment to social justice … [A] full-throttle send up of toxic masculinity … Niven at full tilt is always something to behold.

Metro
'A bruising triumph; Amis' Money for the Trump generation. What a monster he's created.'

Ian Rankin
'Savagely, viciously witty, this frantic hymn to greed is filthy, frenetic and totally fabulous.'

Sunday Mirror
'Brace yourself for another expletive-strewn adventure … Niven pulls no punches … Ingeniously plotted ... A scabrously entertaining satire of what it is like to be rich and white in the land of the free ... There is a twisted poetry in Niven's mastery of invective … The payoff is absolutely priceless.'

The Times
'Niven is still able to deliver his foul-mouthed, inventive zingers with gusto, and Stelfox is a fittingly amoral hero for the age of Trump.'

Mail on Sunday
A brilliant depiction of the mind of a sociopath. Be warned: this is edgy.

Evening Standard