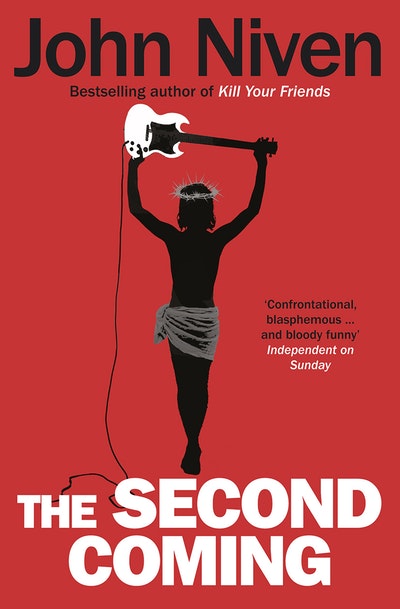 Published:

2 May 2011

ISBN:

9781409028321

Imprint:

Cornerstone Digital

Format:

EBook

Pages:

384
The Second Coming
---
---
---
An outrageous, irreverent look at faith, religion, modern culture and what might happen to the Son of God if he ever came back to Earth...
'GOD'S COMING – LOOK BUSY!' God really is coming, and he is going to be pissed... Having left his son in charge God treats himself to a week off at the beginning of the seventeenth century. He returns to find out that things on earth haven't gone quite to plan...
A word about celestial time. Eternity isn't really eternal. It's just very slow. A day in heaven is the equivalent of 57 earth years. When He took His week off it was 1609, the height of the Renaissance – King Lear was being performed on the London stage and Galileo was squinting through his prototype telescope. A good time to go fishing. When He returns it is 2009. It has not been an uneventful 400 years, thinks God, as asks 'Where is the little bastard?' The 'little bastard' is trading guitar riffs with his new best friend Jimi. Well, he'd had a pretty rough ride down here and figured he was entitled to a little R&R. In celestial time, he's only been back a few weeks.
After God has ripped Jesus a new asshole he calls a meeting of the Saints: the earth has become a human toilet. Genocide; starvation; people obsessed with vacuous celebrity culture 'and,' God points out, 'there are fucking Christians everywhere.' God hates Christians. What's to be done? Peter argues for flushing the whole thing down the toilet and starting again. God points out the time and effort He put into his creation. ('Have you any idea what it was like to sit through the Bronze Age? The main form of entertainment WAS BRONZE!'). In the end there is only one solution. They're sending the kid back.
Cut to New York City, where JC is a struggling musician and petty criminal trying to help people as best as he can and gathering disciples along the way: a motley collection of basket cases, stoners and alcoholics. He finally realises his best chance to win hearts and minds may lie in a TV talent contest – American Pop Star! It's the number one show in America, the unholy creation of an English record executive called Steven Stelfox...
Published:

2 May 2011

ISBN:

9781409028321

Imprint:

Cornerstone Digital

Format:

EBook

Pages:

384
Praise for The Second Coming
Believe me, this book is going to cause one almighty stink...Deeply, intelligently satirical. In lesser hands it could easily have become a crass rant. Yet Niven provides hilarious, perceptive entertainment, not at the expense of religion, but at the expense of bigoted, fundamental zealots whether they be Christians, Muslims or whatever....Amazingly, and despite the hipster stance and the brilliantly foul language, The Second Coming is surprisingly on message. Only the truly ignorant will take offence. But then they usually do.

Henry Sutton, The Mirror, Book of the Week ****
John Niven leads the field with The Second Coming...Father and Son are both West Coast pothead potty mouths, effing and blinding in a way that is confrontational, tasteless and blasphemous. And works well, in an entertaining novel...In the midst of it all, there is compassion, and insight into the way the impulse for truth can lead to dark acts indeed. Plus, it's bloody funny.

Independent on Sunday
John Niven's The Second Coming offers sweeter Easter food for thought...Niven has a consistently entertaining take on traditional Christian iconography...Behind all the curses and the gags, orthodoxy reigns in Niven's MTV-style gospel as Jesus battles oppression, hypocrisy and the satanic forces of Simon Cowell - sorry, "Steven Stelfox". Consistently funny and smart...Trendy vicars might even consider distributing it after their Easter sermons.

Boyd Tonkin, Independent