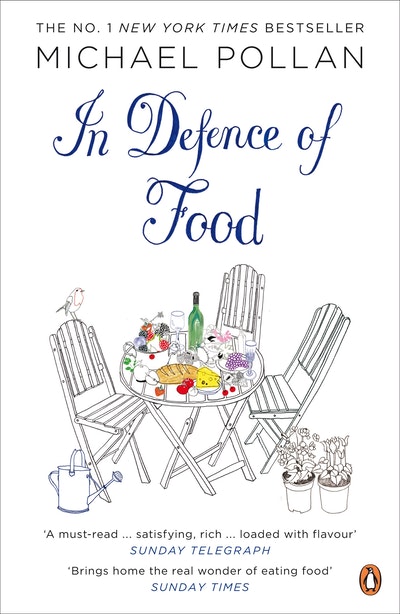 Published:

29 June 2009

ISBN:

9780141034720

Imprint:

Penguin Press

Format:

Paperback

Pages:

256

RRP:

$24.99
In Defence of Food
The Myth of Nutrition and the Pleasures of Eating
---
---
---
'A must-read ... satisfying, rich ... loaded with flavour' Sunday Telegraph
'A must-read ... satisfying, rich ... loaded with flavour' Sunday Telegraph

This book is a celebration of food. By food, Michael Pollan means real, proper, simple food - not the kind that comes in a packet, or has lists of unpronounceable ingredients, or that makes nutritional claims about how healthy it is. More like the kind of food your great-grandmother would recognize.
In Defence of Food is a simple invitation to junk the science, ditch the diet and instead rediscover the joys of eating well. By following a few pieces of advice (Eat at a table - a desk doesn't count. Don't buy food where you'd buy your petrol!), you will enrich your life and your palate, and enlarge your sense of what it means to be healthy and happy.
It's time to fall in love with food again.

For the past twenty years, Michael Pollan has been writing about the places where the human and natural worlds intersect: food, agriculture, gardens, drugs, and architecture. His most recent book, about the ethics and ecology of eating, is The Omnivore's Dilemma, named one of the ten best books of 2006 by the New York Times and the Washington Post. He is also the author of The Botany of Desire, A Place of My Own and Second Nature.
Published:

29 June 2009

ISBN:

9780141034720

Imprint:

Penguin Press

Format:

Paperback

Pages:

256

RRP:

$24.99