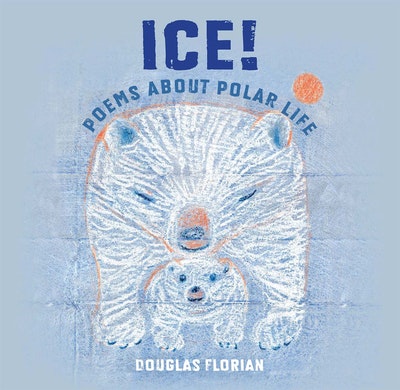 Published:

15 January 2021

ISBN:

9780823441013

Imprint:

Holiday House

Format:

Hardback

Pages:

48

RRP:

$32.99
Ice! Poems About Polar Life
---
---
This kid-pleasing collection of more than twenty poems about the polar regions and the animals that live there is both fun and informative. Douglas Florian is well-known for combining poetry, art, and science in books that have wit, imagination, and an aesthetic sensibility.
From the opening poem, which describes the poles as our "earth refrigerator" to the call to action in the closing verse about climate change, artist and poet Douglas Florian applies his prodigious talent to twenty-one poems and illustrations that raise awareness of the polar habitats and the unique animals that have adapted to a cold, windy, and frozen environment.
Florian use rhythm, rhyme, figurative language, and other poetic language, as well as whimsy and humor.
Seals--
On land they're lumbering, clumsy, and slow,
For they lack legs with which to go.
But in the sea their speed is great.
In sea, all seals can seal-ebrate.
Teachers and learners alike will appreciate references to animal adaptation, biomes, global warming, and interdependence.
Titles of poems: The Polar Regions; Antarctica; Emperor Penguin; Arctic; The Tundra; Polar Bear; Blue Whale; Krill; Arctic Fox; Musk Ox; Walrus; Arctic Hare; Seals; Snowy Owl; Narwhal; Gray Wolf; Puffin; Ptarmigan; Wolverine; Caribou; Moose; Climate Change
Published:

15 January 2021

ISBN:

9780823441013

Imprint:

Holiday House

Format:

Hardback

Pages:

48

RRP:

$32.99