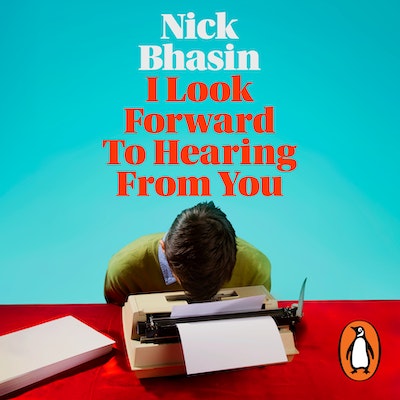 Published:

13 June 2023

ISBN:

9781761341373

Imprint:

Penguin Random House Australia Audio

Format:

Audio Download

Length:

12 hr 50 min

Narrator:

Nick Bhasin

RRP:

$32.99
I Look Forward to Hearing from You
---
---
---
'I wish I could write like Nick Bhasin … but reading his writing is the next best thing.'
SAMMY J
'Bhasin hits that sweet spot of emotional depth while also being absurdly funny.'
MARK HUMPHRIES
It's 2002. Britney and Justin are done. Low-rise jeans tyrannise the pants-wearing public. And Hector Singh, a 27-year-old eccentric, moderately talented yet extremely confident aspiring TV writer, is hell bent on 'making it' in LA. He's Puerto Rican and Indian but also post-race (or so he thinks) and he refuses to be intimidated by the Whites Only landscape of show business.
But when his mother dies suddenly, Hector's grief turns into depression, triggering dark thoughts and a binge eating disorder. He lands a potentially career-launching job as a writers' assistant on a TV drama, but antidepressants make things much worse.
With a series of implosions that threaten to sink his work and relationships, Hector unravels. Spectacularly.
Can he navigate Hollywood racism, diet culture oppression and overwhelming grief to survive this emotional crisis? Does he pull himself together in time to sell his TV show in a meeting with big producers? Will he catch an extremely fit Tom Cruise and give him a script?
Seems unlikely.
A hilarious, satirical, madcap and moving rollercoaster ride through the cutthroat world of Hollywood showbiz as seen through one person's descent into despair.
Published:

13 June 2023

ISBN:

9781761341373

Imprint:

Penguin Random House Australia Audio

Format:

Audio Download

Length:

12 hr 50 min

Narrator:

Nick Bhasin

RRP:

$32.99
Praise for I Look Forward to Hearing from You
The quotes that begin each chapter are particularly amusing. A sharp and pointy satire, this is only for those wanting a provocative and memorable reading experience.

Craig, Abbey's bookseller pick
I devoured this insanely hilarious novel in two sittings, frequently 'barking' with laughter.

Sophie Lee
This novel about a greiving, binge-eating aspiring screen writer is one of the funniest books i have ever read. It's also a biting social commentary covering race, body image, success and more. Loved it. Five Stars. Bravo.

Kerri Sackville
I wish I could write like Nick Bhasin . . . but reading his writing is the next best thing.

Sammy J
Bhasin hits that sweet spot of emotional depth while also being absurdly funny.

Mark Humphries
A painful yet comical journey that follows a budding TV writer's attempt to crack Hollywood. A story of unravelling due to grief and addiction, while hopelessly and hilariously trying to keep it together under the glare of the white gaze.

Antoinette Lattouf, broadcaster, columnist and author of 'How to Lose Friends and Influence White People'
You mightn't think a story about grief, self-loathing, fat shame and failure could be laugh-out-loud funny, but maybe you just haven't read Nick Bhasin yet. I lost count of the amount of times I barked with laughter, winced with (industry-related) recognition and I wanted to hug the book to my chest when it was over. I Look Forward to Hearing from You is equally absurd and funny, tender and sublime, and made me bark with laughter: at racism in Hollywood, at one man's quest for success, and at our vulnerable, mortal little selves.

Benjamin Law
Sydney-based US expat Nick Bhasin's ambitious debut novel, I Look Forward to Hearing from You, is a madcap satire of the screen industry and the very act of writing, from inflated egos to the messy politics of the workplace. It's a distinctive and daring piece of work

Giselle Au-Nhien Nguyen, The Guardian
Bhasin wonderfully describes what it is like being a young adult with ambitions to become great in a cut-throat industry, and the relationships we have with family when there is long distance in-between. This book will make you laugh from the first page and appreciate its refreshing creativity throughout.

Jennifer Varela, Readings
Told in a compelling, irreverent and hilarious tone, Nick's debut takes a well-trodden trope of a creative's demise and twists it into something totally new. It goes from side-splittingly funny to poignant in the turn of a page.

Wade Sellers, Woman's Day
The camaraderie of his diverse circle of friends provides some relief from the wild and pitiless black comic satire.

Cameron Woodhead, The Age
I Look Forward to Hearing from You is a hilarious yet tender story of an aspiring TV writer's descent into an anti-depressant, diet-pill fuelled frenzy of self-destruction following the death of his mother. This is a pop-culture extravaganza as Bhasin skilfully weaves into the narrative an impressive array of faux TV and movie titles, celebrity quotes, and gossip. Without giving too much away, let's just say you'll want to know more about Matthew McConaughey's goat.

Rowena Tuziak, Writing NSW
Article
Article
Article