A satirical, madcap roller-coaster ride through Hollywood to read with your book club.
In I Look Forward to Hearing From You, Hector Singh is a 27-year-old aspiring TV writer, hell-bent on 'making it' in L.A. But when his mother dies suddenly, Hector's grief sends him on a downward spiral into an emotional crisis. Can he navigate Hollywood racism, diet-culture oppression and overwhelming grief? Will he pull himself together in time to sell his TV show?
Discussion points and questions
Writing satire is absurdly difficult. I Look Forward to Hearing From You pushes this challenge further as the author seeks to both mock and valorise his lead characters. Does he achieve this?
Benjamin Law said 'You mightn't think a story about grief, self-loathing, fat shame and failure could be laugh-out-loud funny, but maybe you just haven't read Nick Bhasin yet.'It is a tall order, to get a laugh out of these tough subjects. How do you think the author pulls it off?
If you watched a bit of television in the 1990s and 2000s you could play a fun game of Spotto on the pop culture references. Do you think there is a particular reason the novel is set in 2002? Do you think Hollywood is less bigoted now?
Hector calls himself 'Post-Race'. What does he mean by this, and is it possible to reach this state? How does Hector's being mixed race affect his views on race and diversity?
Will achieving his goals – to become a professional writer, find love and lose weight – help Hector in his pursuit of happiness?
'Success in Hollywood is all about who you know. If you can't leave a party with seven new contacts, you need to leave in an ambulance. There's no in between. NORA EPHRON' What role do the chapter epigraphs play in the narrative? Were you ever/occasionally sucked into believing they were real?
I Look Forward to Hearing From Youhas a lot to say about food and dieting. How effective do you think this commentary is? Do you think things have changed since the early 2000s? Was it surprising to read about diet culture from a male perspective?
It is said that grief is the price we pay for love. Hector and his papa each manifest their grief in different ways. Should we all be encouraged to make our grief known?
Hector's mental health suffers after his mother dies. Do you think he is given enough information about antidepressants, or enough medical support while he is taking them? How have attitudes towards mental health evolved over the past twenty years?
What did you think of Hector's screenplay?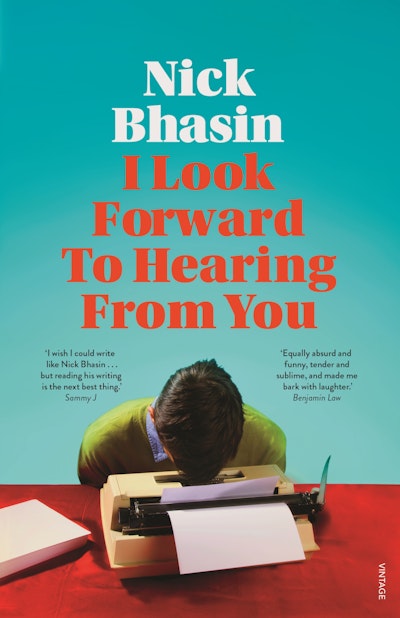 I Look Forward to Hearing from You
'I wish I could write like Nick Bhasin … but reading his writing is the next best thing.' SAMMY J 'Bhasin hits that sweet spot of emotional depth while also being absurdly funny.' MARK HUMPHRIES
Read more