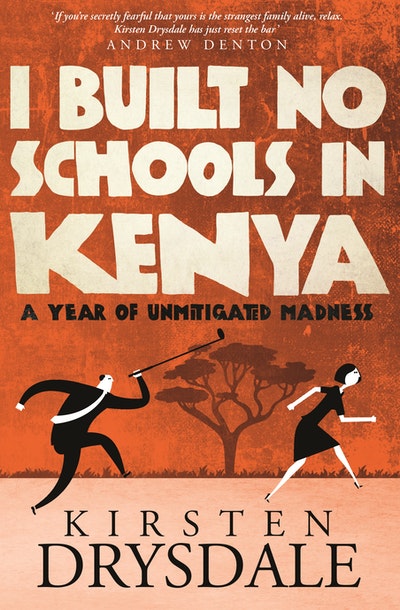 Published:

8 January 2019

ISBN:

9780857988546

Imprint:

Vintage Australia

Format:

Trade Paperback

Pages:

352

RRP:

$34.99
I Built No Schools in Kenya
A Year of Unmitigated Madness
---
---
---
This is not your standard white-girl-in-Africa tale. I fed no babies, I built no schools, I saved no rhinos. Self-discovery came a distant second to self-preservation on this particular adventure.
In September 2010, Kirsten Drysdale was tricked. Her friend called with a job offer too curious to refuse: a cruisey-gig as a dementia carer for a rich old man in Kenya. All expenses-paid, plenty of free time to travel or do some freelance reporting. There seemed no good reason to say no . . . so she got on a plane.

Only Kirsten's friend hadn't given her the full story. It was only on arrival in Nairobi that she discovered the rich old man's family was fighting a war around him, and that she would be on the front line. Caught in the crossfire of all kinds of wild accusations, she also had to spy on his wife, keep his daughter placated, rebuff his marriage proposals, hide the car keys and clip his toenails, all while trying to retain her own sanity in the colonial time warp of his home.
Meanwhile, the Kenyan army was invading Somalia, Al-Shabaab was threatening terror attacks, the East African bodybuilding scene beckoned, and Kirsten discovered she had long-lost cousins running a bar on the other side of the city.
I Built No Schools in Kenya is a travelogue-tragedy-farce about race, wealth, love, death, family, nationhood, sanity, benzodiazepines, monkeys and whisky.
It is almost entirely true.
Published:

8 January 2019

ISBN:

9780857988546

Imprint:

Vintage Australia

Format:

Trade Paperback

Pages:

352

RRP:

$34.99
Praise for I Built No Schools in Kenya
If you're secretly fearful that yours is the strangest family alive, relax. Kirsten Drysdale has just reset the bar.

Andrew Denton
A much funnier story about losing your mind in Africa than Joseph Conrad managed

Craig Reucassel
A surprising and often laugh out loud tale of how Kirsten Drysdale found herself caring for an elderly white man with dementia, in Nairobi, Kenya. At times you wonder who has really lost the plot - Walt, the dementia sufferer; Marguerite, Walt's 2nd wife, who is seen as a threat by her step-daughter; or Fiona, Walt's daughter, micromanaging Walts' care from her home in the UK. Not to mention the carers, who have to manage every minute of Walt's waking day—from arranging his clothes in reverse order to help him get dressed to substituting Ribena in the wine bottle so Walt can still enjoy a glass of wine with his meals. As Walt's dementia worsens the Symth household more isolated and more crazy. Kirsten finds herself on a crash course on managing dementia and toxic family dynamics; and observing British Colonialism and the social and racial attitudes of the master of the household; and discovering a deep affinity to Africa.

Stef, Gleebooks Gleaner