Rapid-fire questions for the author of I Built No Schools in Kenya.
Kirsten Drysdale is a television presenter and journalist best known for her work on The Checkout. Prior to that in September 2010, she was tricked. Her friend called with a job offer too curious to refuse: a cruisey-gig as a dementia carer for a rich old man in Kenya. All expenses-paid, plenty of free time to travel or do some freelance reporting. There seemed no good reason to say no... so she got on a plane. I Built No Schools in Kenya is the almost-entirely true account of that time.
Since then, Kirsten has been a researcher and presenter for Hungry Beast, as well as a researcher for The Hamster Wheel, The Hamster Decides and The Gruen Transfer. She also occasionally appears on Radio National, where she hosted Talking Shop, a weekly show about marketing and consumer behaviour. 
One thing you never leave home without?
Running back inside for something I've forgotten.
 
One piece of wisdom that came in handy in Africa?
Trust your gut.
 
One thing you learned in Kenya?
People with the least are often the most generous.
 
One thing that surprised you in Kenya?
The number of frozen yoghurt stores.
 
One English word or phrase you love, and why?
'Hooroo'. Such a great way to say goodbye. So insouciant. Makes me laugh every time I hear it.
 
One English word or phrase you loathe, and why?
'Problematic'. It's such a lazy criticism.
 
One thing you love about your job?
Speaking to people who are experts in their field and really know their shit.
 
One thing you love to do outside of work?
Play hockey.
 
One goal you're working towards?
Teaching my baby son (and myself) sign language as an additional form of communication.
 
One thing you hope readers take away from I Built No Schools in Kenya?
That there's so much more going on in Africa – Kenya, especially – than we in the West tend to see.
---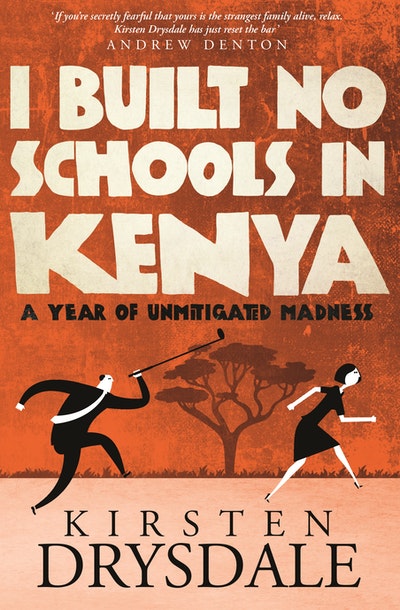 This is not your standard white-girl-in-Africa tale. I fed no babies, I built no schools, I saved no rhinos. Self-discovery came a distant second to self-preservation on this particular adventure.
Buy now
Buy now
---