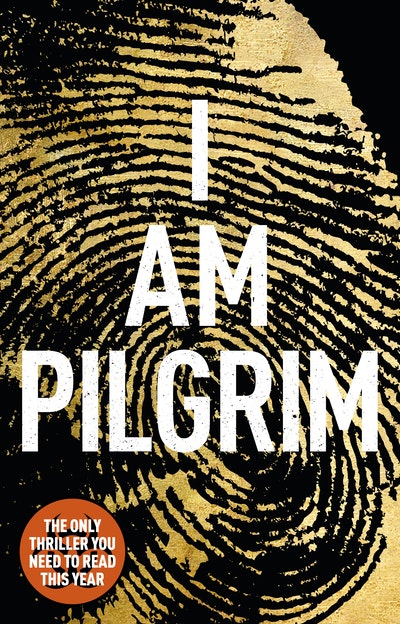 Published:

1 April 2014

ISBN:

9780552160964

Imprint:

Corgi

Format:

Paperback

Pages:

912

RRP:

$22.99
I Am Pilgrim
---
---
---
The Day of the Jackal meets Homeland with a dash of Bourne - the ground-breaking, internationally bestselling thriller that captivated millions of readers worldwide.
'A big, breathless tale of nonstop suspense' The New York Times
'Simply one of the best suspense novels I've read in a long time' David Baldacci
'An all too plausible disaster for the world we live in. Great nail-biting stuff' Robert Goddard
'The plot twists and turns like a python in a sack... Visceral, gritty and cinematic' The Times
_______________
The astonishing story of one man's breakneck race against time to save America from oblivion.
A YOUNG WOMAN MURDERED. All of her identifying characteristics dissolved by acid.
A FATHER PUBLICLY BEHEADED. Killed in the blistering heat of a Saudi Arabian public square.
A SYRIAN BIOTECH EXPERT FOUND EYELESS. Dumped in a Damascus junkyard.
SMOULDERING HUMAN REMAINS. Abandoned on a remote mountainside in Afghanistan.
PILGRIM. The codename for a man who doesn't exist. A man who must return from obscurity. The only man who can uncover a flawless plot to commit an appalling crime against humanity.
The much-anticipated, heart-racing new thriller from Terry Hayes, THE YEAR OF THE LOCUST, is available for pre-order now.
_______________
Praise for Terry Hayes
'Clever and compulsive' Sunday Mirror
'Huge ambition and even huger talent' Stav Sherez
'Compelling and wildly inventive storytelling' Chris Ewan
'Hayes brings well-refined storytelling chops to the enterprise' Kirkus
Published:

1 April 2014

ISBN:

9780552160964

Imprint:

Corgi

Format:

Paperback

Pages:

912

RRP:

$22.99
Massive in many senses, but none more so than its ability to exert a vice-like grip on the reader....Destined to be spy thriller of the year

Irish Independent
Massive in many senses, but none more so than its ability to exert a vice-like grip on the reader....Destined to be spy thriller of the year

Irish Independent
Massive in many senses, but none more so than its ability to exert a vice-like grip on the reader....Destined to be spy thriller of the year

Irish Independent
Rendition yourself into a pulsating thriller that never lets up as it carries the hero and the reader on an ever more desperate race between time and an all too plausible disaster for the world we live in. Great nail-biting stuff!

Robert Goddard
Rendition yourself into a pulsating thriller that never lets up as it carries the hero and the reader on an ever more desperate race between time and an all too plausible disaster for the world we live in. Great nail-biting stuff!

Robert Goddard
Rendition yourself into a pulsating thriller that never lets up as it carries the hero and the reader on an ever more desperate race between time and an all too plausible disaster for the world we live in. Great nail-biting stuff!

Robert Goddard
The narrative is thrilling: the tension tightens with action...It's a murder mystery, an illuminating account of contemporary international politics and a study of an unusual man......An excellent thriller which as a first novel is really remarkable

Literary Review
The narrative is thrilling: the tension tightens with action...It's a murder mystery, an illuminating account of contemporary international politics and a study of an unusual man......An excellent thriller which as a first novel is really remarkable

Literary Review
The narrative is thrilling: the tension tightens with action...It's a murder mystery, an illuminating account of contemporary international politics and a study of an unusual man......An excellent thriller which as a first novel is really remarkable

Literary Review
THRILLER OF THE WEEK. Delivers thrills and spills...A full tilt mix of Homeland, The Wire and The Bourne Ultimatum

Mail on Sunday
THRILLER OF THE WEEK. Delivers thrills and spills...A full tilt mix of Homeland, The Wire and The Bourne Ultimatum

Mail on Sunday
THRILLER OF THE WEEK. Delivers thrills and spills...A full tilt mix of Homeland, The Wire and The Bourne Ultimatum

Mail on Sunday
I Am Pilgrim is a 21st century thriller: a high concept plot, but with finely drawn protagonists. The plot twists and turns like a python in a sack. The style is visceral, gritty and cinematic...A satisfying and ambitious book, written with skill and verve

Adam LeBor, The Times
I Am Pilgrim is a 21st century thriller: a high concept plot, but with finely drawn protagonists. The plot twists and turns like a python in a sack. The style is visceral, gritty and cinematic...A satisfying and ambitious book, written with skill and verve

Adam LeBor, The Times
I Am Pilgrim is a 21st century thriller: a high concept plot, but with finely drawn protagonists. The plot twists and turns like a python in a sack. The style is visceral, gritty and cinematic...A satisfying and ambitious book, written with skill and verve

Adam LeBor, The Times
Clever and compulsive - the best thriller in years

Deidre O'Brien, Sunday Mirror
Clever and compulsive - the best thriller in years

Deidre O'Brien, Sunday Mirror
Clever and compulsive - the best thriller in years

Deidre O'Brien, Sunday Mirror
THRILLER OF THE MONTH - If the gizmos and bad guys of James Bond and Jason Bourne are a guilty pleasure, you'll love I Am Pilgrim

Good Housekeeping
THRILLER OF THE MONTH - If the gizmos and bad guys of James Bond and Jason Bourne are a guilty pleasure, you'll love I Am Pilgrim

Good Housekeeping
THRILLER OF THE MONTH - If the gizmos and bad guys of James Bond and Jason Bourne are a guilty pleasure, you'll love I Am Pilgrim

Good Housekeeping
Fast-paced, slick and full of suspense...It will be the only thriller you need to read this year

Yorkshire Post
Fast-paced, slick and full of suspense...It will be the only thriller you need to read this year

Yorkshire Post
Fast-paced, slick and full of suspense...It will be the only thriller you need to read this year

Yorkshire Post
I Am Pilgrim takes the modern spy novel and pushes it screaming and kicking into the twentieth-first century. With a stunning sense of plot, beautifully detailed writing, huge ambition and even huger talent, Hayes has produced one of the most memorable novels of recent times. This is a frightening, pulse-pounding journey into the future of terrorism and the brave new world we've been ushered into. Amazingly assured and complex, this is one of the best debut novels I've ever read

Stav Sherez
I Am Pilgrim takes the modern spy novel and pushes it screaming and kicking into the twentieth-first century. With a stunning sense of plot, beautifully detailed writing, huge ambition and even huger talent, Hayes has produced one of the most memorable novels of recent times. This is a frightening, pulse-pounding journey into the future of terrorism and the brave new world we've been ushered into. Amazingly assured and complex, this is one of the best debut novels I've ever read

Stav Sherez
I Am Pilgrim takes the modern spy novel and pushes it screaming and kicking into the twentieth-first century. With a stunning sense of plot, beautifully detailed writing, huge ambition and even huger talent, Hayes has produced one of the most memorable novels of recent times. This is a frightening, pulse-pounding journey into the future of terrorism and the brave new world we've been ushered into. Amazingly assured and complex, this is one of the best debut novels I've ever read

Stav Sherez
Terry Hayes' I AM PILGRIM delivers smart, compelling and wildly inventive storytelling, told on an ambitious scale with total command. A masterful novel and a terrific read

Chris Ewan
Terry Hayes' I AM PILGRIM delivers smart, compelling and wildly inventive storytelling, told on an ambitious scale with total command. A masterful novel and a terrific read

Chris Ewan
Terry Hayes' I AM PILGRIM delivers smart, compelling and wildly inventive storytelling, told on an ambitious scale with total command. A masterful novel and a terrific read

Chris Ewan
As relevant as today's headlines. A scary trip through the shadowy world of international espionage. Just hope that Pilgrim is on our side. Terrific. No, on second thoughts, better than terrific

Mark Timlin
As relevant as today's headlines. A scary trip through the shadowy world of international espionage. Just hope that Pilgrim is on our side. Terrific. No, on second thoughts, better than terrific

Mark Timlin
As relevant as today's headlines. A scary trip through the shadowy world of international espionage. Just hope that Pilgrim is on our side. Terrific. No, on second thoughts, better than terrific

Mark Timlin
A rollicking, yet thoughtful spy thriller which looks set to become a summer blockbuster... [I Am Pilgrim] has plenty of action, but at its heart the drama is cerebral and rich in character, a battle of wills and intellect which is more George Smiley than Jason Bourne

Tom Tivnan, The Bookseller
A rollicking, yet thoughtful spy thriller which looks set to become a summer blockbuster... [I Am Pilgrim] has plenty of action, but at its heart the drama is cerebral and rich in character, a battle of wills and intellect which is more George Smiley than Jason Bourne

Tom Tivnan, The Bookseller
A rollicking, yet thoughtful spy thriller which looks set to become a summer blockbuster... [I Am Pilgrim] has plenty of action, but at its heart the drama is cerebral and rich in character, a battle of wills and intellect which is more George Smiley than Jason Bourne

Tom Tivnan, The Bookseller
[Terry Hayes'] debut novel has been hyped as "the only thriller you need to read this year", and for once that isn't nonsense. I Am Pilgrim makes moussaka of its rivals

John O'Connell, Guardian
[Terry Hayes'] debut novel has been hyped as "the only thriller you need to read this year", and for once that isn't nonsense. I Am Pilgrim makes moussaka of its rivals

John O'Connell, Guardian
[Terry Hayes'] debut novel has been hyped as "the only thriller you need to read this year", and for once that isn't nonsense. I Am Pilgrim makes moussaka of its rivals

John O'Connell, Guardian
I Am Pilgrim is going to be big

Simon Mayo
I Am Pilgrim is going to be big

Simon Mayo
I Am Pilgrim is going to be big

Simon Mayo
I Am Pilgrim is a satisfying and ambitious book, written with skill and verve

The Times
I Am Pilgrim is a satisfying and ambitious book, written with skill and verve

The Times
I Am Pilgrim is a satisfying and ambitious book, written with skill and verve

The Times
Worthy of the hype ****

Sunday Mirror
Worthy of the hype ****

Sunday Mirror
Worthy of the hype ****

Sunday Mirror
I Am Pilgrim is a fresh new take on the genre...and it's one you won't regret picking up

David Baldacci
I Am Pilgrim is a fresh new take on the genre...and it's one you won't regret picking up

David Baldacci
I Am Pilgrim is a fresh new take on the genre...and it's one you won't regret picking up

David Baldacci
[I Am Pilgrim] has been a fantastic read: a big, solid, chunky, fast-paced, rip-roaring thriller, the love child of a manic union between Jack Reacher and James Bond.

Heat
[I Am Pilgrim] has been a fantastic read: a big, solid, chunky, fast-paced, rip-roaring thriller, the love child of a manic union between Jack Reacher and James Bond.

Heat
[I Am Pilgrim] has been a fantastic read: a big, solid, chunky, fast-paced, rip-roaring thriller, the love child of a manic union between Jack Reacher and James Bond.

Heat
Mr. Hayes's globe-trotting book has more kicks, twists and winks than anything of its dusty genre has provided in a long time. You will be happily surprised to find a new thriller franchise with brains to match its brawn

Janet Maslin, New York Times
Mr. Hayes's globe-trotting book has more kicks, twists and winks than anything of its dusty genre has provided in a long time. You will be happily surprised to find a new thriller franchise with brains to match its brawn

Janet Maslin, New York Times
Mr. Hayes's globe-trotting book has more kicks, twists and winks than anything of its dusty genre has provided in a long time. You will be happily surprised to find a new thriller franchise with brains to match its brawn

Janet Maslin, New York Times
Written in a heart-stopping pace, this literary thriller lands somewhere between Homeland and Breaking Bad and then transports you to a different level. It is part spy novel, part psychological thriller. Twists and turns. Emotionally complex characters. Relevant geopolitical issues.

Monica Lewinsky, Wall Street Journal
Written in a heart-stopping pace, this literary thriller lands somewhere between Homeland and Breaking Bad and then transports you to a different level. It is part spy novel, part psychological thriller. Twists and turns. Emotionally complex characters. Relevant geopolitical issues.

Monica Lewinsky, Wall Street Journal
Written in a heart-stopping pace, this literary thriller lands somewhere between Homeland and Breaking Bad and then transports you to a different level. It is part spy novel, part psychological thriller. Twists and turns. Emotionally complex characters. Relevant geopolitical issues.

Monica Lewinsky, Wall Street Journal
The best thriller I've read in ten years... An astonishing piece of work

Linwood Barclay
The best thriller I've read in ten years... An astonishing piece of work

Linwood Barclay
The best thriller I've read in ten years... An astonishing piece of work

Linwood Barclay
Article