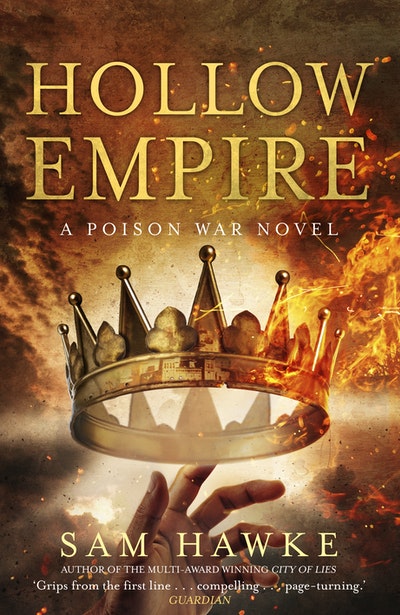 Published:

1 December 2020

ISBN:

9781787631052

Imprint:

Bantam Press

Format:

Trade Paperback

Pages:

560

RRP:

$32.99
Hollow Empire
---
---
---
Continuing the epic tale begun in the multi-award-winning City of Lies - a thrilling story of subterfuge and treachery and wild and ancient magic...

The brilliant new fantasy from the acclaimed and multi-award winning author of City of Lies . . .
'Marvellous . . . will leave you reading late into the night.' SFX
'Poisoners, deceit and treachery . . . will surely keep readers entranced.' TERRY BROOKS
'One of the standout debuts - and books - of the year.' THE FANTASY HIVE
'Absolutely loved this . . . a wonderful read.' JOHN GWYNNE
'One of the best new fantasies I've seen in a long time.' ADRIAN TCHAIKOVSKY
'A bold new fantasy voice.' LAURA LAM
_____________________________________________
You never get used to poisoning a child . . .
Two years after a devastating siege tore the country apart, Silasta has recovered. But to the frustration of poison-taster siblings Jovan and Kalina, sworn to protect the Chancellor, the city has grown complacent in its new-found peace and prosperity.
And now, amid the celebrations of the largest carnival the continent has ever seen, it seems a mysterious enemy has returned.
The death of a former adversary sets Jovan on the trail of a cunning killer, while Kalina negotiates the treacherous politics of visiting dignitaries, knowing that this vengeful mastermind may lurk among the princes and dukes, noble ladies and priests. But their investigations uncover another conspiracy which now threatens not just Silasta and the Chancellor but also their own family.
Assassins, witches and a dangerous criminal network are all closing in. And brother and sister must once more fight to save their city - and everyone they hold dear - from a patient, powerful enemy determined to tear it all down . . .
Published:

1 December 2020

ISBN:

9781787631052

Imprint:

Bantam Press

Format:

Trade Paperback

Pages:

560

RRP:

$32.99
If the first line doesn't make you buy this book, you should turn in your fantasy-lover's badge. City of Lies got me through sitting seven hours in an airport, and proves that a tale about the one who risks his life to thwart assassins can be as compelling as any assassin's tale.

ROBIN HOBB
A tale of poisoners, deceit and treachery that will surely keep readers entranced. I don't read many stories as twisty and unpredictable, especially in the latter chapters, as this one, and I loved what Sam Hawke did.

TERRY BROOKS
Sibling protagonists anchor this sinuous story of old grievances coming to a boil. Hawke writes with nuance about the loves, loyalties, ambitions and resentments that bind her characters together and threaten to tear them apart.

KATE ELLIOTT
Absolutely loved this; the world building is brilliant, the mystery and crime elements merge seamlessly into a fantastical world of poisoners, warrior-guilds and ancient magic. But the heart of the story is the central characters, they're written with such depth: flawed, human and likeable. City of Lies is a wonderful read and one that I'd highly recommend to all lovers of fantasy.

JOHN GWYNNE
An enormously enjoyable read, one of the best new fantasies I've seen in a long time.

ADRIAN TCHAIKOVSKY
Article
The allure of fantasy
The author of City of Lies discusses revisiting Silasta and exploring the traumas and triumphs of her characters in the sequel.