The author of City of Lies discusses revisiting Silasta and exploring the traumas and triumphs of her characters in the sequel.
I often get asked what was my 'gateway' book, the first fantasy novel I read that made me fall in love with the genre. The truth is that there's no such book because my love of reading has always been intrinsically tied to fantasy and science fiction. I can't remember a time when most of the books I loved best didn't have some kind of otherworldly aspect. Children's books are full of the fantastic – there's no separate shelf for fantasy in kids' books – because children don't expect you to obey real world rules in their fiction. Children's imaginations are primed to follow you on whatever adventure you want to take them. Talking animals, spaceships, dragons and portals into magical worlds are all staples in children's fiction. My favourite books as a child included Gillian Rubinstein's classic SF Space Demons, the beautiful and subtle time-bending When Marnie Was There by Joan Robinson, and Cora Taylor's Julie and Allan Baillie's Megan's Star, both of which featured children with psychic abilities and their uncomfortable fit in society. And of course The Hobbit, which ignited my love of pure secondary world epic fantasy.
At some point, you're expected to stop loving dragons. And I never stopped loving dragons.
Having said that, fantasy is so much more than dragons. Indeed, I firmly believe fantasy is more of a setting than a genre. Fantasy novels are frequently adventure stories but they can also be mysteries, romances, comedies, literary fiction, even westerns (if you squint). Some writers (*cough* Terry Pratchett *cough*) manage to do all of these in a single series. There's no limit to the kind of stories you can tell. (This means you can absolutely lure your friends and relatives who think they don't like SFF into the genre by laying a careful crumb trail of targeted recommendations.) City of Lies is a secondary world fantasy novel, but it's also part closed-room mystery because in writing it I was trying to pay homage to my favourite kinds of stories.
The joy of a fantasy setting is that you can tell a story structured as a mystery, which has the kinds of twists and turns and suspense that I loved in old Alistair Maclean spy thrillers, but also give readers the transportive effect of a secondary world setting. Unlike a lot of epic fantasy my books are set largely in a single location, so I wanted the city of Silasta to feel very different from our own world, and somewhere fascinating that readers would want to spend time in. I had a lot of fun creating a society in the Poison Wars that features different family structures and gender dynamics, and an emphasis on sibling/family relationships over romantic ones. Another highlight was making up a series of fictional poisons which both feature in the plot and are included as short chapter epigraphs. In Hollow Empire the city is hosting a massive spring carnival that has brought an influx of visitors from neighbouring countries, giving me an opportunity to expand the cultures and societies that the readers get to see, as well as expanding the world with new villains and new magic.
So what else can readers expect in the sequel?
One thing that I look for in a successful series is an exploration of consequence. Dramatic moments in stories, both positive and negative, tend to resonate better when they are driven by the choices characters make. Compare, for example, the big moments in the early seasons of Game of Thrones to their apparent equivalents in the later seasons. Each shocking and unexpected twist in the early seasons landed effectively because each, in hindsight, was an inevitable consequence of the characters' own actions over the course of the story. The later seasons seemingly misunderstood this factor with the result that character deaths and choices felt empty and plot serving rather than earned. Another trap is to have the main characters 'reset' after each book, fresh and ready for more adventures, preserving the same dynamic that made earlier instalments successful. But in epic fantasy the stakes are frequently sky high and the events of previous books world-changing. Failing to give the effects of those events sufficient gravity is a sure way to drop my interest in a series.
So in writing Hollow Empire I wanted to explore the fallout of the events of the previous book. How would the country have changed socially, economically, culturally? How, in practice, would a government go about making reparations for the kinds of large scale wrongs it has perpetuated, and how might this go wrong? How would the social dynamics between the rural and urban groups have adjusted, and what effect would it have on the general population now that the existence of magic is undisputed? And, most importantly, how would the characters have changed and grown (or regressed) based on those experiences? Those were the kinds of questions I wanted to explore, while still telling a story that has the same flavour of politics, intrigue and optimism as City.
The story is set a few years after the end of City and the main characters have processed their traumas and triumphs in various ways. Jovan is looking to the next generation, training his young heir, and trying to reconcile the importance of their role as proofers with the responsibility he has taken on as her guardian. Kalina, once reclusive and overlooked, is celebrated as a hero and working as a diplomat and learning to adjust to this public scrutiny. Tain is working to secure a fairer governance model for the country in the long term but is battling both his ongoing health issues and the entrenched power of the wealthy Sjon families, and Hadrea is finding her lifelong dream of being trained as a Speaker something less than she expected. Against the backdrop of a spring festival in which the city is celebrating its recovery, the four again find themselves defending the country from mysterious enemies, and this time the plot also seems personal.
I hope that readers who enjoyed City and cared about the characters will find the story satisfying as a part of a broader arc as well as being entertaining on its own!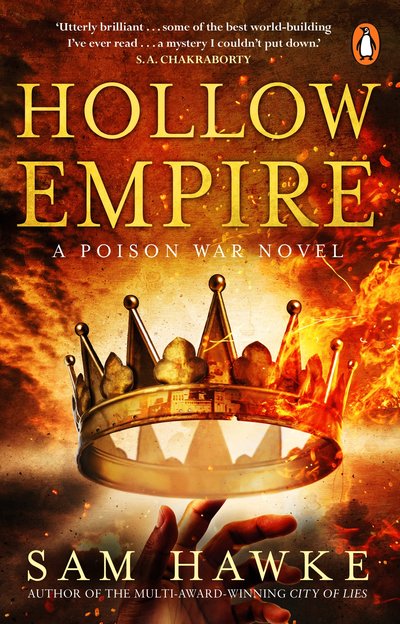 Hollow Empire
Continuing the epic tale begun in the multi-award-winning City of Lies - a thrilling story of subterfuge and treachery and wild and ancient magic...
Read more