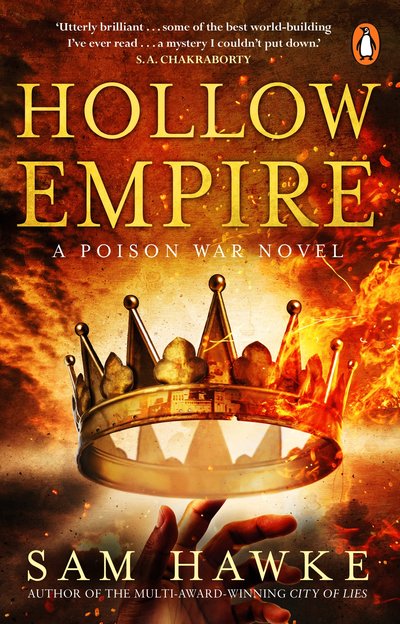 Published:

1 March 2022

ISBN:

9781529177275

Imprint:

Penguin

Format:

Paperback

Pages:

688

RRP:

$22.99
Hollow Empire
---
---
---
Continuing the epic tale begun in the multi-award-winning City of Lies - a thrilling story of subterfuge and treachery and wild and ancient magic...

The brilliant new fantasy from the acclaimed and multi-award winning author of City of Lies . . .
'Marvellous . . . will leave you reading late into the night.' SFX
'Poisoners, deceit and treachery . . . will surely keep readers entranced.' TERRY BROOKS
'One of the standout debuts - and books - of the year.' THE FANTASY HIVE
'Absolutely loved this . . . a wonderful read.' JOHN GWYNNE
'One of the best new fantasies I've seen in a long time.' ADRIAN TCHAIKOVSKY
'A bold new fantasy voice.' LAURA LAM
_____________________________________________
You never get used to poisoning a child . . .
Two years after a devastating siege tore the country apart, Silasta has recovered. But to the frustration of poison-taster siblings Jovan and Kalina, sworn to protect the Chancellor, the city has grown complacent in its new-found peace and prosperity.
And now, amid the celebrations of the largest carnival the continent has ever seen, it seems a mysterious enemy has returned.
The death of a former adversary sets Jovan on the trail of a cunning killer, while Kalina negotiates the treacherous politics of visiting dignitaries, knowing that this vengeful mastermind may lurk among the princes and dukes, noble ladies and priests. But their investigations uncover another conspiracy which now threatens not just Silasta and the Chancellor but also their own family.
Assassins, witches and a dangerous criminal network are all closing in. And brother and sister must once more fight to save their city - and everyone they hold dear - from a patient, powerful enemy determined to tear it all down . . .
Published:

1 March 2022

ISBN:

9781529177275

Imprint:

Penguin

Format:

Paperback

Pages:

688

RRP:

$22.99
Utterly brilliant . . . The Poison Wars novels contain some of the best world-building I've ever read, a wonderful sibling bond unlike anything in fantasy, all wrapped together in a mystery I couldn't put down. Highly recommend!

S A CHAKRABORTY, author of the bestselling Daevabad Trilogy
A masterpiece of intrigue and mystery with a nameless, faceless enemy hellbent on destruction. I loved it.

ANNA STEPHENS, author of the bestselling Godblind
A richly textured tale of old treachery and new intrigue . . . Fans will savour Hawke's well-shaded characters, the lavish descriptions of their fictional world, and Hawke's acute analyses of self-doubt, guilt, discrimination, and recrimination. This is a political epic done right

PUBLISHERS WEEKLY
Hollow Empire delivers mystery, suspense, thrills, action, setbacks, puzzles, red herrings, emotional gut-punches, moments of despair - and triumph - and even a little romance . . . a true fantasy masterpiece

FANTASY HIVE
One of Australia's leading imaginative authors

CANBERRA TIMES
Moments that truly made me want to cry . . . others that had me at the edge of my seat - it's so good . . . Would I recommend this? 100000% . . . one of my favourite series of all time. My rating: 5/5 stars

CHAININTERACTION
Hawke's exemplary prose thrusts readers directly into the action, both physical and magical, building tension and excitement until the final pages.

LIBRARY JOURNAL
The world building is truly extraordinary . . . an edge of the seat finale . . . the writing is beautiful . . . it encompasses the best of all reading worlds and is both evocative and intelligent - with an added dose of page turning quality that will see its 500+ pages fly by if you let them. Highly recommended

LIZLOVESREADING
I highly recommend Hollow Empire . . . an incredible sequel, worth every second of waiting. It showcases one of the best (and local!) voices in fantasy. If you want a diverse, character driven story with exquisite world building and characters you would lay down your life for, do yourself a favour and pick up these books

WILDHEARTREADS
Article
The allure of fantasy
The author of City of Lies discusses revisiting Silasta and exploring the traumas and triumphs of her characters in the sequel.