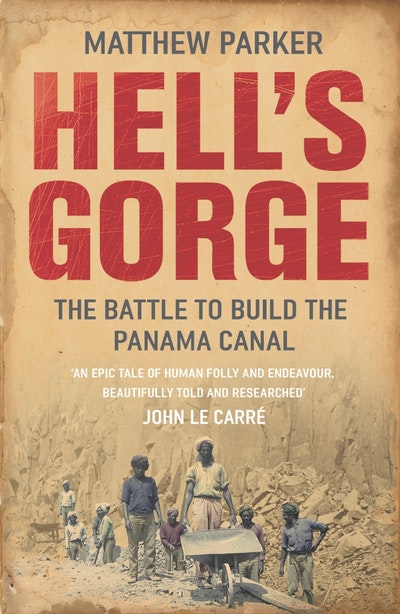 Published:

4 January 2011

ISBN:

9781446410875

Imprint:

Cornerstone Digital

Format:

EBook

Pages:

464
Hell's Gorge
The Battle to Build the Panama Canal
---
---
---
The brilliantly ambitious, epic story of a thirty-year battle against the elements, disease, impossible terrain and massive financial collapse to create one of the most extraordinary engineering feats in world history.
2014 is the 100-year-anniversary of the panama canal: one of the most extraordinary engineering feats in world history.
Hell's Gorge traces a heroic dream that spanned four centuries: to build a canal linking the Atlantic and Pacific oceans.The human cost was immense: in appalling working conditions and amid epidemics of fever, tens of thousands perished fighting the jungle, swamps and mountains of Panama, a scale of attrition comparable to many great battles.
Matthew Parker explores the fierce geo-political struggle behind the heroic vision of the canal, and the immense engineering and medical battles that were fought. But he also weaves in the stories of the ordinary men and women who worked on the canal, to evoke everyday life on the construction and depict the battle on the ground deep in 'Hell's Gorge'. Using diaries, memoirs, contemporary newspapers and previously unseen private letters, he draws a vivid picture of the heart-breaking struggle on the Isthmus, in particular that of the British West Indians who made up the majority of the canal workforce.
Hell's Gorge is a tale of politics, finance, press manipulation, scandal and intrigue, populated by a dazzling cast of idealists and bullies, heroes and conmen. But it is also a moving tribute to the 'Forgotten Silvermen', so many of whom died to fulfil the centuries-old canal dream.
Published:

4 January 2011

ISBN:

9781446410875

Imprint:

Cornerstone Digital

Format:

EBook

Pages:

464
An epic tale of human folly and endeavour, beautifully told and researched

John le Carré
Excellent... the story is an epic one, and Parker has brilliantly done justice to every aspect of a complex episode

Frank McLynn, Independent
Matthew Parker has picked a fascinating subject and written a book worthy of it ... It is peopled with a host of characters, some heroic, others corrupt, almost all out of the ordinary. There isn't a dull page

Allan Massie, Daily Telegraph
Matthew Parker intertwines the various strands of the story - personal and national, political and financial, geographical and technological - with finesse ... Best of all, his prose somehow manages to infect the reader with the Panama fever itself. It is no mean achievement

The Spectator
Parker guides readers through the complicated story with a sure sense of both the larger narrative and the telling detail

Sunday Times
Parker has written the Panama story for a new generation. He quotes extensively from letters and diaries of ordinary workers writing home to their families. And it is their heartfelt views on the conditions in which they lived and worked that really bring this book to life

The Economist
Parker's epic story, from the 18th century to the present day, is awesome

The Times
Parker's great forte in Panama Fever is to bring this complex story to life through a succession of vivid characters

Sunday Telegraph
The essence of Parker's rather remarkable achievement in this altogether entertaining history is to show just how much more than an engineering triumph the construction of the canal really was... This is exemplary history, vigorously told with a respect for complexity that enriches rather than obscures the pleasure of a great story

LA Times
The extraordinary story of western man's compulsion to wrestle with nature in the central American swamps and rainforests

The Guardian
Today other armies of impoverished workmen build Dubai, Shanghai or the Three Gorges Dam with barely a murmur of the real price paid by them and by nature. It is a shame. We need writers capable of depicting these epic projects with the same skill Parker brings to portraying the 19th century's great engineering dream

The Guardian