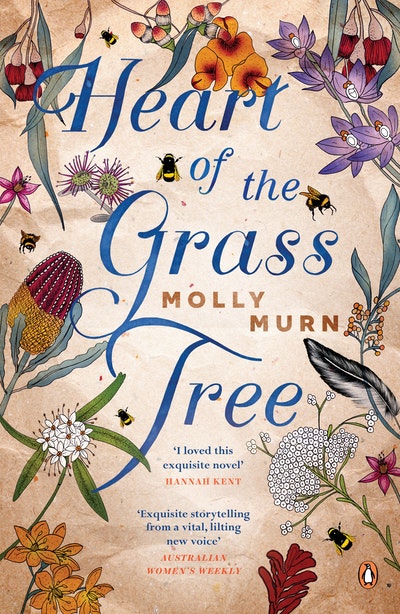 Published:

1 December 2020

ISBN:

9781760899196

Imprint:

Penguin

Format:

Paperback

Pages:

304

RRP:

$22.99
Heart of the Grass Tree
---
---
---
Shortlisted for the Indies and MUD literary fiction prizes.
Heart of the Grass Tree is an exquisite, searing and hope-filled debut about mothers, daughters, family stories, about country and its living history.
When Pearl's grandmother Nell dies unexpectedly, Pearl and her family – mother Diana, sister Lucy – return to Kangaroo Island to mourn and farewell her. Each of them knew Nell intimately but differently, and each woman must reckon with Nell's passing in her own way. But Nell had secrets, too.
As Pearl, Diana and Lucy interrogate their feelings about the island, Pearl starts to pull together the scraps Nell left behind and unearths a connection to the island's early history, of the early European sealers and their first contact with the Ngarrindjeri people.
Pearl's deepening connection to their history, the island's history, grounds her, and will ultimately bring the women back to each other.
Published:

1 December 2020

ISBN:

9781760899196

Imprint:

Penguin

Format:

Paperback

Pages:

304

RRP:

$22.99
Praise for Heart of the Grass Tree
Exquisite storytelling from a vital, lilting new voice.

Australian Womens Weekly
A richly told story about people and place.

Jeff Popple, Canberra Weekly
Heart of the Grass Tree is a brilliant achievement. A strange and compelling story that held me in thrall from the first page to the last.

Alex Miller
I loved this exquisite novel. Molly Murn has created a gorgeously lyrical story of love, family and belonging set against the landscape and history of Kangaroo Island. Murn's rendering of the island's beauty borders on the sublime, and her portrayal of the acts of blood, violence, and forgiveness perpetrated there is profound in its deep understanding of human behaviour. The HEART OF THE GRASS TREE announces Murn as a brilliant new voice in Australian fiction.

Hannah Kent
From the opening descriptions of the purest strain of Ligurian bees on Kangaroo Island, Murn's novel promises a poetic narrative, relishing in sensuality and informed by historical research. And it delivers, But this exquisite dreaminess in describing both place and the emotionally intricate stories around Nell, her children and granddaughter are also contrasted with shocks of violence between blackfellas and whitefellas, reminiscent of Kate Grenville's The Secret River. It is a fitting way to write about Australia's violent history, from which South Australia is far exempt from. Murn confronts this uncomfortable history with honesty, sensitivity and skill, just as her novel's contemporary characters must confront their own personal histories.

Michael X Savvas, Adelaide Review
Heart of the Grass Tree is a story, richly told, of the landscape of Australian history – both emotional and physical – and the way we record these stories of place.

Marie Matteson, Readings Carlton
Every piece of this story, every person who enters its frame – even if only momentarily – contributes a piece of the picture. But the picture is bigger than any one individual. This is not the story of a person, or a family, or even a community. It is the story of an island, and islands existed long before we entered the scene, and will endure long after we are gone. This type of novel does not allow the reader to be a passive recipient of the story. Instead, you are required to fit the pieces together, to become part of the consequences, lest your own role in the narrative fade away like the names weathered out of stone. As all of us will, in the end.

Sally Nimon, Newtown Review of Books
With Heart of the Grass Tree, Molly Murn cements herself as not only one of Australia's most exciting up-and-coming novelists, but a brilliant novelist of Australia. Lyricism empowers this tale of settlement on Kangaroo Island. Its prose is gorgeous, every page jewelled by Murn's lyrical parlance, antithetical to the brutality of its conquest by the first settlers. Her rendering of the island's natural beauty and it's violent, oppressive history is truly exquisite and piercingly acute. A true gift of a novel from a truly impressive storyteller.

Simon McDonald
Molly Murn's stunning debut charts the sorrow of three generations of women, all damaged by fraught relationships with their mothers. [Kangaroo] Island functions almost as another character - a witness to centuries of human violence, death, love and birth. Murn's book is a timely reminder of where we've come from and the light that lies ahead.

Anna Carew-Reid, Sunday Times, Perth
Murn moves effortlessly from one era to the next, suggesting connections between characters in different times, and making the island come alive in salty, sandy, windswept prose.

Margot Lloyd, Adelaide Advertiser
The book's strength is its evocation of that wild [Kangaroo] island, with its 'wind-rush, and its sea-howl'.

Kerryn Goldsworthy, The Sydney Morning Herald
I devoured Heart of the Grass Tree. A beautiful debut about Kangaroo Island and its living history. I loved it.

Favel Parrett, The Sydney Morning Herald
Deep layers of complexity and mystery shifts between eras and generations. As the secrets pile up, the tale ambitiously ties a vast sweep of grief, race relations, foiled romance and family connections into a cohesive whole. The language is alive with agitation, accusation, secrets and searching.

MUD prize for First Fiction, shortlisted
Indie Book Awards
Shortlisted • 2020 • Debut Fiction
MUD Literary Prize
Shortlisted • 2020 • MUD Literary Prize
Article
Article