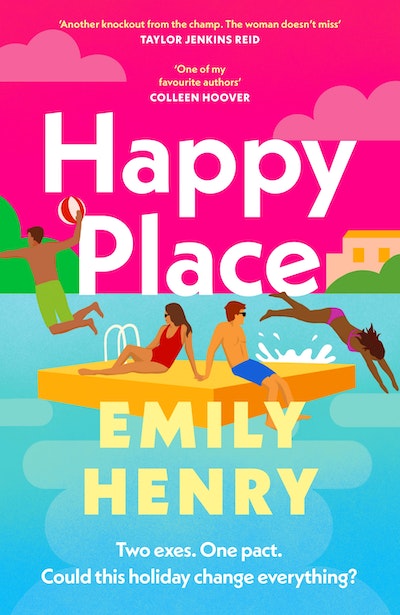 Published:

25 April 2023

ISBN:

9780241997932

Imprint:

Viking

Format:

Trade Paperback

Pages:

400

RRP:

$32.99
Happy Place
A shimmering new novel from #1 Sunday Times bestselling author Emily Henry
---
---
---
Set over one sizzling summer, HAPPY PLACE is the new chemistry-filled 'second chance love' romcom from Tiktok sensation, New York and Sunday Times bestselling author of Beach Read and Book Lovers
Harriet and Wyn are the perfect couple - they go together like bread and butter, gin and tonic, Blake Lively and Ryan Reynolds. Every year, they take a holiday from their lives to drink far too much wine with their favourite people in the world. Except this year, they are lying through their teeth, because Harriet and Wyn broke up six months ago. And they still haven't told anyone.
But the cottage is for sale so this is the last time they'll all be here together. They can't bear to break their best friends' hearts so they'll fake it for one more week.
But how can you pretend to be in love - and get away with it - in front of the people who know you best?
Published:

25 April 2023

ISBN:

9780241997932

Imprint:

Viking

Format:

Trade Paperback

Pages:

400

RRP:

$32.99
Emily Henry's books are a gift, the perfect balance between steamy and sweet

V. E Schwab, GALLANT
Emily Henry's books are a gift, the perfect balance between steamy and sweet

V. E Schwab, GALLANT
Emily Henry's books are a gift, the perfect balance between steamy and sweet

V. E Schwab, GALLANT
Emily Henry's books are a gift, the perfect balance between steamy and sweet

V. E Schwab, GALLANT
Emily Henry's books are a gift, the perfect balance between steamy and sweet

V. E Schwab, GALLANT
Emily Henry's books are a gift, the perfect balance between steamy and sweet

V. E Schwab, GALLANT
Nobody does it quite like Emily Henry

Casey McQuiston, RED, WHITE & ROYAL BLUE
Nobody does it quite like Emily Henry

Casey McQuiston, RED, WHITE & ROYAL BLUE
Nobody does it quite like Emily Henry

Casey McQuiston, RED, WHITE & ROYAL BLUE
Nobody does it quite like Emily Henry

Casey McQuiston, RED, WHITE & ROYAL BLUE
Nobody does it quite like Emily Henry

Casey McQuiston, RED, WHITE & ROYAL BLUE
Nobody does it quite like Emily Henry

Casey McQuiston, RED, WHITE & ROYAL BLUE
Our generation's answer to Nora Ephron

Sophie Cousens, THIS TIME NEXT YEAR
Our generation's answer to Nora Ephron

Sophie Cousens, THIS TIME NEXT YEAR
Our generation's answer to Nora Ephron

Sophie Cousens, THIS TIME NEXT YEAR
Our generation's answer to Nora Ephron

Sophie Cousens, THIS TIME NEXT YEAR
Our generation's answer to Nora Ephron

Sophie Cousens, THIS TIME NEXT YEAR
Our generation's answer to Nora Ephron

Sophie Cousens, THIS TIME NEXT YEAR
My newest automatic-buy author

Jodi Picoult, WISH YOU WERE HERE
My newest automatic-buy author

Jodi Picoult, WISH YOU WERE HERE
My newest automatic-buy author

Jodi Picoult, WISH YOU WERE HERE
My newest automatic-buy author

Jodi Picoult, WISH YOU WERE HERE
My newest automatic-buy author

Jodi Picoult, WISH YOU WERE HERE
My newest automatic-buy author

Jodi Picoult, WISH YOU WERE HERE
Article