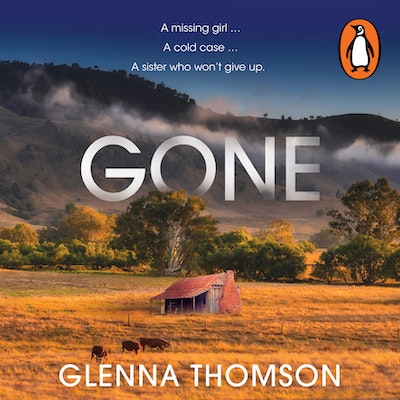 Published:

6 February 2024

ISBN:

9781761345524

Imprint:

Penguin Random House Australia Audio

Format:

Audio Download

Narrator:

Jennifer Rani

Pages:

320

RRP:

$32.99
Gone
---
---
---
Gone is a gripping rural crime novel of a grieving family and their forty-year journey to discover the truth.
A missing girl ... a cold case ... a sister who won't give up …
'I was there on the day Rebecca disappeared. I watched her hurry away. If I close my eyes I can still see her...'
When Rebecca Bundy fails to return home after the last day of school in 1984 her father reports her missing. But the teenager has run away before and recently she's been bragging about going to Queensland, so the police tell the family to wait it out.
Days pass. Rumours swirl. A man seen loitering near the bus stop might have followed her. Was there something going on between Rebecca and a male teacher? What about the sheep farmer on Glen Lochan Road where she babysat? And why is her boyfriend, the rough cattle guy Bull Tennant, so sure something sinister has happened?
Then a shocking murder-suicide at a local farm diverts police attention and Rebecca's disappearance all too quickly becomes a cold case.
But her younger sister Eliza has never forgotten, and for almost forty years she's been looking for answers.
Once she kept Rebecca's secrets. Now she's ready to share her story . . .
'A gripping yet poignant unravelling of a family in the aftermath of a tragic crime. Utterly compelling and exceptionally clever, Gone had me hooked from its intense beginning to its heart-wrenching and unpredictable ending.' Lyn Yeowart
'The drive to find out the truth kept me glued to it.' Shelley Burr
'Gone is an absorbing tale where in the blink of an eye, everything can change. Such a compelling story, you won't be able to put this down. I read it in a day!' Vikki Petraitis
Published:

6 February 2024

ISBN:

9781761345524

Imprint:

Penguin Random House Australia Audio

Format:

Audio Download

Narrator:

Jennifer Rani

Pages:

320

RRP:

$32.99
GONE is an absorbing tale where in the blink of an eye, everything can change. Such a compelling story, you won't be able to put this down. I read it in a day!

Vikki Petraitis
The drive to find out the truth kept me glued to it.

Shelley Burr
A gripping yet poignant unravelling of a family in the aftermath of a tragic crime. Utterly compelling and exceptionally clever, Gone had me hooked from its intense beginning to its heart-wrenching and unpredictable ending.

Lyn Yeowart