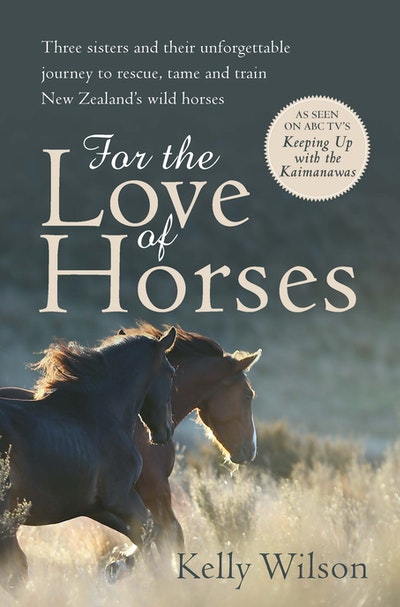 Published:

3 October 2016

ISBN:

9780143783138

Imprint:

Ebury Australia

Format:

Trade Paperback

Pages:

384

RRP:

$34.99
For the Love of Horses
Extract
From the very beginning there was no doubt that we three Wilson sisters would grow up with horses. Our parents both rode, and encouraged our love of horses from an early age, but they could never have imagined just how much horses would define our later years.
Mum herself grew up horse-crazy, but with unsupportive parents she used to spend her afternoons helping out at a local racing stable. When she was 13 she was given a broken-down thoroughbred from the track and taught herself to ride without any previous experience. Although she never competed, this sparked a lifelong love affair with horses. Dad, however, grew up in a racing, hunting and polo family, and rode extensively until he injured his back in a rugby scrum and followed this up with a bad accident when his horse fell in a gully and landed on him. Sheep-shearing during the early years of my parents' marriage worsened the injury, the pain in his back limiting his ability to ride.
On our farm near Raglan, by the coast west of Hamilton, Vicki started her equestrian career as a toddler sitting astride a life-sized toy pony and, for want of her own real pony, then began riding the pet ram. Although of a suitable size, riding a sheep proved no easy task and it quickly earned a bad reputation for rushing at people. The first time this happened, Dad had settled down to read the newspaper. Absorbed in it, he failed to spot the ram's approach and was jolted from his thoughts when it head-butted a hole straight through the paper, their heads ending up only centimetres from each other.
A few days later, Mum — who was heavily pregnant with me at the time — was startled to hear Vicki screaming. Bored of playing with her toy horse, the 18-month-old had gone out to the paddock to ride the sheep. As soon as she entered the paddock, the ram rushed at the toddler and knocked her to the ground. Rather than staying down, Vicki stood up, shook the dust from her clothes and turned — only to be knocked to the ground again. By the time Mum had run down the hill to reach her, Vicki had stood up and been knocked down several times, showing the tenacity that has been evident in everything she has done in life since.
Not surprisingly, the ram was deemed an unsuitable mount for young Vicki and she spent more and more time being led around on the farm horses. She was often found wearing her helmet and holding a crop in hand as she attempted to ride her toy horse, or waiting impatiently at the paddock gate for the horses to be caught.
Dad's back injury was causing him serious pain and he began to struggle to manage the steep hill-country farm. Hoping to ease their workload, about 18 months after I was born our parents sold the farm, moving to Whangamata and purchasing a picturesque 26-acre property overlooking the ocean and golf course. Over-mortgaged in an unstable economy, their plans to subdivide were quickly shattered by the 1992 crash and they lost everything, including the property, which reverted back to its previous owners who had left some money in it.
On the brink of bankruptcy, Mum and Dad waited for a call from the bank. Eventually, after months hearing nothing, they phoned to find out what would happen next. Expecting the worst, the young couple was told that the bank had changed ownership and there were no records of any mortgage under their names — and therefore the bank could make no move to foreclose on them. Debts can only be claimed for seven years, and our parents spent the whole of that time waiting on tenterhooks, hoping that the mortgage records wouldn't be found and there would be no demands for money they simply didn't have. When the seventh year rolled around without any such demand having been made, there was a collective sigh throughout our household; to this day Mum and Dad still can't quite believe it happened that way.
In those early years, every day was a struggle. With no money in the bank, the income from Dad's sickness benefit barely covered costs. Amanda was born at the end of 1992, so Mum's time was fully occupied with the three of us and options to earn additional income were limited. In the nearly five years we lived in Whangamata we moved home five times, each house more decrepit or unfinished than the last, and money was always tight. We quickly learnt to go without, buying only the bare necessities and renting half-finished or run-down houses because that was all we could afford.
The one luxury Mum and Dad allowed was horses. Not long after I was born, another addition joined the family. Although they hadn't been looking for a pony, a newspaper ad had caught Mum's eye: SAMSON 10yr old Shetland gelding with all gear $1000. The little bay looked just like a Thelwell pony with his expressive eyes and long mane, and was just perfect for a horse-crazy little girl like Vicki. Well before I could crawl, Mum introduced me to riding too, and at only six months old I was taken out for pony rides, Vicki leading Samson and Mum holding me steady.
Samson and his young riders became a familiar sight in Whangamata town. By the time Vicki was three years old, she was a competent rider and kept a nice steady seat as Mum trotted around the neighbouring farms on her thoroughbred Wings, with Samson cantering to keep up. Samson could often be seen tethered on the lawn of whichever house we were living in, being led into town, or tied up outside the shops while Mum took us grocery shopping. Living in a beach community proved idyllic, and when our parents' financial burdens seemed overwhelming Mum would take us down to the beach and we would ride Samson along the golden sands. It was a wonderful place to live and grow up in.
Always avid readers, Mum and Dad picked up financial advice from books and in the years following the property crash saved 10 per cent of their income in the hope that they could become property owners once again. With money being so tight, they often haunted garage sales and in 1994 Dad came home with a $40 trailer and soon after bought a small ute canopy for another $40, which he welded on top. It proved to be an effective means of transport for Samson; a year later, when we moved to the 'winterless north', this $80 trailer carried our little 10-hand Shetland along with most of our worldly possessions.
The years of scrimping had paid off, and the cashing-in of power shares offered to Whangamata residents in the early 1990s took my parents' savings to $10,000 — enough for a deposit on 4 acres of bare land bought at a mortgagee auction for $32,000. With this purchase early in 1995, my parents became the proud owners of a small lifestyle section on the outskirts of Kamo, Whangarei. Their income remaining low, Mum and Dad couldn't afford to rent a house as well as service the mortgage on their newly acquired land and in May of that year, with three young daughters to look after, they settled in for a long, wet winter living in tents on the property's flats.
Late that month, torrential rain caused a flash flood and water sheeted down from the hills above and swept under the floors of the tent. Hoping to divert the water, my parents began digging ditches along the hillside. Losing track of time, Mum then glanced back to see the flats underwater. Frantic, she dropped her spade and sprinted down the hill, rushing through knee-deep water to get to the tent and letting out a sigh of relief when she found Amanda still asleep in her cot as it bobbed about in the rising floodwaters. Vicki and I were at school at the time, and that afternoon we were packed off to stay with friends until everything had had time to air and dry out.
At times, overwhelmed by the mud, the thick green mould growing on the walls of the tent and the bitter cold of that winter, Mum would cry, unsure how to cope with the ongoing reality of our new life. We young girls, however, were oblivious. Our days were spent at school and in the afternoons we would ride the ponies we gradually acquired or go exploring and then bathe in the river to get clean. A borrowed caravan did eventually ease some of the discomfort. In August, satisfied that our parents could keep up with the mortgage payments, their new bank extended the loan by another $10,000. Mum and Dad used the money to build the framing and roof of an 80-square-metre dwelling, a home that would take more than six years to finish as money permitted.
It was a functional building with no interior cladding or insulation and the rooms were divided using bookshelves and furniture.
Throughout, we girls rarely noticed our lack of money or worldly possessions and were always busy. We were brought up without a television and learnt to appreciate the world around us. Instead of relying on a PlayStation or cartoons for amusement, we had challenges to see who could cross the river the most times without getting wet (me), how many novels we could read in a day (three), who could climb the tallest tree (Amanda), or who could scale the highest limestone outcrop at the neighbouring property (Vicki). It was only when we were cooped up indoors on rainy days that we became fidgety and bored, and Mum and Dad would chase us outside to have mud fights or stomp through puddles.
A favourite pastime was reading, and we spent many of our evenings lost in the pages of books. We favoured Enid Blyton the most and got tangled up in the adventures of the Faraway Tree, the Wishing-Chair and the Famous Five. Of course, anything about horses was also on our preferred reading list and famous equines like Black Beauty, Flicka, National Velvet and Misty increased our love of horses.
Some weekends, we would invite horsey friends over and spend the weekend sleeping under the stars, cooking our own meals on a campfire and telling stories well into the night. Potatoes wrapped in tin foil and cans of spaghetti heated in cast-iron pots became a staple diet at these sleepouts. During the days we would play 'capture the flag' on horseback and ride to the corner dairy to buy ice creams.
The three of us were very close — barring the odd epic fight — and many times we would set out by ourselves, three musketeers in search of adventure. Without technology to stifle our imagination, we could keep ourselves entertained outside for hours, and were often to be found scaling waterfalls, building huts, stacking hay or hand-feeding our latest collection of animals. We were rarely supervised but looked out for each other when disasters happened on a number of occasions. Once I fell out of a tree and landed in front of three raging bulls — we had been waving red flags in front of them only minutes before darting up the tree trunk. Vicki threw acorns at the bulls to keep them distracted while I dashed for the nearest fence. Another time, I fell into the flooded river and was swept downstream. Vicki and Amanda ran ahead and held out branches for me to grab as I sped past in the raging waters.
Our childhood was filled with many such misadventures and accidents, but nothing serious ever happened and we never minded the odd bruise or coming home with cuts and scrapes. We often had riding accidents, too, but always brushed off the dirt and hopped straight back on. We firmly believed the saying that it took 100 falls to make a good rider and kept count of who had fallen off the most. Vicki had the most impressive record, with seven falls off an 11.2-hand pony in two days. Most of our riding was bareback and barefoot, and I'm sure we shed a few tears when ponies stepped on our toes. The only time we wore shoes was at school, and even that was questionable; at lunch-time we would leave our sandals in the classroom and go outside to play rugby and softball. One time when we were sorting through second-hand timber to build our new tack shed, I stepped on a rusty nail and it went straight into my foot. The puncture wasn't serious, though, and after Mum washed it out with salty water I was soon outside again, clambering through the woodpile and sorting timber.
---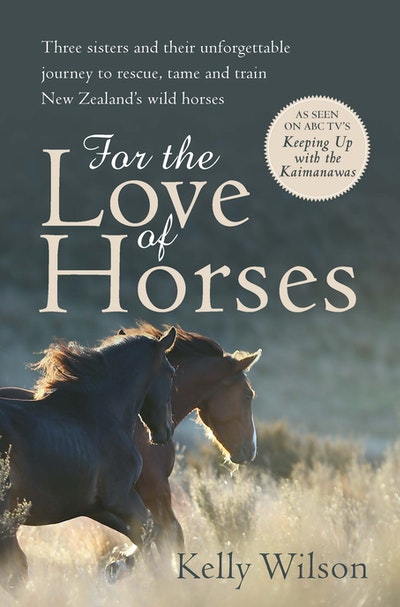 Three sisters and their unforgettable journeys to rescue, tame and train New Zealand's wild Kaimanawa horses.
Buy now
Buy now
---