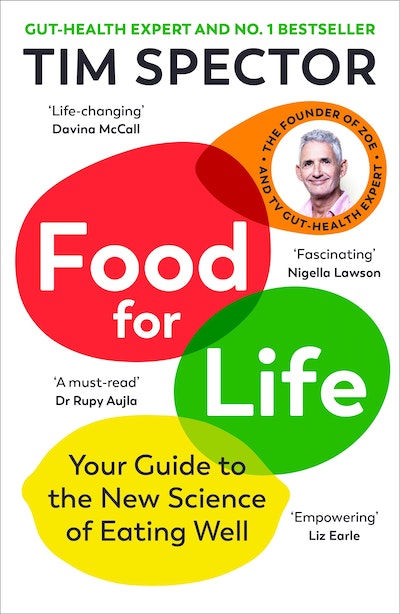 Published:

9 January 2024

ISBN:

9781529919660

Imprint:

Vintage

Format:

Paperback

Pages:

528

RRP:

$27.99
Food for Life
The New Science of Eating Well, by the #1 bestselling author of SPOON-FED
---
---
---
Your essential guide to eating well from the gut-health expert and publishing phenomenon
'Life-changing' DAVINA McCALL
'A must-read' Dr RUPY AUJLA
'Fascinating' NIGELLA LAWSON
'Empowering' LIZ EARLE
**AS HEARD ON THE DIARY OF A CEO PODCAST**
Food is our greatest ally for good health, but the question of what to eat in the age of ultra-processed food has never seemed so complicated.

Drawing on cutting-edge research and personal insights, Professor Tim Spector offers clear answers in this definitive, easy-to-follow guide to the new science of eating well.
Empowering and practical, Food for Life is nothing less than a new approach to how to eat - for our health and the health of the planet.
'No fads, no nonsense, just practical, science-based advice on how to eat well' Daily Mail, Books of the Year
'A rigorously academic book that welcomes the layperson with open arms' The Times
** A THE TIMES and SUNDAY TIMES BOOK OF THE YEAR**
** WINNER OF THE FORTNUM & MASON SPECIAL AWARD **
Published:

9 January 2024

ISBN:

9781529919660

Imprint:

Vintage

Format:

Paperback

Pages:

528

RRP:

$27.99
The nutrition revolution is well underway and Tim Spector is one of the visionaries leading the way. His writing is illuminating and so incredibly timely.

Yotam Ottolenghi - praise for SPOON-FED
The nutrition revolution is well underway and Tim Spector is one of the visionaries leading the way. His writing is illuminating and so incredibly timely.

Yotam Ottolenghi - praise for SPOON-FED
The nutrition revolution is well underway and Tim Spector is one of the visionaries leading the way. His writing is illuminating and so incredibly timely.

Yotam Ottolenghi - praise for SPOON-FED
The nutrition revolution is well underway and Tim Spector is one of the visionaries leading the way. His writing is illuminating and so incredibly timely.

Yotam Ottolenghi - praise for SPOON-FED
The nutrition revolution is well underway and Tim Spector is one of the visionaries leading the way. His writing is illuminating and so incredibly timely.

Yotam Ottolenghi - praise for SPOON-FED
The nutrition revolution is well underway and Tim Spector is one of the visionaries leading the way. His writing is illuminating and so incredibly timely.

Yotam Ottolenghi - praise for SPOON-FED
The nutrition revolution is well underway and Tim Spector is one of the visionaries leading the way. His writing is illuminating and so incredibly timely.

Yotam Ottolenghi - praise for SPOON-FED
The nutrition revolution is well underway and Tim Spector is one of the visionaries leading the way. His writing is illuminating and so incredibly timely.

Yotam Ottolenghi - praise for SPOON-FED
The nutrition revolution is well underway and Tim Spector is one of the visionaries leading the way. His writing is illuminating and so incredibly timely.

Yotam Ottolenghi - praise for SPOON-FED
The nutrition revolution is well underway and Tim Spector is one of the visionaries leading the way. His writing is illuminating and so incredibly timely.

Yotam Ottolenghi - praise for SPOON-FED
The nutrition revolution is well underway and Tim Spector is one of the visionaries leading the way. His writing is illuminating and so incredibly timely.

Yotam Ottolenghi - praise for SPOON-FED
Will actually help you decide what to add to your next grocery shop... This is one of the clearest and most accessible short nutrition books I have read: refreshingly open-minded, deeply informative and free of faddish diet rules.

Bee Wilson, The Guardian - praise for SPOON-FED
Will actually help you decide what to add to your next grocery shop... This is one of the clearest and most accessible short nutrition books I have read: refreshingly open-minded, deeply informative and free of faddish diet rules.

Bee Wilson, The Guardian - praise for SPOON-FED
Will actually help you decide what to add to your next grocery shop... This is one of the clearest and most accessible short nutrition books I have read: refreshingly open-minded, deeply informative and free of faddish diet rules.

Bee Wilson, The Guardian - praise for SPOON-FED
Will actually help you decide what to add to your next grocery shop... This is one of the clearest and most accessible short nutrition books I have read: refreshingly open-minded, deeply informative and free of faddish diet rules.

Bee Wilson, The Guardian - praise for SPOON-FED
Will actually help you decide what to add to your next grocery shop... This is one of the clearest and most accessible short nutrition books I have read: refreshingly open-minded, deeply informative and free of faddish diet rules.

Bee Wilson, The Guardian - praise for SPOON-FED
Will actually help you decide what to add to your next grocery shop... This is one of the clearest and most accessible short nutrition books I have read: refreshingly open-minded, deeply informative and free of faddish diet rules.

Bee Wilson, The Guardian - praise for SPOON-FED
Will actually help you decide what to add to your next grocery shop... This is one of the clearest and most accessible short nutrition books I have read: refreshingly open-minded, deeply informative and free of faddish diet rules.

Bee Wilson, The Guardian - praise for SPOON-FED
Will actually help you decide what to add to your next grocery shop... This is one of the clearest and most accessible short nutrition books I have read: refreshingly open-minded, deeply informative and free of faddish diet rules.

Bee Wilson, The Guardian - praise for SPOON-FED
Will actually help you decide what to add to your next grocery shop... This is one of the clearest and most accessible short nutrition books I have read: refreshingly open-minded, deeply informative and free of faddish diet rules.

Bee Wilson, The Guardian - praise for SPOON-FED
Will actually help you decide what to add to your next grocery shop... This is one of the clearest and most accessible short nutrition books I have read: refreshingly open-minded, deeply informative and free of faddish diet rules.

Bee Wilson, The Guardian - praise for SPOON-FED
Will actually help you decide what to add to your next grocery shop... This is one of the clearest and most accessible short nutrition books I have read: refreshingly open-minded, deeply informative and free of faddish diet rules.

Bee Wilson, The Guardian - praise for SPOON-FED
Spector writes as a food lover... Every person's ideal diet is different, and should be based on sensible choices from a position of knowledge. Food for Life is a feast of that knowledge... A valuable reference book to keep on a kitchen shelf.

Guardian
Spector writes as a food lover... Every person's ideal diet is different, and should be based on sensible choices from a position of knowledge. Food for Life is a feast of that knowledge... A valuable reference book to keep on a kitchen shelf.

Guardian
Spector writes as a food lover... Every person's ideal diet is different, and should be based on sensible choices from a position of knowledge. Food for Life is a feast of that knowledge... A valuable reference book to keep on a kitchen shelf.

Guardian
Spector writes as a food lover... Every person's ideal diet is different, and should be based on sensible choices from a position of knowledge. Food for Life is a feast of that knowledge... A valuable reference book to keep on a kitchen shelf.

Guardian
Spector writes as a food lover... Every person's ideal diet is different, and should be based on sensible choices from a position of knowledge. Food for Life is a feast of that knowledge... A valuable reference book to keep on a kitchen shelf.

Guardian
Spector writes as a food lover... Every person's ideal diet is different, and should be based on sensible choices from a position of knowledge. Food for Life is a feast of that knowledge... A valuable reference book to keep on a kitchen shelf.

Guardian
Spector writes as a food lover... Every person's ideal diet is different, and should be based on sensible choices from a position of knowledge. Food for Life is a feast of that knowledge... A valuable reference book to keep on a kitchen shelf.

Guardian
Spector writes as a food lover... Every person's ideal diet is different, and should be based on sensible choices from a position of knowledge. Food for Life is a feast of that knowledge... A valuable reference book to keep on a kitchen shelf.

Guardian
Spector writes as a food lover... Every person's ideal diet is different, and should be based on sensible choices from a position of knowledge. Food for Life is a feast of that knowledge... A valuable reference book to keep on a kitchen shelf.

Guardian
Spector writes as a food lover... Every person's ideal diet is different, and should be based on sensible choices from a position of knowledge. Food for Life is a feast of that knowledge... A valuable reference book to keep on a kitchen shelf.

Guardian
Spector writes as a food lover... Every person's ideal diet is different, and should be based on sensible choices from a position of knowledge. Food for Life is a feast of that knowledge... A valuable reference book to keep on a kitchen shelf.

Guardian
The pandemic should have changed many attitudes towards understanding biology, and Food for Life is the newly scientifically semi-literate person's post-Covid go-to food book... I trust the author and his work.

The Times, *Book of the Week*
The pandemic should have changed many attitudes towards understanding biology, and Food for Life is the newly scientifically semi-literate person's post-Covid go-to food book... I trust the author and his work.

The Times, *Book of the Week*
The pandemic should have changed many attitudes towards understanding biology, and Food for Life is the newly scientifically semi-literate person's post-Covid go-to food book... I trust the author and his work.

The Times, *Book of the Week*
The pandemic should have changed many attitudes towards understanding biology, and Food for Life is the newly scientifically semi-literate person's post-Covid go-to food book... I trust the author and his work.

The Times, *Book of the Week*
The pandemic should have changed many attitudes towards understanding biology, and Food for Life is the newly scientifically semi-literate person's post-Covid go-to food book... I trust the author and his work.

The Times, *Book of the Week*
The pandemic should have changed many attitudes towards understanding biology, and Food for Life is the newly scientifically semi-literate person's post-Covid go-to food book... I trust the author and his work.

The Times, *Book of the Week*
The pandemic should have changed many attitudes towards understanding biology, and Food for Life is the newly scientifically semi-literate person's post-Covid go-to food book... I trust the author and his work.

The Times, *Book of the Week*
The pandemic should have changed many attitudes towards understanding biology, and Food for Life is the newly scientifically semi-literate person's post-Covid go-to food book... I trust the author and his work.

The Times, *Book of the Week*
The pandemic should have changed many attitudes towards understanding biology, and Food for Life is the newly scientifically semi-literate person's post-Covid go-to food book... I trust the author and his work.

The Times, *Book of the Week*
The pandemic should have changed many attitudes towards understanding biology, and Food for Life is the newly scientifically semi-literate person's post-Covid go-to food book... I trust the author and his work.

The Times, *Book of the Week*
The pandemic should have changed many attitudes towards understanding biology, and Food for Life is the newly scientifically semi-literate person's post-Covid go-to food book... I trust the author and his work.

The Times, *Book of the Week*
A fascinating insight into what we eat in a highly readable format.

Tablet
A fascinating insight into what we eat in a highly readable format.

Tablet
A fascinating insight into what we eat in a highly readable format.

Tablet
A fascinating insight into what we eat in a highly readable format.

Tablet
A fascinating insight into what we eat in a highly readable format.

Tablet
A fascinating insight into what we eat in a highly readable format.

Tablet
A fascinating insight into what we eat in a highly readable format.

Tablet
A fascinating insight into what we eat in a highly readable format.

Tablet
A fascinating insight into what we eat in a highly readable format.

Tablet
A fascinating insight into what we eat in a highly readable format.

Tablet
A fascinating insight into what we eat in a highly readable format.

Tablet
[A] weighty and detailed guide to modern living... [Spector] explains how to boost your microbiome and tailor your diet.

Sunday Times, *Books of the Year*
[A] weighty and detailed guide to modern living... [Spector] explains how to boost your microbiome and tailor your diet.

Sunday Times, *Books of the Year*
[A] weighty and detailed guide to modern living... [Spector] explains how to boost your microbiome and tailor your diet.

Sunday Times, *Books of the Year*
[A] weighty and detailed guide to modern living... [Spector] explains how to boost your microbiome and tailor your diet.

Sunday Times, *Books of the Year*
[A] weighty and detailed guide to modern living... [Spector] explains how to boost your microbiome and tailor your diet.

Sunday Times, *Books of the Year*
[A] weighty and detailed guide to modern living... [Spector] explains how to boost your microbiome and tailor your diet.

Sunday Times, *Books of the Year*
[A] weighty and detailed guide to modern living... [Spector] explains how to boost your microbiome and tailor your diet.

Sunday Times, *Books of the Year*
[A] weighty and detailed guide to modern living... [Spector] explains how to boost your microbiome and tailor your diet.

Sunday Times, *Books of the Year*
[A] weighty and detailed guide to modern living... [Spector] explains how to boost your microbiome and tailor your diet.

Sunday Times, *Books of the Year*
[A] weighty and detailed guide to modern living... [Spector] explains how to boost your microbiome and tailor your diet.

Sunday Times, *Books of the Year*
[A] weighty and detailed guide to modern living... [Spector] explains how to boost your microbiome and tailor your diet.

Sunday Times, *Books of the Year*
Tim Spector has been exploding the myths around food and heal for years... Here he continues the demolition job in a rigorously academic book that welcomes the layperson with open arms.

The Times, *Books of the Year*
Tim Spector has been exploding the myths around food and heal for years... Here he continues the demolition job in a rigorously academic book that welcomes the layperson with open arms.

The Times, *Books of the Year*
Tim Spector has been exploding the myths around food and heal for years... Here he continues the demolition job in a rigorously academic book that welcomes the layperson with open arms.

The Times, *Books of the Year*
Tim Spector has been exploding the myths around food and heal for years... Here he continues the demolition job in a rigorously academic book that welcomes the layperson with open arms.

The Times, *Books of the Year*
Tim Spector has been exploding the myths around food and heal for years... Here he continues the demolition job in a rigorously academic book that welcomes the layperson with open arms.

The Times, *Books of the Year*
Tim Spector has been exploding the myths around food and heal for years... Here he continues the demolition job in a rigorously academic book that welcomes the layperson with open arms.

The Times, *Books of the Year*
Tim Spector has been exploding the myths around food and heal for years... Here he continues the demolition job in a rigorously academic book that welcomes the layperson with open arms.

The Times, *Books of the Year*
Tim Spector has been exploding the myths around food and heal for years... Here he continues the demolition job in a rigorously academic book that welcomes the layperson with open arms.

The Times, *Books of the Year*
Tim Spector has been exploding the myths around food and heal for years... Here he continues the demolition job in a rigorously academic book that welcomes the layperson with open arms.

The Times, *Books of the Year*
Tim Spector has been exploding the myths around food and heal for years... Here he continues the demolition job in a rigorously academic book that welcomes the layperson with open arms.

The Times, *Books of the Year*
Tim Spector has been exploding the myths around food and heal for years... Here he continues the demolition job in a rigorously academic book that welcomes the layperson with open arms.

The Times, *Books of the Year*
Food for Life is a fascinating tour d'horizon, deftly drawing on recent research... Well written [and] informative.

Literary Review
Food for Life is a fascinating tour d'horizon, deftly drawing on recent research... Well written [and] informative.

Literary Review
Food for Life is a fascinating tour d'horizon, deftly drawing on recent research... Well written [and] informative.

Literary Review
Food for Life is a fascinating tour d'horizon, deftly drawing on recent research... Well written [and] informative.

Literary Review
Food for Life is a fascinating tour d'horizon, deftly drawing on recent research... Well written [and] informative.

Literary Review
Food for Life is a fascinating tour d'horizon, deftly drawing on recent research... Well written [and] informative.

Literary Review
Food for Life is a fascinating tour d'horizon, deftly drawing on recent research... Well written [and] informative.

Literary Review
Food for Life is a fascinating tour d'horizon, deftly drawing on recent research... Well written [and] informative.

Literary Review
Food for Life is a fascinating tour d'horizon, deftly drawing on recent research... Well written [and] informative.

Literary Review
Food for Life is a fascinating tour d'horizon, deftly drawing on recent research... Well written [and] informative.

Literary Review
Food for Life is a fascinating tour d'horizon, deftly drawing on recent research... Well written [and] informative.

Literary Review
No fads, no nonsense, just practical, science-based advice on how to eat well.

Daily Mail, *Books of the Year*
No fads, no nonsense, just practical, science-based advice on how to eat well.

Daily Mail, *Books of the Year*
No fads, no nonsense, just practical, science-based advice on how to eat well.

Daily Mail, *Books of the Year*
No fads, no nonsense, just practical, science-based advice on how to eat well.

Daily Mail, *Books of the Year*
No fads, no nonsense, just practical, science-based advice on how to eat well.

Daily Mail, *Books of the Year*
No fads, no nonsense, just practical, science-based advice on how to eat well.

Daily Mail, *Books of the Year*
No fads, no nonsense, just practical, science-based advice on how to eat well.

Daily Mail, *Books of the Year*
No fads, no nonsense, just practical, science-based advice on how to eat well.

Daily Mail, *Books of the Year*
No fads, no nonsense, just practical, science-based advice on how to eat well.

Daily Mail, *Books of the Year*
No fads, no nonsense, just practical, science-based advice on how to eat well.

Daily Mail, *Books of the Year*
No fads, no nonsense, just practical, science-based advice on how to eat well.

Daily Mail, *Books of the Year*
A well-researched and informative book ... Great to see academia catching up with the real world.

Natural Products
A well-researched and informative book ... Great to see academia catching up with the real world.

Natural Products
A well-researched and informative book ... Great to see academia catching up with the real world.

Natural Products
A well-researched and informative book ... Great to see academia catching up with the real world.

Natural Products
A well-researched and informative book ... Great to see academia catching up with the real world.

Natural Products
A well-researched and informative book ... Great to see academia catching up with the real world.

Natural Products
A well-researched and informative book ... Great to see academia catching up with the real world.

Natural Products
A well-researched and informative book ... Great to see academia catching up with the real world.

Natural Products
A well-researched and informative book ... Great to see academia catching up with the real world.

Natural Products
A well-researched and informative book ... Great to see academia catching up with the real world.

Natural Products
A well-researched and informative book ... Great to see academia catching up with the real world.

Natural Products
Fascinating reading

Nigella Lawson
Fascinating reading

Nigella Lawson
Fascinating reading

Nigella Lawson
Fascinating reading

Nigella Lawson
Fascinating reading

Nigella Lawson
Fascinating reading

Nigella Lawson
Fascinating reading

Nigella Lawson
Fascinating reading

Nigella Lawson
Fascinating reading

Nigella Lawson
Fascinating reading

Nigella Lawson
Fascinating reading

Nigella Lawson
A brilliant deep-dive into how food affects our wellbeing – and more importantly, what we can do about it. Enlightening and empowering

Liz Earle
A brilliant deep-dive into how food affects our wellbeing – and more importantly, what we can do about it. Enlightening and empowering

Liz Earle
A brilliant deep-dive into how food affects our wellbeing – and more importantly, what we can do about it. Enlightening and empowering

Liz Earle
A brilliant deep-dive into how food affects our wellbeing – and more importantly, what we can do about it. Enlightening and empowering

Liz Earle
A brilliant deep-dive into how food affects our wellbeing – and more importantly, what we can do about it. Enlightening and empowering

Liz Earle
A brilliant deep-dive into how food affects our wellbeing – and more importantly, what we can do about it. Enlightening and empowering

Liz Earle
A brilliant deep-dive into how food affects our wellbeing – and more importantly, what we can do about it. Enlightening and empowering

Liz Earle
A brilliant deep-dive into how food affects our wellbeing – and more importantly, what we can do about it. Enlightening and empowering

Liz Earle
A brilliant deep-dive into how food affects our wellbeing – and more importantly, what we can do about it. Enlightening and empowering

Liz Earle
A brilliant deep-dive into how food affects our wellbeing – and more importantly, what we can do about it. Enlightening and empowering

Liz Earle
A brilliant deep-dive into how food affects our wellbeing – and more importantly, what we can do about it. Enlightening and empowering

Liz Earle
A life-changing book

Davina McCall
A life-changing book

Davina McCall
A life-changing book

Davina McCall
A life-changing book

Davina McCall
A life-changing book

Davina McCall
A life-changing book

Davina McCall
A life-changing book

Davina McCall
A life-changing book

Davina McCall
A life-changing book

Davina McCall
A life-changing book

Davina McCall
A life-changing book

Davina McCall
Tim's book is a revelation. With his years of experience and engaging writing, he navigates the fascinating and complicated relationship between food and health. A must-read for anyone seeking a respected and trustworthy guide through the murky world of nutrition

Dr Rupy
Tim's book is a revelation. With his years of experience and engaging writing, he navigates the fascinating and complicated relationship between food and health. A must-read for anyone seeking a respected and trustworthy guide through the murky world of nutrition

Dr Rupy
Tim's book is a revelation. With his years of experience and engaging writing, he navigates the fascinating and complicated relationship between food and health. A must-read for anyone seeking a respected and trustworthy guide through the murky world of nutrition

Dr Rupy
Tim's book is a revelation. With his years of experience and engaging writing, he navigates the fascinating and complicated relationship between food and health. A must-read for anyone seeking a respected and trustworthy guide through the murky world of nutrition

Dr Rupy
Tim's book is a revelation. With his years of experience and engaging writing, he navigates the fascinating and complicated relationship between food and health. A must-read for anyone seeking a respected and trustworthy guide through the murky world of nutrition

Dr Rupy
Tim's book is a revelation. With his years of experience and engaging writing, he navigates the fascinating and complicated relationship between food and health. A must-read for anyone seeking a respected and trustworthy guide through the murky world of nutrition

Dr Rupy
Tim's book is a revelation. With his years of experience and engaging writing, he navigates the fascinating and complicated relationship between food and health. A must-read for anyone seeking a respected and trustworthy guide through the murky world of nutrition

Dr Rupy
Tim's book is a revelation. With his years of experience and engaging writing, he navigates the fascinating and complicated relationship between food and health. A must-read for anyone seeking a respected and trustworthy guide through the murky world of nutrition

Dr Rupy
Tim's book is a revelation. With his years of experience and engaging writing, he navigates the fascinating and complicated relationship between food and health. A must-read for anyone seeking a respected and trustworthy guide through the murky world of nutrition

Dr Rupy
Tim's book is a revelation. With his years of experience and engaging writing, he navigates the fascinating and complicated relationship between food and health. A must-read for anyone seeking a respected and trustworthy guide through the murky world of nutrition

Dr Rupy
Tim's book is a revelation. With his years of experience and engaging writing, he navigates the fascinating and complicated relationship between food and health. A must-read for anyone seeking a respected and trustworthy guide through the murky world of nutrition

Dr Rupy