Vintage Creative Director Suzanne Dean discusses creating the artwork for First Person.
When a new manuscript is placed in my hands, the possibilities ahead are endless, and receiving a Richard Flanagan manuscript is notable event. My starting point is always the text, so as I read the manuscript, I underlined sentences and made notes in the margins. These notes then became the foundation of themes on which I based a succession of visuals.
I look to convey the essence of the novel: once I have an idea, I then try to portray it on the cover, in a style that contains the right balance of clarity, mystery and emotion. I want to connect with the book and then the book's audience. The First Person manuscript teemed with ideas – multilayered with a powerfully foreboding atmosphere.
On this occasion I was in the unusual position of working with two Publishers, both Nikki Christer in Australia and Clara Farmer in the UK. I shared a longlist of about fifteen visuals with them. They then sent a shortlist of visuals on to Richard.
I divided my concepts into groups, the first I named 'the manuscript'. The novel is about writing, ghost-writing and the pressures of a deadline. The main character, Kif calculates how many pages of the manuscript he has to complete each day to meet his deadline. He has the daunting task of having to write a biography of the infamous Heidl, who constantly avoids being defined. Kif finds he has to invent Heidl's life, to fill in the gaps to make him whole. These visuals show a pile of pages with large gaps between each page. The looming shadow under each page is to indicate something sinister. I experimented with a variety of different fonts, some plainly suggesting writing.
I really liked this approach – the visuals were strong, eye-catching and bold. Although they were not finally used, I might well return to this approach on a future project. They could make an arresting cover.
 

Mirroring and contrast is at play throughout the novel. I portrayed this in the visuals by juxtaposing colours and contrasting extremes of light and dark.
My second theme was titled 'dog'. In these visuals I touch on Heidl being com­pared to a wild dog and a monster. There is a momentous scene in the novel, where a fragile pet bird is caught within a dog's mouth. In one of the visuals the dog I painted has pointed ears and a sharp tail that suggested a devil.
 

In another set I pursued the devil motif further. Kif described writing Heidl's biography as a dance with evil, 'I was his subject not he mine.' Kif was playing with evil, he was warned that Heidl would want his soul. Here the title is shown crossed out to reference Heidl's multiple personalities.
 

My final theme was titled 'Black Jay'. A black jay appears, circling and spiralling above both Hedil and Kif at a significant moment during the novel (no spoilers here), and it seemed an important icon.
 

I commissioned the illustrator Jimmy Turrell to screen-print a moving bird for me, and I placed what I came to nickname 'the ghost bird' against one of my painted backgrounds. I can see why this visual appealed so much to Nikki and Clara. It had a great atmosphere that echoed the building tension within the novel. It also referenced the mirroring and contrast that is at play in the text, and the bird gave the cover and the marketing teams a bold icon. This proved to be Richard's favourite design too.
It is always a relief when an author likes the visuals. It is, after all, your interpretation of their text and vision. I believe a great cover can be a visual foreword for the book. It needs to catch the eye, engage the potential reader and prompt them to pick the book up. A successful design does this in a unique, creative and striking way on a single page. It is this format restriction that makes cover design so interesting. If I am asked what makes a good cover designer I would say a designer needs resilience and adaptability as a lot of visuals get rejected along the way. They need to feel empathy for the text and a passion to convey that in the best way on the page. It is this desire to extract the essence of the novel that both challenges me and keeps me going.
---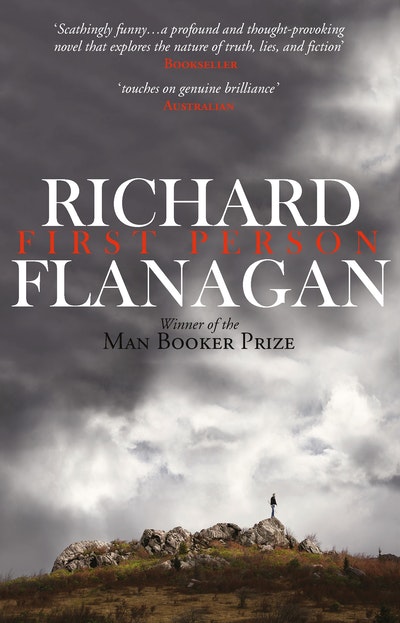 What is the truth? In this blistering story of a ghost writer haunted by his demonic subject, the Man Booker Prize winner turns to lies, crime and literature with devastating effect.
Buy now
Buy now
---