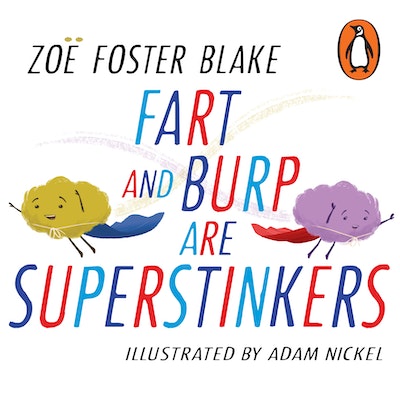 Published:

2 July 2021

ISBN:

9781761044786

Imprint:

Penguin Random House Australia Audio

Format:

Audio Download

Length:

0 hr 7 min

Narrator:

Zoë Foster Blake

RRP:

$8.99
Fart and Burp are Superstinkers
---
---
---
Zoë Foster Blake's beloved character Fart is back. Together with his new friend Burp, they're off on a new adventure to use their bad pongs for good! Move over Superman and Wonder Woman, here come the Superstinkers!
What could be better than a Fart with a heart? A Super Fart of course!
Wafting around with his stinky best friend Burp, Fart couldn't be happier.
But sometimes Burp wishes people wouldn't say,
YUCK and GROSS and PEE-YEW . . .
Could being smelly ever be a force for good?
A super stinker of a tale that proves anyone can be a hero.
Readers who loved Zoë Foster Blake's ABIA award-winning and best-selling No One Likes a Fart will love this companion book as Fart and Burp decide to make difference in the world whether people love them or not. They'll make some friends along the way and even get capes! Be ready for some powerful pongs, the Superstinkers are in town!
There's a sincerity to this picture book that stands out; Fart and Burp use their scents for good and they enact some smelly salvation in this original, hilarious, and surprisingly moving story.' Better Reading
'Who would have thought a story about farts and burps could be so heartwarming?' Sunday Telegraph
'Foster Blake has a talent for finding the unexpected in the unexceptional (bath time, bedtime, burps and farts).' Sydney Morning Herald
Also available from Zoë Foster Blake:
No One Likes a Fart
Fart and Burp are Superstinkers
Back to Sleep
Scaredy Bath
Battle Mum
Published:

2 July 2021

ISBN:

9781761044786

Imprint:

Penguin Random House Australia Audio

Format:

Audio Download

Length:

0 hr 7 min

Narrator:

Zoë Foster Blake

RRP:

$8.99