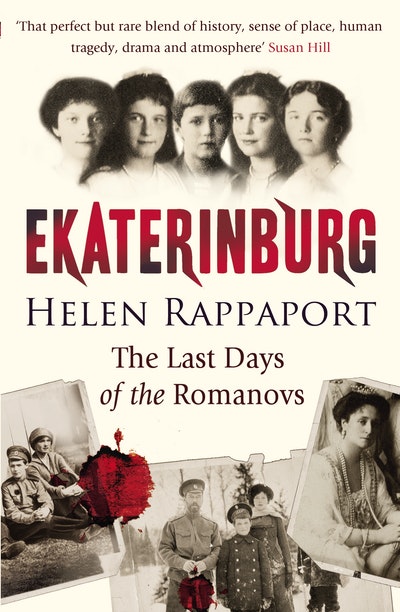 Published:

1 September 2010

ISBN:

9781409061472

Imprint:

Cornerstone Digital

Format:

EBook

Pages:

272
Ekaterinburg
The Last Days of the Romanovs
---
---
---
Telling the story in a compellingly new and dramatic way, Ekaterinburg brings the tragic final 13 days in the lives of the Romanovs vividly alive against the backdrop of a Russia in turmoil.
A vivid and compelling account of the final thirteen days of the Romanovs, counting down to the last, tense hours of their lives.
On 4 July 1918, a new commandant took control of a closely guarded house in the Russian town of Ekaterinburg. His name was Yakov Yurovsky, and his prisoners were the Imperial family: the former Tsar Nicholas, his wife Alexandra, and their children, Olga, Tatiana, Maria, Anastasia and Alexey. Thirteen days later, at Yurovsky's command, and on direct orders from Moscow, the family was gunned down in a blaze of bullets in a basement room.
This is the story of those murders, which ended 300 years of Romanov rule and began an era of state-orchestrated terror and brutal repression.
Published:

1 September 2010

ISBN:

9781409061472

Imprint:

Cornerstone Digital

Format:

EBook

Pages:

272
Stunning, chilling and poignant, this is how history books should be written.

Alison Weir
Helen Rappaport brilliantly assembles the intricacies of the story in untroubling prose with some colourful re-imaginings to make this account utterly compelling.

Daily Telegraph
That perfect but rare blend of history, sense of place, human tragedy, drama and atmosphere

Susan Hill
To coincide with the anniversary (of the death's of the Romanovs), their last wretched days have been chronicled in an explosive new book. Using previously overlooked documents and witness accounts, it tells the story of the family's final moments in unprecedented detail.

Daily Mail
A deeply touching anniversary tribute

Independent on Sunday
A tragic and thrilling account ... Ekaterinburg is really a twofold triumph for Helen Rappaport ... On top of the impressive level of research that Rappaport has conducted in order to produce Ekaterinburg, she also has an excellent and engaging writing style and succeeds in maintaining the tension and mood throughout ... Gritty and compelling

suite101.com
Brilliantly shows how history is never simple but always enthralling when written with this style

The Bookseller
Eminently readable but still fastidiously researched, no compromising on scholarly or evidence-based investigation... There is a very powerful sense that you are reading the words of someone who is witnessing the sights and sounds of the place first hand, is returning to primary sources and conjuring up the atmosphere with an accomplished writer's eye. The trouble with reading any book about the Romanovs is the sure and certain knowledge of how it will end, yet despite this the book feels fresh and spell-binding ... Compelling reading

dovegreyreader.com
Extraordinary and powerful ... Having uncovered enlightening new sources, Rappaport has produced a highly accessible account of the last 14 days in the lives of the former tsar Nicholas, his wife Alexandra and their children

Western Daily Press
Rappaport exhumes the last days of the Romanovs and, relying on archival sources and neglected memoirs, tries to offer the most up-to-date account possible... Vivid...

Scotland on Sunday
Rappaport has succeeded in capturing a frenetic, terrifying period of modern history and showing how a brutal, but human, man and his family became victims of the pent-up fury of the people he had systematically ground underfoot

Sunday Tribune (Ireland)
Rappaport narrates her story in an original fashion, focusing on the final two weeks inside the Ipatiev House before the murders

Times Literary Supplement
Rappaport precisely imagines those last few days ... As the pages turn quickly towards an end that is never in doubt, a picture emerges of a devout, loving and rather commonplace family

Waterstone's Books Quarterly
Riveting account of turbulence, social upheaval and murder in early 20th-century Russia, which draws on new evidence uncovered in the icy, remote city where Tsar Nicholas and his family met their bloody deaths. Juxtaposing fascinating domestic details with analysis of the international political scene, the author strips away the romance of their incarceration and the mythology surrounding their murders to reveal an extraordinary human situation and its seismic worldwide repercussions

Sainsbury's Magazine
Skilfully weaves together the grimly repetitive routine of the doomed family with the high drama engulfing the killers ... Freshly compelling

New Statesman
The appalling end of the last Romanov and his enchanting family is well described by Helen Rappaport ... Utilising sources only recently accessible, she traces the story from abdication to slaughter, including much fascinating detail...

Literary Review
The great strength of Rappaport's book is her tight focus on the royal family's final three months in the Iaptiev House... She has told the human story, and the truly appalling tale of what man can do to man

Independent (Ireland)
Utterly absorbing, a really good read, sensitive and balanced and surely the definitive last word on the subject

Dr Harry Shukman, Emeritus Fellow of Modern Russian History, St Antony's College Oxford
Well researched ... Helen Rappenport successfully evokes the claustrophobic atmosphere within the house

Saturday Telegraph