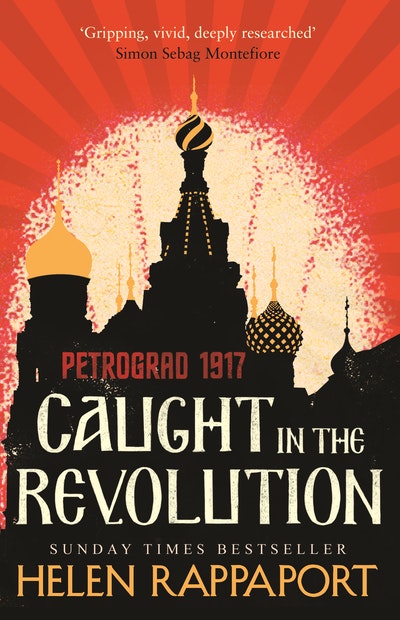 Published:

25 August 2016

ISBN:

9781473518179

Imprint:

Cornerstone Digital

Format:

EBook

Pages:

480
Caught in the Revolution
Petrograd, 1917
---
---
---
The dramatic, world-shaking story of the Russian Revolution told from an entirely new perspective - through the eye-witness accounts of foreign nationals in Petrograd who witnessed history being made on the streets around them.
SELECTED AS A BOOK OF THE YEAR IN THE TELEGRAPH AND EVENING STANDARD
'[The] centenary will prompt a raft of books on the Russian Revolution. They will be hard pushed to better this highly original, exhaustively researched and superbly constructed account.' Saul David, Daily Telegraph
'A gripping, vivid, deeply researched chronicle of the Russian Revolution told through the eyes of a surprising, flamboyant cast of foreigners in Petrograd, superbly narrated by Helen Rappaport.' Simon Sebag Montefiore, author of The Romanovs
Between the first revolution in February 1917 and Lenin's Bolshevik coup in October, Petrograd (the former St Petersburg) was in turmoil. Foreign visitors who filled hotels, bars and embassies were acutely aware of the chaos breaking out on their doorsteps. Among them were journalists, diplomats, businessmen, governesses and volunteer nurses. Many kept diaries and wrote letters home: from an English nurse who had already survived the sinking of the Titanic; to the black valet of the US Ambassador, far from his native Deep South; to suffragette leader Emmeline Pankhurst, who had come to Petrograd to inspect the indomitable Women's Death Battalion led by Maria Bochkareava.
Drawing upon a rich trove of material and through eye-witness accounts left by foreign nationals who saw the drama unfold, Helen Rappaport takes us right up to the action - to see, feel and hear the Revolution as it happened.
Published:

25 August 2016

ISBN:

9781473518179

Imprint:

Cornerstone Digital

Format:

EBook

Pages:

480
Praise for Caught in the Revolution
A gripping, vivid, deeply researched chronicle of the Russian Revolution told through the eyes of a surprising, flamboyant cast of foreigners in Petrograd, superbly narrated by Helen Rappaport.

Simon Sebag Montefiore, author of The Romanovs
Next year's centenary will prompt a raft of books on the Russian Revolution. They will be hard pushed to better this highly original, exhaustively researched and superbly constructed account.

Saul David, Daily Telegraph
This is narrative history at its very best, communicating the confusion, exhilaration, horror and despair of that momentous year

BBC History Magazine
Chronicles the events of 1917 through the eyes of foreigners resident in Petrograd — diplomats, journalists, merchants, factory owners, charity workers and simple Russophiles... a wonderful array of observations, most of them misguided, some downright bizarre. What makes this book so delightful and enlightening is the depth of incredulity it reveals... [A] wonderful book.

Gerard DeGroot, The Times
Thoroughly-researched and absorbing... this book offers a compelling picture of life in Petrograd in this momentous and often terrible year... One gets a wonderful picture of the extraordinary and beautiful city... and a keen sense of the really grotesque inequality that has always existed there.

Allan Massie, Scotsman
A past more dramatic than Chekhov, more tragic than Tolstoy and more romantic than Pasternak... Helen Rappaport collates a vast menagerie of eyewitnesses [from Petrograd 1917] into a cast of fascinating characters... bring[ing] an absorbing period of history closer to home.

Guy Pewsey, Evening Standard
A vivid account of the city 'taut as a wire'… highly readable and fluent… Rappaport has unearthed striking new material

Spectator, Charlotte Hobson
Fascinating… A colourful account of expatriate life in the Russian capital in 1917.

Peter Conradi, Sunday Times
Rappaport has dug deeper. She has unearthed from private sources, the Library of Congress and the Leeds Russian archive numerous accounts previously untold, and gives an unfailingly gripping picture of chaos as seen through the eyes of the orderly.

Times Literary Supplement
This book will, no doubt, be followed by many others as the centenary of the revolution approaches. It will be surprising if any match this one for originality, vividness and a visceral sense of excitement... Meticulous, detailed, wonderfully comprehensive.

shinynewbooks.co.uk
The strength of Rappaport's work is the immediacy it provides, the sense of what it was like to experience the Revolution

Douglas Smith, Literary Review
A dramatic and absorbing narrative

Catholic Herald
A vivid account... Give[s] an authentic sense of months of chaos, marked by surging crowds, looted bakeries and outbreaks of gunfire, some seemingly random and some viciously aimed... Rappaport chooses their graphic accounts brilliantly.

Jonathan Steele, Guardian
Ms Rappaport's book [is] a mosaic of truth which no fictional one could outdo.

Martin Rubin, Washington Times
Splendid ... Rappaport has unearthed plenty of wonderful new material ... The story [her] witnesses tell is endlessly fascinating.

Owen Matthews, The New York Times
[A] lively narrative

David Reynolds, The New Statesman
This research is impressive and the narrative she has constructed makes for an excellent read

Chartist
Immediate, fast-moving … fascinating

The Times on the Audiobook