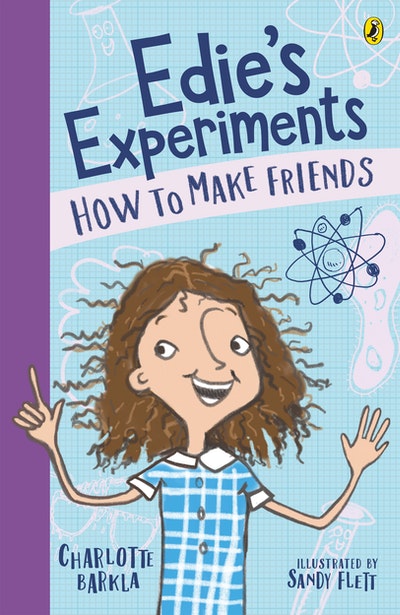 Published:

4 February 2020

ISBN:

9781760891770

Imprint:

Puffin

Format:

Paperback

Pages:

240

RRP:

$14.99
Edie's Experiments 1: How to Make Friends
---
---
---
A new school, a classroom full of potential new friends and a science kit. What could possibly go wrong?
I'm Edie and I love science. So when I started at a new school, I decided it could be one giant experiment.
Can I give you some advice? Avoid sliming your entire classroom. You could end up in trouble with your teacher, your new classmates and the principal.
Between the great slime fiasco, the apology cookie surprise and the wrinkle cream mix-up, I've discovered making friends isn't an exact science!
Published:

4 February 2020

ISBN:

9781760891770

Imprint:

Puffin

Format:

Paperback

Pages:

240

RRP:

$14.99
Other books in the series
Praise for Edie's Experiments 1: How to Make Friends
Try not to admire her determination as you follow her wild ride as the new kid in school. Go get 'em, Edie!

Total Girl
This is a new series for the independent young reader and perfect for this time of the year when there will be many like Edie who are starting at a new school and whose greatest concern is how they will make friends in this new environment when friendships groups are long established. Interspersed with experiments and illustrations, this would make the perfect read-aloud to explore how to make new friends.

Barbara Braxton, Teacher Librarian, thebottomshelf.edublogs.org
This heartwarming, fun story is a blast – literally!

Nat Geo Kids
Highly recommended. Edie's experiments: How to make friends is book one in a new series written by Adelaide author Charlotte Barkla who has a background in civil engineering and physics teaching. She cleverly uses scientific language and her extensive knowledge of science and experiments to write an entertaining and humorous story about a young girl who is STEM obsessed fitting in at a new school . . . An interesting and clever aspect of the book is that all of Edie's scientific experiments are written up as procedures using the headings: Aim, Equipment and Method. This would be a perfect read-aloud class novel either by the teacher or whole class when the Year 3/4/5 curriculum calls for procedure writing. The imaginative illustrations by Sandy Flett add to the humour of the story and help keep the reader focused.

Kathryn Beilby, ReadPlus
There are lots of very funny moments in Edie's Experiments, and Barkla's sense of humour is sure to keep an adult amused as well. Edie's never-give-up attitude is such a large part of her character that I found her endearing and even though so many things go wrong, she is a lovely role model. Charlotte Barkla, an Adelaide based author, has used her previous jobs as a civil engineer and physics teacher to help write a fun story with heart.

Sue Mauger, Glam Adelaide
Author, Charlotte Barkla, has created a lovable character, who enthusiastically gets herself into awkward situations, leading to laugh-out-loud humour . . . Illustrator Sandy Flett, conveys fun and movement, bringing to life Edie's enthusiasm for experimenting and her vivid imagination . . . Edie's Experiments 1: How To Make Friends will appeal to middle grade readers who have ever tried an experiment that didn't quite work out, like trying to make a new friend.

kids-bookreview.com
You don't have to love science to enjoy this book. It's a funny book with relatable themes, particularly the challenges of making new friends.

Scarlett Hunter, age 11, Herald Sun
Charlotte Barkla is the exact person you want to have written a book about a young girl having fun with science while getting into a bit of mischief and trouble . . . This debut middle-grade novel is not so much about science as it is about making mistakes, trying to fit in, and sticking with your passion even when everything seems to be telling you to give up . . . If you want a book that will get your young reader wanting to make their own slime, experiment with odd breakfast combinations, and get them to slowly realise that almost everything can be science (and fun) then this is a perfect read.

Sarah Custance, StoryLinks
It's a funny premise and kids will relate to Edie's desperate desire to make a good impression on her new classmates . . . As a former civil engineer and physics teacher, Charlotte Barkla evidently has bucketloads of science-related stories that will be employed throughout the series. The humour is enhanced with Sandy Flett's line illustrations . . . A fun read for middle primary up.

Heather Gallagher, CBCA Reading Time
Edie joins the cohorts of girls into STEM appearing in middle grade fiction at the moment. Her inspiring passion for science and her endearing determination make her stand out among the others. Young readers will be drawn to her. She's not perfect. She makes mistakes, but she soldiers on.

Tina Cavanough, Magpies Magazine
Edie's Experiments is a series which is sure to be a big hit with young readers. My girls had a great time reading them and a lot of giggles were heard. They tell me they can't wait to see what experiments Edie gets up to next. But be warned, Edie is inspirational and the requests to make green slime just keep on coming in my house! Fun, lighthearted and a joy to read, Edie's Experiments are a great addition to the bookshelf. Highly recommended.

Emma Streeton, Dark Matter Zine