Charlotte Barkla reflects on writing a female protagonist for her new series, Edie's Experiments.
When I decided to delve into the world of middle-grade fiction, my initial thought was, 'I want to write something funny.' I was a huge Morris Gleitzman fan as a kid (and still am) so I wanted to write a humorous story that would make kids laugh, and help develop a lifelong love for reading.
The idea for incorporating science into a fun story came next. It was something I hadn't seen much before, and, having a STEM background (as a former engineer and maths/physics teacher), I wanted to highlight the 'fun' side to science, and pull it into the mainstream.
So, I started with the character. I imagined a funny, slightly subversive but ultimately endearing character who viewed the world as a science lab. Someone who would analyse every situation (even starting at a new school) as an 'experiment'. Someone who'd get in trouble by accidentally sliming their classroom on their first day of school, offering the principal a homemade wrinkle cream concoction, or attaching cardboard wings to their brother in an attempt to make him fly.
My first instinct was that the character would be a boy. A loveable yet cheeky male protagonist who drew trouble around every corner.
Which was exactly why it had to be a girl.
Humorous kids' books are in no way in short supply. There are plenty of wonderful, hilarious and uplifting stories for children to read, but, as I observed the bookshelves, it seemed the scales were tipped in the direction of a male protagonist.
And so, I developed Edie.
A fun, enthusiastic girl who is full of life. A hilarious, mischievous yet well-meaning character that all children – girls and boys – would fall in love with.
With Edie in mind, the rest of her story flowed. From misadventure to misadventure, I threw lots of challenges Edie's way. Going from bad to worse, poor Edie struggles to find friends at her new school. But, equipped with her trusty science kit, she eventually comes out the other side.
Developing Edie and writing her story was a lot of fun. Being offered a two-book deal with Penguin Random House was incredibly exciting. With Book 1 about to hit the shelves, publishing Edie's Experiments: How to Make Friends is a dream come true.
In writing this book, I hope to unite humour, fun and science. I'd love if the book contributed towards increasing kids' interest and confidence in STEM, and I'd be thrilled if the series was embraced by both young girls and boys, challenging the notion of 'girls books' vs 'boys books'.
Most importantly, I hope the book makes my readers laugh.
Meet Charlotte Barkla at the Edie's Experiments Book Launch. Bookings are recommended for the event, held at Dillons Norwood in Adelaide on Sunday 23 February 2020.
---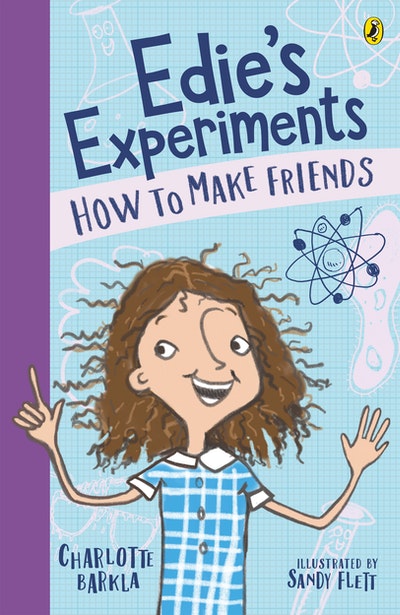 A new school, a classroom full of potential new friends and a science kit. What could possibly go wrong?
Buy now
Buy now
---