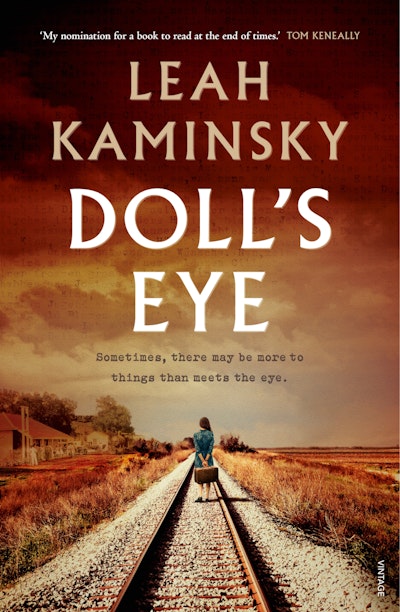 Published:

29 August 2023

ISBN:

9781761043758

Imprint:

Random House Australia

Format:

EBook

Pages:

256
Doll's Eye
---
---
---
Vivid, haunting, unforgettable.
LUCY TRELOAR
Has magnificent qualities of humane invention. It is my nomination for a book to read at the end of times.
TOM KENEALLY
Sometimes there may be more to things than meets the eye.
Germany, 1933. Anna Winter returns home to find a note from her father, warning her of grave danger. She flees overnight, taking her precious doll collection with her, and sets sail for Australia. She lands a job at the Birdum Hotel and carves a new life, hiding her past from the world – until a chance encounter with an eccentric stranger, Alter Mayseh, changes everything.
Australia, 1938. A Yiddish poet fleeing persecution, Alter has seen the writing on the wall for his people. Armed with a letter of introduction from Albert Einstein, he manages his own escape from Europe and arrives in Australia in search of a safe place to call home. When fate leads him to Anna, he's convinced he's found his future with her. But a disturbing clue to her dark past threatens to unravel the delicate life she has built on top of the secrets left behind.
Shifting in time and place, Doll's Eye weaves an intriguing story of love, loss and survival against a backdrop of war and displacement. Evocative and compelling, it brings into question the gap between what we see, and what we don't.
Published:

29 August 2023

ISBN:

9781761043758

Imprint:

Random House Australia

Format:

EBook

Pages:

256
Doll's Eye explores the themes of love, loss, oppression, belonging, and displacement, with Nazi Germany the vessel that drives the narrative. The prose is outstanding, and the storytelling is raw. A master of historical storytelling, Leah Kaminsky continues to capture moments in time with an eye for detail.

Samuel Bernard, The Australian
An absorbing and richly imagined novel of love, hope and resilience through dark, almost mythical times. Vivid, haunting, unforgettable.

Lucy Treloar
With her trademark compassion and heart, Kaminsky brings this story of adventure, exile and betrayal to vivid life.

Toni Jordan
Kaminsky's best book yet. A moving quixotic adventure, steeped in ancient traditions and trembling with the darkest storms of history.

Bram Presser
Leah Kaminsky's career as a writer began at the highest level of achievement and her second book attracted acclaim as a ripping, literate and easefully clever book. But Doll's Eye is worthy of her other two books and has magnificent qualities of humane invention. It is my nomination for a book to read at the end of times.

Tom Keneally
Leah Kaminsky did it again! Created yet another compelling and thought-provoking novel. Doll's Eye tells an unforgettable, complex and also oh-so-relatable love story between two European refugees escaping the Nazi atrocities to Australia's north only to find there each other, as well as the burdens of their dreams and past terrors. With a poet's eye, Kaminsky traces the intricate outlines and tender inner recesses of the human heart that always knows how to long and to seek but not always how to find and belong. This beautiful book can help us all understand our private joys and sorrows within the context of larger stories of history and geography, and it still reverberates somewhere deep in me, long after I turned its last page.

Lee Kofman
Lyrical, moving and captivating, Doll's Eye is a skilful and beautifully written study of trust and mistrust, hidden truths and misinterpreted lies. Against the backdrop of an impending war, Leah Kaminsky carefully and lovingly brings to life two unlikely companions who, no longer safe in their European homeland, search for a place to belong.

Suzanne Leal
Part literary romance, part cultural odyssey, Doll's Eye is a lively challenge to the tropes of contemporary Australian Holocaust fiction. Kaminsky has a rare and sparkling talent for showing how love operates within grim realities caused by human frailty and evil, writing with both charm and honesty.

Kim Kelly, Newtown Review of Books
Leah Kaminsky skilfully weaves the two stories of Anna and Alter against the backdrop of war in Europe and the emergence of a new Australia. Slowly, Anna's shocking story is revealed, only to dash her relationship with Alter. A fascinating and riveting insight into how the turmoil of the '30s and '40s impacted people's lives, and changed societies.

Mark Rubbo, Chairman of Readings
In this beautifully told historical novel, Kaminsky explores true Australian stories:

Therese Murray, The Senior
Doll's Eye draws the reader in and sustains suspense throughout. A most satisfying read.

Erica Dreifus, Brief Book Reviews
Article