A story of love, loss and survival to read with your book club.
One night in 1933, Anna Winter returns home to find a note from her father warning her of danger. Fleeing Germany overnight, she sets sail for life in Australia, where she lands a job at Birdum Hotel.
When she meets another new European, Alter Mayseh, it seems as though fate has led the two to one another. But a dark secret clings to Anna's past, threatening to unravel the delicate life she has built.
Discussion points and questions
Doll's Eye is a work of fiction. The author undertook extensive research and several real incidents and people are integrated into the novel, including the Cossacks of Katherine. Do you have a view on how 'made up' fiction should be?
Leah Kaminsky carefully and lovingly brings two unlikely companions together in a tiny town in remote Northern Territory. For different reasons, they have fled their European homeland. Could Alter and Anna have made a loving and satisfying life together? Was Alter justified in his instinctive mistrust of Anna?
Why do you think Anna was particularly alert to the First Peoples of Birdum, the Yangman?
Do towns like Birdum, where some people are running from troubles, others looking for a fresh start and others happy to live quietly away from bustle still exist?
What father would allow their daughter to be in proximity to Hitler or the National Socialist Freedom Movement, or Dr Magnussen and her Aryanisation project? Did you find it complicated to accept the personal sacrifices people will make for broader resistance movements?
At different times dolls comforted, betrayed, and brought purpose and love into Anna's life. What role have dolls played in your life?
Were you pleased that Anna and Leo formed a happy ever after?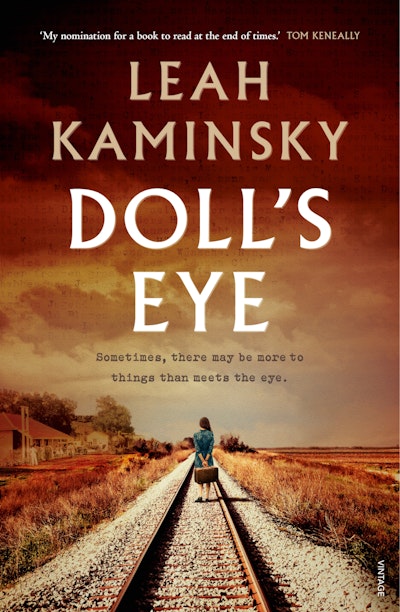 Doll's Eye
Vivid, haunting, unforgettable. LUCY TRELOAR Has magnificent qualities of humane invention. It is my nomination for a book to read at the end of times. TOM KENEALLY Sometimes there may be more to things than meets the eye.
Read more