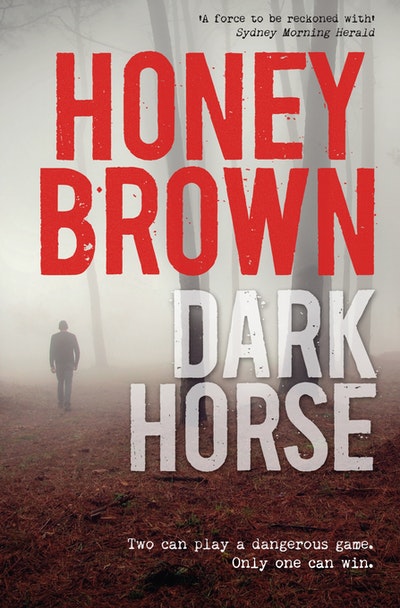 Published:

24 April 2013

ISBN:

9781921901539

Imprint:

Michael Joseph

Format:

Trade Paperback

Pages:

280

RRP:

$29.99
Dark Horse
---
---
---
Stylish erotic psychological suspense thriller from Honey Brown, the award-winning author of Red Queen, The Good Daughter and After the Darkness.
'Brown is the best writer of psychological suspense in Australia. Nothing is quite what the reader expects as Brown deftly steers her narrative to conclusion. One of those books that has to be read again to see how she does it.' Lucy Sussex, Sunday Age
It's Christmas morning on the edge of the rugged Mortimer Ranges. Sarah Barnard saddles Tansy, her black mare. She is heading for the bush, escaping the reality of her broken marriage and her bankrupted trail-riding business.
Sarah seeks solace in the ranges. When a flash flood traps her on Devil Mountain, she heads to higher ground, taking shelter in Hangman's Hut.
She settles in to wait out Christmas.
A man, a lone bushwalker, arrives. Heath is charming, capable, handsome. But his story doesn't ring true. Why is he deep in the wilderness without any gear? Where is his vehicle? What's driving his resistance towards rescue? The closer they become the more her suspicions grow.
But to get off Devil Mountain alive, Sarah must engage in this secretive stranger's dangerous game of intimacy.
'A ripper. Brown keeps the pages turning and the pulse racing with a masterful, sexy and chilling plot.' Weekend West Australian
'Honey Brown does an excellent job of this taut and atmospheric thriller, successfully adding a darkly sexy tone. The characters are well drawn and charismatic, and the twists are great.'Bookseller+Publisher
'The pace is compelling, the tension superb and the plot veers into a breathtaking twist. A finely crafted, stunning psychological thriller that I can't recommend strongly enough.' Book'd Out
Published:

24 April 2013

ISBN:

9781921901539

Imprint:

Michael Joseph

Format:

Trade Paperback

Pages:

280

RRP:

$29.99
Brown is the best writer of psychological suspense in Australia. Nothing is quite what the reader expects as Brown deftly steers her narrative to conclusion. One of those books that has to be read again to see how she does it. Simply superb.

Lucy Sussex, Sunday Age
A ripper. Brown keeps the pages turning and the pulse racing with a masterful, sexy and chilling plot.

Weekend West Australian
Brown is a clever and inventive storyteller ... delivering the pay-off in what must rank as one of the most audacious and wholly unexpected twists in a popular novel of recent times.

The Australian
Honey Brown's psychological thriller has a tightness and simplicity that makes gripping reading.

The Age
Honey Brown does an excellent job of this taut and atmospheric thriller, successfully adding a darkly sexy tone. The characters are well drawn and charismatic, and the twists are great.

Bookseller+Publisher
A story that takes an unrelenting hold and doesn't let go ... a gripping, suspenseful, roller-coaster of a read.

Great Aussie Reads
The pace is compelling, the tension superb and the plot veers into a breathtaking twist. A finely crafted, stunning psychological thriller that I can't recommend strongly enough.

Book'd Out
Dark Horse is one hell of a ride — tense, atmospheric, engrossing and erotic. Read it to see how good a thriller can be.

Angela Savage
Gripping psychological suspense that has you finishing the novel and going straight back to the beginning to see how it all holds together once you know the carefully hidden answers.

Adelaide Advertiser
[In Dark Horse] Brown sets up a thrilling psychological game ... every bit as gripping as her previous bestsellers.

Weekly Times
Intense, edgy and tight ... the best psychological suspense I've read in years. I'd love nothing more than to pick it up and start again, and I never do that. I can't wait to get my hands on Honey Brown's backlist.

The Eclectic Reader
If you're a fan of Jaye Ford's Beyond Fear, Dawn Barker's Fractured and Gillian Flynn's Gone Girl, you're going to love Dark Horse. Suspenseful, urgent, adrenaline-pumping.

Devoted Eclectic
A taut suspenseful psychological drama of the best kind.

The Hoopla
A masterpiece. If you like a well constructed psychological thriller then this one is an absolute must.

1 girl ... 2 many books
Bloody brilliant. Another killer thriller from the new (red) queen of Aussie suspense. Brown's book is a heart-palpitating page-turner.

ALPHA reader
A must-read for any thriller lover ... Stock up on food and drink, unplug the phone, put a Do Not Disturb sign on your bedroom door and let yourself get carted off to an unforgettable adventure on Devil Mountain. You will not regret it.

... but books are better
Intense, mysterious, intriguing, dangerous. Honey Brown has delivered a well written and thought-out thriller that will have you on the edge of your seat.

Sassy Book Lovers
Don't be led astray by her sweet name – Honey Brown writes a mean psychological thriller.

Readings
This thriller mixes sexual desire with foreboding.

Who Weekly
A classic of foreboding and suspense.

The Newtown Review of Books
Moody, atmospheric and gripping. Read it.

Geelong Advertiser
Davitt Awards
Winner • 2014 • Best Adult Crime novel