A hospital playlist from By Your Side author Jason Carrasco.
By Jason Carrasco
To pass the time in hospital, my friend Cass and I made playlists so we could sing and dance together. Here are our top ten favourite songs.
1. Bom Bom – Sam and the Womp
Cass loved watching music channels and every time this came on she would get in front of the TV and do the bom bom dance!
2. Get Lucky – Daft Punk
This was our jam! We had this on repeat and knew the words by heart.
3. You're Beautiful – Taio Cruz
I gave this song to Cass on her last days. It sums her up perfectly.
4. Treatment – Labrinth
Cass loved this song because it used to be on the radio and she would say, 'I need treatment too!'
5. Adorn – Miguel
Cass was a huge fan of R'n'B, particularly this song. When she was up to it she would go to a nightclub and come back to me saying, 'I danced all night, Jason! Are you proud?'
6. Beggin' – Madcon
This song was always in our playlists because it's got such a happy vibe.
7. I'll Be Missing You – Puff Daddy
Not something we listened to a lot, but something I often put on when I'm thinking of Cass. 'Even though you're gone, we still a team…'
8. I Won't Give Up – Jason Mraz
One of Cass's friends said she left this song on her phone because she thought it reminded her of us. Cass never gave up on me and I'm still not giving up on her story.
9. A Sky Full of Stars – Coldplay
I love this song because it reminds me of my journey with Cass. To me, this song is about embracing whatever happens to you and trusting that the universe will have everything worked out.
10. Crave You – Flight Facilities
When Cass would go home and I'd be stuck in the hospital alone, I'd put my headphones on and listen to this song on repeat. The melody has an amazing ability to take you to a different place, which is exactly what I wanted.
---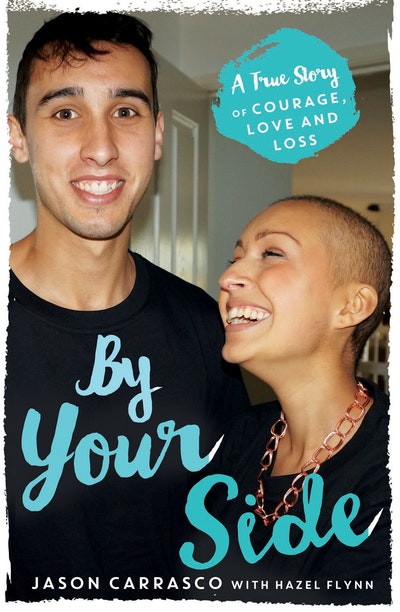 'I'll be waiting for you, and when we beat this thing we are going to celebrate.'
Buy now
Buy now
---