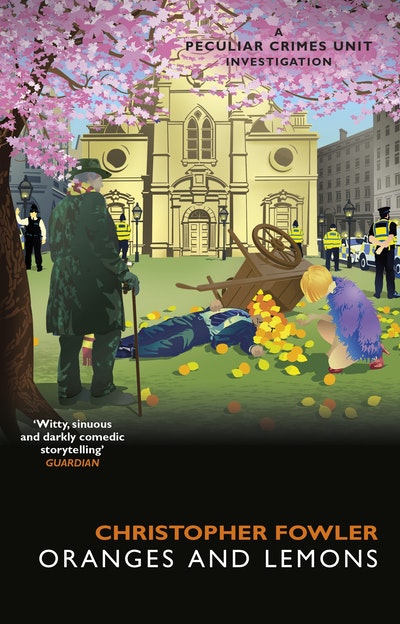 Published:

23 July 2020

ISBN:

9781473556935

Imprint:

Transworld Digital

Format:

EBook

Pages:

448
Bryant & May - Oranges and Lemons
---
---
---
Detectives Arthur Bryant and John May, assisted by the oddballs and eccentrics of the Peculiar Crimes Unit, return to break rules, infuriate officialdom and maybe, just maybe, catch the criminal in this hugely entertaining and unorthodox new investigation.
'The most consistently brilliant, entertaining and educational voice in contemporary British crime fiction, the utterly fabulous Christopher Fowler.' Cathi Unsworth, CRIMESQUAD
One Sunday morning, the outspoken Speaker of the House of Commons steps out of his front door only to be crushed under a mountain of citrus fruit. Bizarre accident or something more sinister? The government needs to know because here's a man whose knowledge of parliament's biggest secret could put the future of the government at stake.
It should be the perfect case for Bryant & May and the Peculiar Crimes Unit, but unfortunately one detective is in hospital, the other is missing and the staff have all been dismissed. It seems the PCU is no more. But events escalate: a series of brutal crimes seemingly linked to an old English folk-song threatens the very foundation of London society and suddenly the PCU is offered a reprieve and are back in (temporary) business!
And if the two elderly detectives, 'old men in a woke world', do manage to set aside their differences and discover why some of London's most influential figures are under life-threatening attack, they might not just save the unit but also prevent the entire city from descending into chaos . . .
Published:

23 July 2020

ISBN:

9781473556935

Imprint:

Transworld Digital

Format:

EBook

Pages:

448