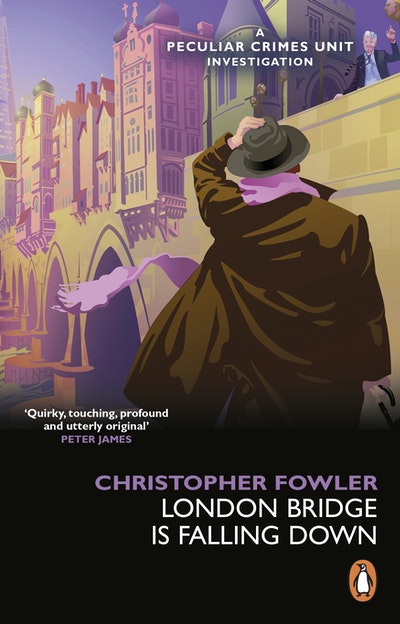 Published:

22 July 2021

ISBN:

9781473591721

Imprint:

Transworld Digital

Format:

EBook

Pages:

448
Bryant & May - London Bridge is Falling Down
---
---
Detectives Arthur Bryant and John May, assisted by the oddballs and eccentrics of the Peculiar Crimes Unit, return to break rules, infuriate officialdom and maybe, just maybe, catch the criminal in this hugely entertaining and unorthodox new investigation.
It was the kind of story that barely made the news in London.
When 91 year-old Alice Hoffman dies of neglect in her top floor flat on a busy London road, the story is upheld as an example of what has gone wrong with modern society; she slipped through the cracks in a failing system.
But detectives Arthur Bryant and John May of the Peculiar Crimes Unit have their doubts. Mrs Hoffman was once a government security expert, even though no-one can quite remember her. When a link emerges between the old lady and a diplomat trying to flee the country, it seems that an impossible murder has been committed.
Mrs Hoffman wasn't alone. Bryant is convinced that other forgotten women with hidden talents are also in danger. And they all own models of London Bridge...
With the help of some of their more certifiable informants, the detectives follow the strangest of clues in an investigation that will lead them through forgotten alleyways to the city's oldest bridge in search of a desperate killer.
Just when the case appears to be solved and exasperated unit chief Raymond Land can retire and rest easy, the detectives discover that Mrs Hoffman was smarter than anyone imagined. There's a bigger game afoot that has more terrible consequences...
It's time to celebrate Bryant and May's twentieth anniversary as their most lunatic case brings death and rebirth to London's most peculiar crimes unit.

Published:

22 July 2021

ISBN:

9781473591721

Imprint:

Transworld Digital

Format:

EBook

Pages:

448