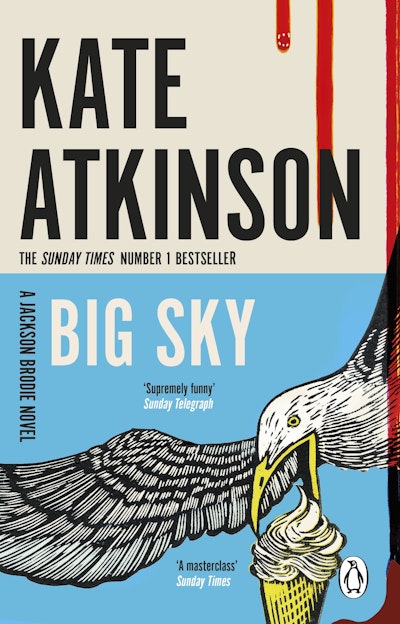 Published:

18 June 2019

ISBN:

9781409043850

Imprint:

Transworld Digital

Format:

EBook

Pages:

496
Big Sky
---
---
---
THE NUMBER ONE SUNDAY TIMES BESTSELLER: THE RETURN OF JACKSON BRODIE, 'LIKE ALL GOOD DETECTIVES, A HERO FOR MEN AND WOMEN ALIKE' (The Times) - a brilliant new literary crime novel from Kate Atkinson.
'The stand-out read of the summer. It's a masterclass in brilliant writing and whether you've read the earlier books in the series or not, you'll enjoy it.' Independent
'Like all good detectives, he is a hero for men and women alike.' The Times
'Laced with Atkinson's sharp, dry humour, and one of the joys of the Brodie novels has always been that they are so funny.' Observer
Jackson Brodie has relocated to a quiet seaside village in North Yorkshire, in the occasional company of his recalcitrant teenage son Nathan and ageing Labrador Dido, both at the discretion of his former partner Julia. It's a picturesque setting, but there's something darker lurking behind the scenes.
Jackson's current job, gathering proof of an unfaithful husband for his suspicious wife, seems straightforward, but a chance encounter with a desperate man on a crumbling cliff leads him into a sinister network-and back into the path of someone from his past. Old secrets and new lies intersect in this breathtaking new literary crime novel, both sharply funny and achingly sad, by one of the most dazzling and surprising writers at work today.
_________
What readers are saying:
***** 'A glorious tapestry of storytelling.'
***** 'An intelligently written, gripping book with characters you fall in love with.'
***** 'Sheer genius, with the characteristic thread of humour.'
Published:

18 June 2019

ISBN:

9781409043850

Imprint:

Transworld Digital

Format:

EBook

Pages:

496
Big Sky is laced with Atkinson's sharp, dry humour, and one of the joys of the Brodie novels has always been that they are so funny.

Stephanie Merritt, Observer
I romped through it: as ever, the plotting is clever and complex, it's full of the dry wit Atkinson is so good at and it's an absorbing mystery.

Good Housekeeping
Jackson Brodie gets his fifth outing in the new novel by the reliably brilliant Atkinson.

Woman & Home
Jackson Brodie is back and how we've missed him..you're in for a treat.

Red
Atkinson's new mystery hits all the right notes

Sunday Times Style
Atkinson throws in many entertaining diversions, and a fair few juicy red herrings. an exuberant, entertaining read.Atkinson's work is always playful, and there's a brisk, jaunty tone to Big Sky and much dry observational comedy.

Independent
Atkinson brings back her much-loved PI Jackson Brodie for a tightly plotted tale...the real mystery here is the human heart, with Atkinson serving up an acute and believable look at the state of Britain today.

i
The brilliance of Big Sky lies in its broad range of memorable characters, each with their own intriguing backstory.....sharp humour,sparkling prose and acute psychological insight.

Daily Express
As usual, it's ingeniously structured and told with humour and compassion.

New Statesman
Atkinson weaves a magically absorbing world full of crossed paths and coincidences. Her sublime turn of phrase, impeccable gallows humour, beautifully drawn characters and complex plotting make for a fabulously entertaining and moving book. It can be enjoyed as either a standalone mystery or a very welcome reunion with an old friend.

Sunday Mirror
You can't go wrong with the majestic new Kate Atkinson book...wise, funny and sad.

Stylist
How can anyone fail to love Kate Atkinson?...A gripping beach read for lovers of detective fiction.

ES magazine
I can't get enough of Jackson Brodie...he may well be the great fictional detective of our age...her bunch of seemingly ordinary but deeply fascinating characters... seem so real that you come to care about them like your oldest friends.

Sunday Express
Her peerless ability to plot with audacity and with a sinuous beauty...it's the most marvellous book, so delightful you'll want to eke it out for as long as possible.

Radio Times
There's a lot going on here, all of it rendered with Atkinson's vastly enjoyable nonchalance...Atkinson tells a great story, toys with expectations, deceives by omission, blows smoke and also writes like she's your favourite friend. Thank goodness the long Jackson Brodie hiatus is over.

Janet Maslin, New York Times
Atkinson's nimble and endearing skill across all her fiction.is to take the determinedly domestic, find the wry, sometimes waspish humour in it, and yet reveal something profoundly humane....And deft misdirection, cheeky literary references and Brodie's flailing attempts to offer sympathy by quoting country-and-western lyrics are constantly entertaining. You finish Big Sky feeling battered - but thoroughly cheered up.

Siobhan Murphy, The Times
With a many-tentacled storyline distilling some of the more disturbing headlines of recent years, this dark material proves supremely compulsive...Brodie brings out the best in Atkinson, partly because he's a handy peg for what tends to come across as her regretful sense of bemusement about modern Britain.

Metro
Atkinson has long been the standard bearer for literary crime fiction, and Big Sky sports her customary elegance.Once again, a vividly drawn cast of characters adorns a complex plot.

Financial Times
This clever page-turner tackles some sobering subjects, but the real draw is the return of Jackson Brodie, the dour but big-hearted private investigator

Telegraph
Brimming with the wit and let-justice-triumph tenacity that led the series to print bestsellerdom and a popular BBC-TV series... With Atkinson it's Raymond Chandler meets Jane Austen, and amazingly she makes it all work.

Washington Post
As is often the case in Atkinson's genre-defying fiction, assignments to track lost cats and unfaithful husbands are never quite what they seem.

TIME
A stunning comeback... Told in Atkinson's typically wry prose, it is Dickensian in sweep, utterly riveting and has a wonderful ending, quite magnificent.

Daily Mail
A masterclass in what can be done with crime fiction, brilliantly using the form to expose what Atkinson bleakly describes as 'one more battle in the war against women'.

Joan Smith, Sunday Times
Beautifully written, with the unfolding narrative revealed from many different points of view.

Literary Review
He [Jackson] is one of the few characters in modern crime fiction so fully realised that one can imagine him living a life outside the books...By some alchemy Atkinson makes her sad stories supremely funny, even uplifting.

Telegraph
Ms Atkinson has been on the trail of lost children (particularly girls) since her very first novel...as in all [her] fiction, she supplies gruesome discoveries and a strong helping of violence, all nevertheless relayed with a deft and witty touch...Big Sky has all the sizzle of a British fry-up; Ms Atkinson's evocation of the beauty and desolation of faded seaside resorts is unerring. Several stories are woven into a seamless plot, with the help of credible-seeming twists of fate. And there is just enough unfinished business to leave readers impatient for [Brodie's] next outing.

Economist
Every person here is written from the inside out, without any signs of prejudice. Atkinson saves judgement for when it matters: to bring wrongdoers to justice. Sad bastards, low-life heroes, pervy types: the streets of the seaside town are well-populated. A fantastic mosaic of a book.

Spectator
The main plot...is dark and disturbing, but Atkinson brings wry comic touches to the story as she both playfully inhabits and deftly subverts the crime genre.

Observer