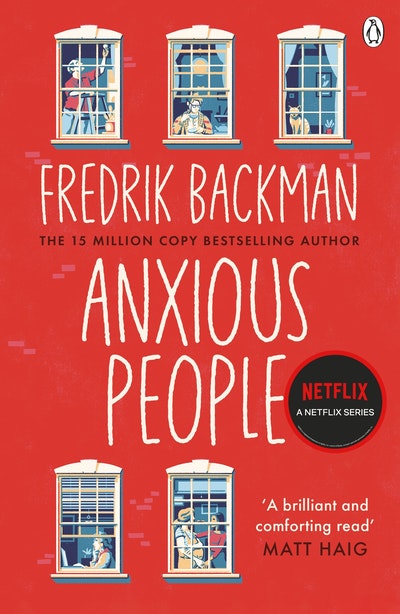 Published:

31 August 2021

ISBN:

9781405930253

Imprint:

Michael Joseph

Format:

Paperback

Pages:

416

RRP:

$22.99
Anxious People
The No. 1 New York Times bestseller, now a Netflix TV Series
---
---
---
An instant number 1 New York Times bestseller and touching new comedy from the author of multi-million copy bestseller A Man Called Ove
In a small town in Sweden it appears to be an ordinary day. But look more closely, and you'll see a masked figure approaching a bank...
Two hours later, chaos has descended. An attempted robbery has developed into a hostage situation - with the offender refusing to voice their demands.
Fear turns to irritation for the seven strangers trapped inside. If this is to be their last day on earth, shouldn't it be more dramatic?
But as the minutes tick by, they begin to suspect that the criminal holding them hostage might be more in need of rescuing than they are...
Published:

31 August 2021

ISBN:

9781405930253

Imprint:

Michael Joseph

Format:

Paperback

Pages:

416

RRP:

$22.99
Praise for Anxious People
Funny, compassionate and wise . . . an absolute joy

AJ Pearce, bestselling author of <i>Dear Mrs Bird</i>
Funny, compassionate and wise . . . an absolute joy

AJ Pearce, bestselling author of <i>Dear Mrs Bird</i>
Funny, compassionate and wise . . . an absolute joy

AJ Pearce, bestselling author of <i>Dear Mrs Bird</i>
I loved this book. Funny, sad, clever, insightful, surprising and hopeful. Brilliant in every way

Sarah Morgan, bestselling author of <i>One Summer in Paris</i>
I loved this book. Funny, sad, clever, insightful, surprising and hopeful. Brilliant in every way

Sarah Morgan, bestselling author of <i>One Summer in Paris</i>
I loved this book. Funny, sad, clever, insightful, surprising and hopeful. Brilliant in every way

Sarah Morgan, bestselling author of <i>One Summer in Paris</i>
Witty, observant, and unpredictable . . . darkly humorous

Nouse
Witty, observant, and unpredictable . . . darkly humorous

Nouse
Witty, observant, and unpredictable . . . darkly humorous

Nouse
'19 New Books to Read in September'

E! Online
'19 New Books to Read in September'

E! Online
'19 New Books to Read in September'

E! Online
Another smash hit . . . With Backman's stunning characters combined with a closed-room mystery, this has all of the ingredients for a novel all your friends will be talking about

Shane Mullen, Ebene Magazine
Another smash hit . . . With Backman's stunning characters combined with a closed-room mystery, this has all of the ingredients for a novel all your friends will be talking about

Shane Mullen, Ebene Magazine
Another smash hit . . . With Backman's stunning characters combined with a closed-room mystery, this has all of the ingredients for a novel all your friends will be talking about

Shane Mullen, Ebene Magazine
A satisfying remedy for pandemic anxiety . . . It's laugh-out-loud funny and will help restore your faith in humanity

Independent Daily Edition
A satisfying remedy for pandemic anxiety . . . It's laugh-out-loud funny and will help restore your faith in humanity

Independent Daily Edition
A satisfying remedy for pandemic anxiety . . . It's laugh-out-loud funny and will help restore your faith in humanity

Independent Daily Edition
A surprisingly sweet tale. It's the perfect balance of heartwarming and heart-wrenching, and Fredrik Backman [...] has a way of simply yet elegantly describing relationships. We can all be idiots, but we're still all human beings worthy of connection and love

National Public Radio Book Concierge
A surprisingly sweet tale. It's the perfect balance of heartwarming and heart-wrenching, and Fredrik Backman [...] has a way of simply yet elegantly describing relationships. We can all be idiots, but we're still all human beings worthy of connection and love

National Public Radio Book Concierge
A surprisingly sweet tale. It's the perfect balance of heartwarming and heart-wrenching, and Fredrik Backman [...] has a way of simply yet elegantly describing relationships. We can all be idiots, but we're still all human beings worthy of connection and love

National Public Radio Book Concierge
A brilliant and comforting read

Matt Haig
A brilliant and comforting read

Matt Haig
A brilliant and comforting read

Matt Haig
Captures the messy essence of being human. It's clever and affecting, as likely to make you laugh out loud as it is to make you cry

Washington Post
Captures the messy essence of being human. It's clever and affecting, as likely to make you laugh out loud as it is to make you cry

Washington Post
Captures the messy essence of being human. It's clever and affecting, as likely to make you laugh out loud as it is to make you cry

Washington Post
A master of writing delightful, insightful, soulful, character-driven narratives. He writes so humorously and poignantly about life, marriage, parenthood, love and death

USA Today
A master of writing delightful, insightful, soulful, character-driven narratives. He writes so humorously and poignantly about life, marriage, parenthood, love and death

USA Today
A master of writing delightful, insightful, soulful, character-driven narratives. He writes so humorously and poignantly about life, marriage, parenthood, love and death

USA Today
A quirky, big-hearted novel. Wry, wise, and often laugh-out-loud funny, it's a wholly original story that delivers pure pleasure

People
A quirky, big-hearted novel. Wry, wise, and often laugh-out-loud funny, it's a wholly original story that delivers pure pleasure

People
A quirky, big-hearted novel. Wry, wise, and often laugh-out-loud funny, it's a wholly original story that delivers pure pleasure

People
An endlessly entertaining mood booster

Real Simple
An endlessly entertaining mood booster

Real Simple
An endlessly entertaining mood booster

Real Simple
This book examines how a shared event can change the course of many lives at once. And if you like strongly drawn characters and a mix of humor and heartbreak, this one's for you

The Skimm
This book examines how a shared event can change the course of many lives at once. And if you like strongly drawn characters and a mix of humor and heartbreak, this one's for you

The Skimm
This book examines how a shared event can change the course of many lives at once. And if you like strongly drawn characters and a mix of humor and heartbreak, this one's for you

The Skimm
A witty, lighthearted romp...Backman charms

Publishers Weekly
A witty, lighthearted romp...Backman charms

Publishers Weekly
A witty, lighthearted romp...Backman charms

Publishers Weekly
A deeply funny and warm examination of how individual experiences can bring a random group of people together. Backman reveals each character's many imperfections with tremendous empathy, reminding us that people are always more than the sum of their flaws

BookPage
A deeply funny and warm examination of how individual experiences can bring a random group of people together. Backman reveals each character's many imperfections with tremendous empathy, reminding us that people are always more than the sum of their flaws

BookPage
A deeply funny and warm examination of how individual experiences can bring a random group of people together. Backman reveals each character's many imperfections with tremendous empathy, reminding us that people are always more than the sum of their flaws

BookPage
A tight-knit, surprise-filled narrative. The brisk, absorbing action prompts meditation on marriage, parenting, responsibility, and global economic pressures. Comedy, drama, mystery, and social study, this novel is undefinable except for the sheer reading pleasure it delivers. Highly recommended

Library Journal (starred review)
A tight-knit, surprise-filled narrative. The brisk, absorbing action prompts meditation on marriage, parenting, responsibility, and global economic pressures. Comedy, drama, mystery, and social study, this novel is undefinable except for the sheer reading pleasure it delivers. Highly recommended

Library Journal (starred review)
A tight-knit, surprise-filled narrative. The brisk, absorbing action prompts meditation on marriage, parenting, responsibility, and global economic pressures. Comedy, drama, mystery, and social study, this novel is undefinable except for the sheer reading pleasure it delivers. Highly recommended

Library Journal (starred review)
Backman's latest novel focuses on how a shared event can change the course of multiple people's lives even in times of deep and ongoing anxiousness. A story with both comedy and heartbreak sure to please Backman fans

Kirkus Reviews
Backman's latest novel focuses on how a shared event can change the course of multiple people's lives even in times of deep and ongoing anxiousness. A story with both comedy and heartbreak sure to please Backman fans

Kirkus Reviews
Backman's latest novel focuses on how a shared event can change the course of multiple people's lives even in times of deep and ongoing anxiousness. A story with both comedy and heartbreak sure to please Backman fans

Kirkus Reviews
Brilliant, funny, and compassionate . . . wonderfully charming

Purple Revolver
Brilliant, funny, and compassionate . . . wonderfully charming

Purple Revolver
Brilliant, funny, and compassionate . . . wonderfully charming

Purple Revolver
I laughed, I sobbed, I recommended it to literally everyone I know

Buzzfeed
I laughed, I sobbed, I recommended it to literally everyone I know

Buzzfeed
I laughed, I sobbed, I recommended it to literally everyone I know

Buzzfeed
A compassionate story of imperfect people doing the best they can to navigate life in an imperfect world

The Leader Wrexham
A compassionate story of imperfect people doing the best they can to navigate life in an imperfect world

The Leader Wrexham
A compassionate story of imperfect people doing the best they can to navigate life in an imperfect world

The Leader Wrexham
Endearing . . . A surefooted insight into the absurdity, beauty and ache of life

Guardian
Endearing . . . A surefooted insight into the absurdity, beauty and ache of life

Guardian
Endearing . . . A surefooted insight into the absurdity, beauty and ache of life

Guardian
This book promises laughs, heartwarming drama, and a whole lot of madness, but at the heart of it is something we can all relate to: being human

InYourArea
This book promises laughs, heartwarming drama, and a whole lot of madness, but at the heart of it is something we can all relate to: being human

InYourArea
This book promises laughs, heartwarming drama, and a whole lot of madness, but at the heart of it is something we can all relate to: being human

InYourArea
Surrounded by impenetrable forests, [Beartown] recreates the stifling atmosphere of a dying community. This is a mature, compassionate novel

The Sunday Times
Praise for Fredrik Backman

-
I utterly believed in the residents of Beartown, and felt ripped apart by the events in the book

Jojo Moyes, bestselling author of Me Before You
I utterly believed in the residents of Beartown, and felt ripped apart by the events in the book

Jojo Moyes, bestselling author of Me Before You
Praise for Fredrik Backman

-
Surrounded by impenetrable forests, [Beartown] recreates the stifling atmosphere of a dying community. This is a mature, compassionate novel

The Sunday Times
Article
Article
Article