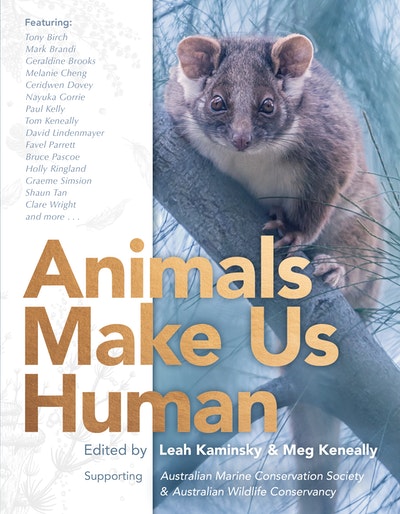 Published:

3 November 2020

ISBN:

9781760899813

Imprint:

Penguin Life

Format:

Trade Paperback

Pages:

256

RRP:

$29.99
Animals Make Us Human
Extract
Foreword
From Bruce Pascoe
Sometimes I look at my dogs, their furry, clawy feet, their silly noses, their ridiculous tails, and I think, why? Why does a creature so different from me watch my every move, and why do I watch every move of theirs? Why do they smile so gooily at me in the morning, why in the dark of night do I smile so deeply when I hear them sigh? How can we, two such different forms of life, devote ourselves so completely to each other?
They could leave at any moment, but they don't. When the dingoes call on the other side of the river, they cock their ears for a moment but then go back to sleep. Why are we together? It is true that we have removed some primary functions and motivations from their lives, but they could both swim the river, they do it often enough. Yet they don't, they shut their eyes and squirm closer into our three-body plait.
We all crowd onto the same couch in front of the fire, shuffling and pushing until the assemblage accommodates six hips, ten legs, two tails and three heads. Why is it such bliss?
If I am sick, even though this happens rarely, why is it that one of my dogs chooses to place himself so that we face each other and he breathes his warm nuttiness directly onto my face, and she, terribly intimidated by her bossy brother, takes second position on the grid behind my knees?
We ought to be anathemas to each other, but we are not. The strangeness of a dog's face should separate us as species but instead we kiss them between the eyes, and they squirm with delight. Why?
I think it is because we are fellow creatures and at a level deeper than our own ego we recognise the dignity of their life. If a pelican turns to look at me, if a king parrot swivels an eye towards me if I sneeze, if a scrubwren gets excited if I pick up a shovel, there is a delight in my soul which is unmatched. If a night heron stalks behind me while I am fishing at midnight, a volcanic astonishment thrills in me; I have been ignored by an animal, counted as an equal, so similar are our occupations.
None of these animals can open a can of baked beans, but that is the very least of our disparity. We are fellow creatures and notice each other. If only humans could show the same respect for the differences in our species.
From the editors
As children, most of us feel an instinctive affection for animals. But as we grow, many of us lose this strong tie to nature.
We believe that those who form an emotional connection with our native wildlife are more likely to work to protect it. That is why, in this book, we chose to explore our human connection with animals. Each contributor has written about a species or ecosystem with which they have forged a strong bond.
We felt the best way of encouraging an appreciation of Australia's unique animals was to allow readers to hear about them from people who are already in love, and to see them through the lenses of photographers who feel that deep connection as well.
This book was conceived after Australia's devastating bushfires in the summer of 2019–20 and put together during the COVID-19 pandemic that followed. Both events were tragedies. One of them was a tragedy shared with the animals who inhabit this country alongside us. The bushfires were the latest in a string of insults to the environment that supports our wildlife – habitat destruction, introduced species, and the warming oceans and more frequent natural disasters brought about by climate change are all sources of immense pressure, all threats to their survival, and ours.
The fires were a call to action, underscoring the fragility of our precious ecosystems and what is at risk of being lost. We pulled this book together during the pandemic isolation period, when people stuck at home longed to be outside again, surrounded by nature. Yet this period also gave many the opportunity to appreciate the nature that surrounds us – birds, beetles and butterflies in our backyards and nature strips – that we tend to overlook in the busyness of our daily lives.
Animals Make Us Human has two goals. The first is to raise money for the Australian Marine Conservation Society and Australian Wildlife Conservancy, both of which do invaluable work for wildlife and habitat conservation. The second is to highlight the vulnerability of Australia's distinctive terrestrial and marine wildlife in the face of climate change and other threats.
In this book you will find a range of perspectives, from professional wildlife researchers to well-known writers, telling their stories of connection and reflecting on their relationship with nature. As you'll see, when people write about animals, their humanity, love and compassion come to the fore.
We hope this book reminds you of what you love about our unique wildlife and inspires you to help protect it. This is why we are donating all proceeds from this collection to the AMCS and AWC. Like us, the writers and photographers who have contributed were not paid for sharing their work. We are indebted to every one of them, and we hope you, the reader, will find a deeper connection with our extraordinary wildlife through their words and images.
—Leah Kaminsky and Meg Keneally
From Australian Wildlife Conservancy
There's something awe-inspiring about returning a regionally extinct animal to its former home. The moment when it takes its first steps (usually followed by a giant leap) on the land where its ancestors once lived in abundance is a moment when we can celebrate healing our land, and righting our wrongs.
This is something that Australian Wildlife Conservancy has the privilege of doing around the country. Our fundamental mission is to protect all Australian native animals and their habitats. Considering the size of the continent, it's a big task. But it's worth it. We protect some of the last remaining populations of Australia's most threatened species at our sanctuaries, and also in partnership with governments, landholders and other conservation groups.
Australia is one of only seventeen 'mega-diverse' countries on the planet. Much of our unique fauna and flora cannot be found anywhere else on Earth. For tens of thousands of years, Indigenous Australians were custodians of this country – maintaining practices that ensured the survival of species, such as the platypus, the numbat and the iconic koala.
Today, unfortunately, we hold the record for the worst mammal extinction rate on the planet, and we have also lost (and continue to lose) many species of reptiles, amphibians, birds and plants. In the centuries since Europeans set foot in Australia, we have lost more than thirty mammal species. This extinction rate is not slowing down; rather, it is accelerating. We now have fifty mammal species at risk of extinction in the coming decade. Once gone, they are gone forever.
This extinction rate is largely driven by the influence of European settlement. Early settlers introduced animals that disturbed the ecological balance. Feral cats and foxes feast on species that have no defence against introduced predators. Rabbits compete for habitat and vegetation, further contracting the range of animals like the bilby that once covered more than 75 per cent of the Australian continent.
These settlers also oversaw a radical change in fire management across the landscape through the elimination of Indigenous practices, and completely misguided attempts to apply European landcare practices.
With numerous species already at risk, the bushfires during the summer of 2019–20 pushed many to the brink. A catastrophe of this magnitude forces us to consider what it is we value about our distinctive Australian wildlife. The fires in south-east Australia were a devastating but long overdue wake-up call to the grim future many species will face if we do not act now.
Australian Wildlife Conservancy has taken on the challenge to act to secure a future for this country's native species. As you read the stories in this book, I ask you to consider what it is you value about Australia and its wildlife, and what actions you can take. Together, we can make sure that tomorrow will be better than today for all of us, and for our unique wildlife. It's not too late.
—Tim Allard, CEO, Australian Wildlife Conservancy
From the Australian Marine Conservation Society
Australians have a deep bond with the ocean. As inhabitants of an island continent, it is our great privilege to grow up surrounded by coasts and seas with such amazing diversity of life and colour.
But that diversity is under threat. Global studies have revealed that our northern oceans are some of the last remaining healthy tropical seas in the world. An incredible 80 per cent of the marine species found in our cool southern oceans occur nowhere else on earth.
This means that if we lose them from our waters, they will be lost from the world forever.
Australians love dolphins, seals and sea turtles, but many of our unique marine species are under threat from unsustainable commercial fishing, harmed or killed as bycatch. Much of our sea life is still recovering from centuries of hunting for the global fur, meat and oil trades. Today, numerous species of seabirds, turtles, sharks and marine mammals are legally recognised as threatened – their future is at risk. If you and I don't protect them, who will?
For over half a century, the Australian Marine Conservation Society has been on the front line fighting for a healthier future for the marine life that surrounds our island home – those wonderful sea animals that intrigue us, delight us, uplift and inspire us.
We are a leading voice for Australia's ocean wildlife, staffed by a committed group of professional and passionate scientists, educators, advocates and volunteers around the country who defend our precious oceans.
Our mission is to tackle the big issues facing the sea. We create marine sanctuaries, combat plastic pollution, make our fisheries sustainable, and protect and recover our endangered ocean wildlife, from the coastline out to the deep blue sea.
We also work to stop and reverse global ocean warming – certainly the biggest threat to our seas, and most notably our Great Barrier Reef. Global warming causes marine heatwaves, which in turn cause coral bleaching. Through the Fight for our Reef campaign we work to speed up Australia's transition from dirty fossil fuels that drive ocean warming to secure, clean energy at the scale and urgency required to keep life safe here on our beautiful blue planet.
Despite the enormous ongoing threats to our marine life, we have a long, proud history of defending their ocean homes.
Since the 1960s, we've been running a rolling campaign to protect Australia's Great Barrier Reef. We led Australia's largest sea-based campaign, which culminated in the declaration of the Great Barrier Reef Marine Park World Heritage Area – one of the most beautiful natural wonders on our planet.
We played a key role in the public campaign to ban commercial whaling in Australia, with the last whaling station closing in Albany in 1978. Since then we've been part of the push to free our southern oceans from harpoons, which we achieved in 2019.
Working with communities around Australia, we've secured bans on shark finning, moratoriums on seabed mining and, together with our patron Tim Winton, protection for Western Australia's Ningaloo Reef (think whale sharks, manta rays and fringing coral reefs).
We've also achieved habitat protection for critically endangered grey nurse sharks in New South Wales and Queensland, as well as protection from gillnet fisheries for sea lions in Western Australia.
We're proud of our role in achieving the world's largest marine parks network. Special parts of our Australian oceans are now protected across sixty large marine parks, including the Coral Sea, Ningaloo, Lord Howe and the Kimberley, as well as deep undersea mountains off Tasmania, where hundred-year-old fishes swim and ancient corals grow.
Our single proudest achievement, however, is having the support and trust of over 250,000 members of the Australian community. As a conservation charity, our work is made possible by passionate ocean lovers from coast to coast.
A journey of a thousand miles begins with a single step, and we hope that with this book you'll join us on a journey towards a healthier blue planet.
—Darren Kindleysides, CEO, Australian Marine Conservation Society
---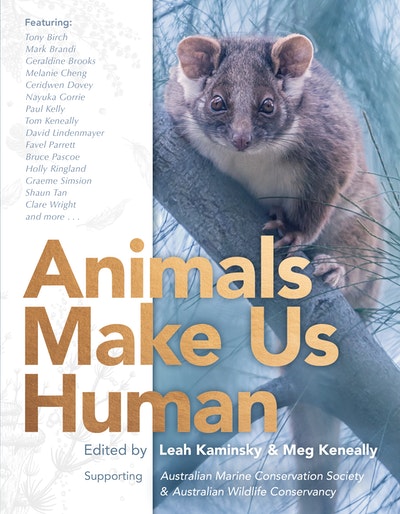 A fundraiser for our wildlife, from land, sea and sky. Proceeds go to the Australian Marine Conservation Society and Australian Wildlife Conservancy.
Buy now
Buy now
---