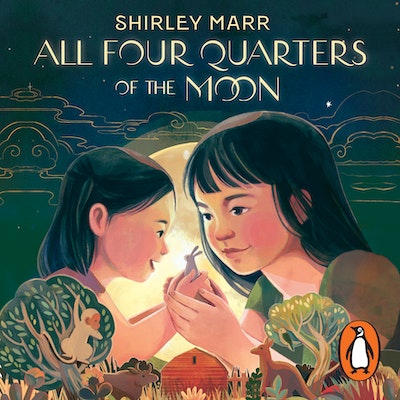 Published:

5 July 2022

ISBN:

9780143778592

Imprint:

Penguin Random House Australia Audio

Format:

Audio Download

Length:

6 hr 25 min

Narrator:

Angela Tran

RRP:

$15.99
All Four Quarters of the Moon
From the CBCA award-winning author of A Glasshouse of Stars
---
---
---
A big-hearted story of love and resilience from CBCA award-winning author Shirley Marr, starring sisters and storytellers Peijing and Biju, a lost family finding their way, a Little World made of paper, a Jade Rabbit, and the ever-changing but constant moon.

Making mooncakes with Ah Ma for the Mid-Autumn Festival was the last day of Peijing's old life. Now, adapting to their new life in Australia, Peijing thinks everything will turn out okay for her family as long as they have each other - but cracks are starting to appear.
Her little sister, Biju, needs Peijing to be the dependable big sister. Ma Ma is no longer herself; Ah Ma keeps forgetting who she is; and Ba Ba, who used to work seven days a week, is adjusting to being a hands-on dad.
How will Peijing cope with the uncertainties of her own little world while shouldering the burden of everyone else? And if Peijing's family are the four quarters of the mooncake, where does she fit in?
'An enchanting, touching, perfectly crafted story that will live in my heart for a very long time. A novel of family, friendship, culture, honour and identity that is both timely and timeless. I laughed and cried so many times, and felt as if my soul and my worldview were both expanding. An instant classic.' KATE GORDON, author of CBCA award-winning Aster's Good, Right Things
Published:

5 July 2022

ISBN:

9780143778592

Imprint:

Penguin Random House Australia Audio

Format:

Audio Download

Length:

6 hr 25 min

Narrator:

Angela Tran

RRP:

$15.99
Praise for All Four Quarters of the Moon
All Four Quarters of the Moon is an enchanting, touching, perfectly crafted story that will live in my heart for a very long time. A novel of family, friendship, culture, honour and identity that is both timely and timeless. I laughed and cried so many times, and felt as if my soul and my worldview were both expanding. An instant classic.

Kate Gordon, author of CBCA award-winning ASTER'S GOOD, RIGHT THINGS
Gentle, observational prose carries the novel's intentionally paced events, folk tale references, organic character growth, and a heartening message of embracing change and impermanence.

Publishers Weekly
Fans of sisterhood stories are in for a heartfelt treat with this gentle novel centered around family, resilience, and immigration . . . Taken from the author's own experiences, the touching characters and relationships in this story will linger with readers for a long time.

Van McGary, Booklist (Starred review)
A big-hearted story and a beautiful ode to sisters. In a lyrical, moving way Biju and Peijing experience the good, the bad and the wonder that comes with culture shock . . . Together, they navigate this time through the safety of magic, myth and imagination in storytelling. It's very real and very inspiring . . . I couldn't recommend it more.

Better Reading
All Four Quarters of the Moon is a story about a young girl. Of two sisters. Of everlasting friendships. Of cultures and growing up. Of the fragility and preciousness of life. But at the very centre of it, a heartwarming story of family . . . I am truly humbled by the reading experience.

Tien's Blurb
Highly recommended . . . A truly heartwarming and poignant story for middle years students

ReadPlus
Peijing's story is enchanting and lyrical, with a big heart . . . These timely and timeless stories could be destined to become classics, a reflection of a broader and diverse Australia . . . It's lyrical, magical, beautiful, and comforting.

Ashleigh Meikle, The Book Muse
CBCA Book of the Year Awards
Notable Book • 2023 • Younger Readers