'That memory will stay with me for a long time, it was really touching and something I will always remember.'
Shirley Marr has drawn on her own experiences of moving to Australia and relationship with her sister to create her big-hearted new book All Four Quarters of the Moon.
Her story centres around love and resilience, with the sisters the storytellers as they navigate their new world in Australia.
'It's about the journey of the sisters finding themselves in this new world and how they cope with what they find difficult,' Shirley said.
'What is joyous and fun as well is they aren't doing it alone, but doing it together as a little team.'
Shirley was inspired by her relationship with her little sister, their journey to Australia from Malaysia in the 1980s, and the strange new world they found themselves in.
'I was six when I came from Malaysia where my parents were born. Central to my book is the little world the sisters make together, which is a world made of paper and they go into this imaginary play world and that is a very real thing,' she said.
'When we were little my sister and I would make these landscapes and animal burrows and draw tiny little animals. I don't know what it was about small things but we were fascinated with it and made a tiny little world of our own. I remember cutting little animals to populate this world and occasionally when I look at boxes of old things little animals fall out of nowhere and I think back to that time and imaginary world and when we were still learning to speak English and adapt while escaping into our world that we could control and where we felt safe.'
Navigating a whole new world
In her book, Shirley wanted to convey how difficult it was to start at a new school in a country where she didn't understand the language and certain aspects of the culture.
'You feel stupid, but you're not,' she said.
'You know the coursework, you've been to school, you just don't understand the language well enough to do well. I wanted to show that and how hard it is. Learning a new language and making friends and discovering new things, that in itself is a journey and that can be really interesting.'
Shirley said the biggest differences she noticed moving to Australia were the food, people's behaviour, language and culture.
'In my book I wanted to draw on tiny things as well. I remember when my dad bought me a packet of Cheezels but I knew them as Cheese Rings. I loved Cheese Rings and I ate a Cheezel and it wasn't quite the same as back home and I was devastated,' she said.
'But I did get to discover new things like Tim Tams. When you're a child, it's little things like that that seem more important than the big things. Everything seems to be amplified when you're little and small things mean a lot. One of the themes I wanted to get across in my book is how small things for little kids can be big things in their world.'
Author's heartwarming memory of new life in Australia
Shirley wanted to write a story exploring the relationship between big and little sisters and drew on her own personal relationship with her sibling.
'She was my muse. I basically worked on that dynamic, which I like, because it's universal the older child always feels more responsible and that they have to be the mature one while the little child seems to be able to get away with so much,' she said.
'I just feel so thankful to have a sister. If I had to do this journey as an only child it would have been so hard and so lonely and I would have turned out a different person. Because we had each other we had someone to talk to and make our little world with. As we get older I just appreciate how much that relationship means and it was something I really wanted to write about.'
Shirley said one moment she remembers sharing with her sister was their first day of school in Australia.
'I went to primary and my sister went to kindy and I got a call from the teacher early on in the day to come down and see my sister because she was crying because she was so overwhelmed,' she said.
'When I sat with her and talked to her, I was thinking out of all the people she wanted to talk to, she wanted to talk to me, her big sister. That's when I felt that this was something very special and I'm really glad to have her, and she have me. That memory will stay with me for a long time, it was really touching and something I will always remember.'
Author hopes new book fosters empathy
Shirley wanted to let readers see her journey through her eyes, to see what it was like for her family when they moved to Australia and the challenges they faced.
'We had resilience and wanted to fit in and carry on with our lives and become accepted by the community and find our place here. My goal is to give a little insight into what it is like and hopefully that will foster a bit more understanding, acceptance and kindness.'
---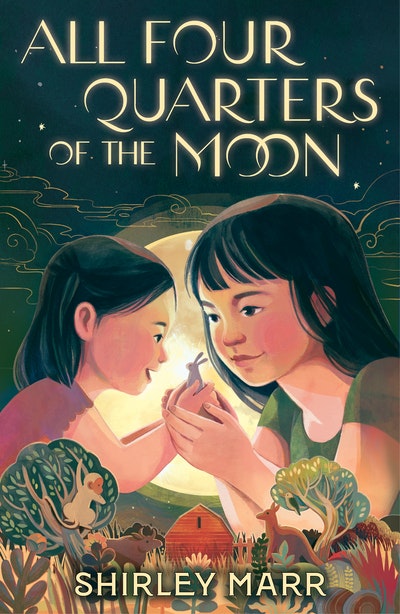 A big-hearted story of love and resilience, starring sisters and storytellers Peijing and Biju, a lost family finding their way, a Little World made of paper, a Jade Rabbit, and the ever-changing but constant moon.
Buy now
Buy now
---