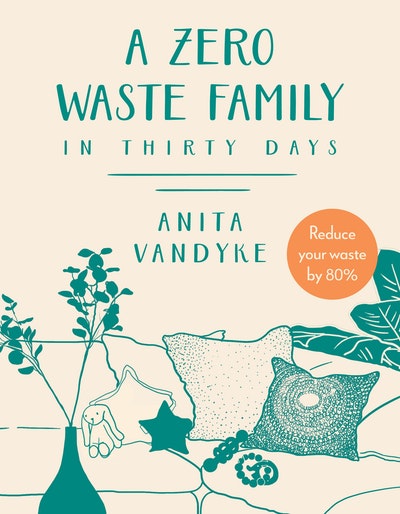 Published:

1 December 2020

ISBN:

9780143796817

Imprint:

Penguin Life

Format:

Trade Paperback

Pages:

252

RRP:

$19.99
A Zero Waste Family
In thirty days
Extract
SHARE IN THE COMMONS
How many of us know our neighbours? Interact with our greengrocer? Know the names of the people who make our clothing? I remember when I was growing up in China, everyone knew each other on the street where we lived. The whole neighbourhood knew my grandparents, because my grandfather ran a telephone stand for the street. There was a printing press next door and childcare provider down the road. Further along the street was a wet market for fresh meat and a produce market in the local square. My grandfather was a stoic man – he didn't say much – but when he was taking me for our daily walk, he would stop and talk to everyone. He took great pride in being part of the community.
Coming to Australia, the greatest difference I noticed (at the ripe old age of four) was that no one spoke to each other. No one greeted us in the street, stopped to say hello or dropped in for some tea. The only family I had was my immediate family. It was a lonely existence. In Australia, I felt materially wealthier but poorer for the loss of our community.
The term 'commons' comes from the traditional English legal term for common land, or shared land that everyone was allowed to access. I'm using it here to mean our communities and all the shared resources within them. This includes people who look out for each other and for children in the community, people who respect water and the land on which they live because they know it has to be shared, and the sense of collective spirit that we are all part of something bigger. Along the way society has sacrificed the commons to make way for common wealth. We are individually richer than we've ever been in history, but we are in many ways spiritually poorer for it.
START WITH A ZERO WASTE MINDSET
Sharing in the commons is an obvious way you can lead by example and demonstrate how to live a truly zero waste life. In sharing our resources, we are inherently preventing waste by using everything to its fullest capacity. A zero waste mindset means that we can all be zero waste engineers and artists; we can all engage in creative problem-solving to find collective solutions for problems. It encourages teamwork, resilience and working towards a common goal.
Today is a day to share in the commons and embrace being part of the community again. Here are some simple ways to encourage this new mindset for you and your family:
don't be afraid of your neighbours – If you don't know your neighbours, get to know them! Say hello when you see them out and about. Invite them over for a cup of tea and conversation. We live in world where we've become fearful of strangers – let's see what happens when we try to be more open.
contribute to your community – See if you can spend a few hours a month volunteering and getting to know others in the community. This could be at your local community garden or at a charity shop, or you could form a neighbourhood group for an environmental event like Clean Up Australia Day. Organise a 'block party' for your street. Don't be afraid to be the instigator of a great plan.
support local business owners – I avoid large supermarkets and shopping centres as much as possible, and choose to buy most of my produce from local businesses. The costs are almost the same, but the relationships you develop are priceless. I love that when I walk around my neighbourhood, everyone knows me and I know them.
visit local parks – Take advantage of all the 'green spots' around you and walk to them on a regular basis. Give yourself a daily 'green prescription' to visit a local park. There's a great activity that originated in Sweden called 'plogging', which combines jogging with picking up rubbish. Whenever you are going for a run or a jog, pick up some pieces of rubbish that are lying around and dispose of them thoughtfully. I've even put some gardening gloves in my pocket before I head out for a run as a reminder to pick up rubbish when I see it. Ask your children to do the same.
use your local library – My local library is a hive of activity and the centre of the community. It runs so many programs and events for young and old. One of my favourite memories is watching my daughter at rhyme time for 0–2-year-olds at the library, and seeing other people without children come and join in the fun.
free activities – In San Francisco, they have free swimming lessons for babies under five months. National parks and botanical gardens, such as The Royal Botanic Garden in Sydney, have free activities for children like sensory experiences or lessons about Australian wildlife. Check out the websites of public and cultural institutions near you, and sign up to newsletters that list what's available in your city. Museums, opera houses, concert halls and music venues all have free activities for children too. There's no need to spend hundreds of dollars on amusement parks when there are so many free activities near our homes.