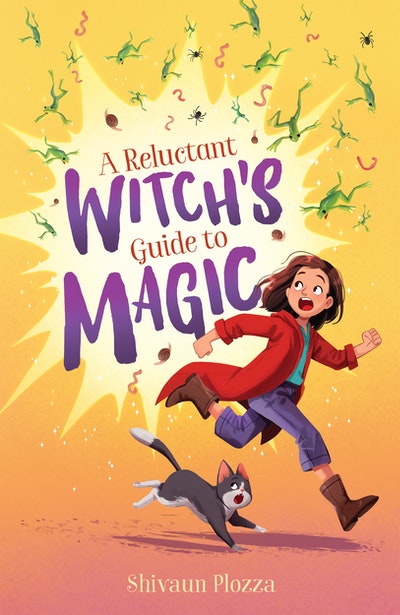 Published:

5 July 2022

ISBN:

9781761043994

Imprint:

Puffin

Format:

Paperback

Pages:

288

RRP:

$16.99
A Reluctant Witch's Guide to Magic
---
---
---
Kiki from Kiki's Delivery Service meets Cressida Cowell in this funny, quirky middle-grade fantasy about Willa, who must unravel a witchy mystery to save her city, her friends and herself.
Willa is just an ordinary non-magical girl, living in the Wild - a city squished between two warring witch covens. She spends her days dodging wayward spells - from raining frogs to dancing chickens - all because of the witch war!
No wonder she hates witches.
But one day she's not ordinary at all. She discovers she does, indeed, have magic and she must choose between the two witch covens or she'll explode! And her attempts to control her magic are interrupted by a rogue witch, who begins nefarious spells against the Ordinary Folk. What does the witch want and what does it have to do with Willa?
Published:

5 July 2022

ISBN:

9781761043994

Imprint:

Puffin

Format:

Paperback

Pages:

288

RRP:

$16.99
Other books in the series
Praise for A Reluctant Witch's Guide to Magic
Plozza's absorbing novel is full of inventive (and occasionally hilarious) magic; the spell casting, via wild exclamations and intricate dance steps, is particularly entertaining. A bewitching introduction to an original magical world.

Emily Graham, Booklist (US)
Juxtaposing Willa's earnest internal growth with an absurd and bureaucratic magical realm, Plozza (The Boy, the Wolf, and the Stars) creates a sense of alienation in the tween, even as she establishes new bonds, in this offbeat read with an archetypal heroine.

Publishers Weekly (US)
. . . intrigue, danger, and fast-paced, heart-stopping adventures . . . magical books, an army of cats . . . and a rogue witch who may cause total destruction. Exciting and highly imaginative.

Kirkus Reviews
Article
Article
Article