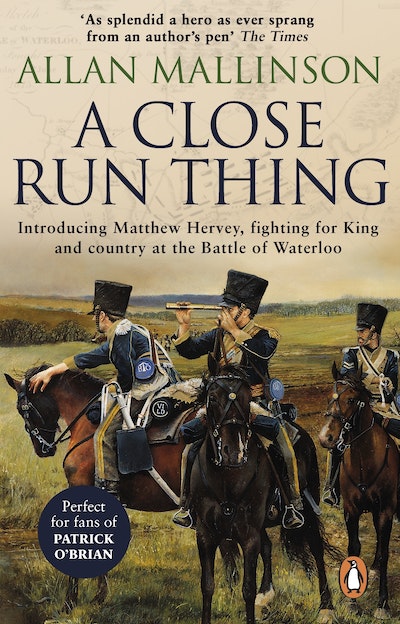 Published:

1 July 2010

ISBN:

9781407057354

Imprint:

Transworld Digital

Format:

EBook

Pages:

528
A Close Run Thing (The Matthew Hervey Adventures: 1)
A high-octane and fast-paced military action adventure guaranteed to have you gripped!
---
---
---
An heroic tale from the Battle of Waterloo and the final days of the Napoleonic Wars that introduces an unforgettable new fictional hero in Matthew Hervey of the 6th Light Dragoons...
From the Sunday Times bestselling author Allan Mallinson, a riveting read with the perfect combination of hero, history and adventure - perfect for fans of Patrick O'Brian and Bernard Cornwell.
"Convincingly drawn, perfectly paced and expertly written...A Joy to read" - Antony Beevor.
"I can't wait to read the next in the series..." - ***** Reader review.
"A captivating read..."- ***** Reader review.
"Allan Mallinson is a truly gifted storyteller..."- ***** Reader review.
*************************************************************************
Waterloo 1815. The war against Napoleon Bonaparte is raging to its bloody end at Waterloo.
A young officer - Cornet Matthew Hervey - going about his duty suddenly finds himself at the crux of events.
The decisions he has to make - both military and romantic - will change the course of his life, and possible have far reaching political consequences...
A Close Run Thing is the first book in Allan Mallinson's Matthew Hervey series. His adventures continue in The Nizam's Daughters.
Published:

1 July 2010

ISBN:

9781407057354

Imprint:

Transworld Digital

Format:

EBook

Pages:

528
Praise for A Close Run Thing (The Matthew Hervey Adventures: 1)
'Allan Mallinson's grasp of the technical side of his subject is effortless and impressive...The portrayal of the men of all ranks is excellent.

Spectator
'An epic adventure...a book with a texture as rich as cut velvet, and a storyline as detailed as a Bruges tapestry. Patrick O'Brian may no longer be with us. But Mallinson has obviously taken up the historical baton'

The Birmingham Post
'As astonishingly impressive debut...Convincingly drawn, perfectly paced and expertly written...A joy to read'

Antony Beevor
'Now at last a highly literate, deeply read cavalry officer of high rank shows one the nature of horse-borne warfare in those times: and Colonel Mallinson's A Close Run Thing is very much to be welcomed.'

Patrick O'Brian
'Rarely does one read the same book twice in one week. Mallinson writes with style, verve and the lucidity one would expect from a talented officer of l'arme blanche...His breadth of knowledge is deeply impressive even if it is modestly entwined in the fabric of this epic narrative. Kick on, Captain Hervey, we cannot wait for more'

Country Life
'Splendid news...Captain Matthew Hervey of the 6th Light Dragoons and ADC to the Duke of Wellington is back in the saddle...A marvellous read, paced like a well-balanced symphony. This is more than a ripping yarn...I look forward enormously to hearing more of Hervey's exploits; he is as fascinating on horseback as Jack Aubrey is on the quarterdeck'

The Times
'The account of the Battle of Waterloo is an imaginative feat of high order, owing as much as to thorough scholarship as it does to compassion and sensibility. Brilliantly conveyed.'

Daily Telegraph
'The scope of A Close Run Thing is quite breathtaking...A sustained piece of bravura writing'

Observer
'Treads a middle course between the subtleties of O'Brian and the simplicities of Cornwell...An exciting, fast-moving story, full of bloody hacking with sabre and tulwar, which can at the same time be reflective and thoughtful about its setting and situation'

Evening Standard