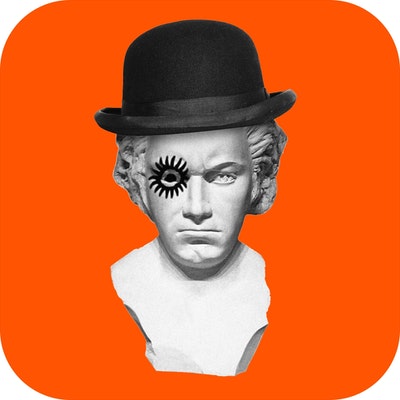 Published:

6 September 2012

ISBN:

9781448151363

Imprint:

Cornerstone Digital

Format:

App

Pages:

150

RRP:

$14.99
A Clockwork Orange
Restored Edition
---
---
---
A Clockwork Orange for iPad is the definitive and fully interactive edition of one of the most influential books of the twentieth century
First published in 1962 and now celebrating its fiftieth birthday, A Clockwork Orange is Anthony Burgess's most famous novel and a work that forever changed our literary, musical and visual culture. Its linguistic verve, violent content and the moral questions it raises are as relevant now as they ever were. This new edition offers a unique reading experience, presenting the text of the novel as Anthony Burgess originally wrote it - alongside a spectacular array of additional material.
Read the restored edition of the text; examine the previously unpublished, full, original 1961 typescript complete with annotations, illustrations and musical scores; listen to audio clips of the author discussing his work and reading from the text and discover the inspiration and evolution of A Clockwork Orange.
A treat for adventurous readers, it will require small effort to reap enormous enjoyment. As Alex himself might put it, 'It will make you smeck like bezoomny and bring tears to your glazzies. It's a real horror show.'
Now available on the iTunes store.
Published:

6 September 2012

ISBN:

9781448151363

Imprint:

Cornerstone Digital

Format:

App

Pages:

150

RRP:

$14.99
Praise for A Clockwork Orange
A terrifying and marvellous book.

Roald Dahl
A brilliant novel . . . a tour-de-force in nastiness, an inventive primer in total violence, a savage satire on the distortions of the single and collective minds.

The New York Times
I do not know of any other writer who has done as much with language as Mr Burgess has done here - the fact that this is also a very funny book may pass unnoticed.

William Burroughs
Burgess's dystopian fantasy still fascinates as it clocks up 50 years

The Times
The 50th anniversary of Anthony Burgess's A Clockwork Orange is celebrated this weekend with the publication of a handsome new hardback edition (the edges of its paper are orange!) by Random House (£20). It is compiled and edited by Andrew Biswell – Burgess's biographer – and has a foreword by Martin Amis, as well as unpublished material including a 1972 interview with Burgess, the prologue to his 1986 A Clockwork Orange: A Play With Music, and his annotated 1961 typescript of the novel, complete with his doodles in the margins. His picture of an orange with a spring poking out of it is particularly special

Independent
We might therefore suppose that Burgess would appreciate the publication of a "restored edition" of A Clockwork Orange (Heinemann, £20; US, W. W. Norton, $24.95) to mark the fiftieth anniversary of the publication of his best-known work. Expertly edited by Andrew Biswell, and including a foreword by Martin Amis and a wealth of supplementary materials – explanatory notes, an expanded glossary of Nasdat, contemporary reviews by Kingsley Amis and Malcolm Bradbury among others, essays by Burgess and the "Prologue" and "Epilogue" to his musical stage version (1987) – the volume grants Burgess the kind of salutatory treatment he bestowed on others.

TLS
A terrifying and marvellous book.

Roald Dahl
A brilliant novel . . . a tour-de-force in nastiness, an inventive primer in total violence, a savage satire on the distortions of the single and collective minds.

The New York Times
I do not know of any other writer who has done as much with language as Mr Burgess has done here - the fact that this is also a very funny book may pass unnoticed.

William Burroughs
Burgess's dystopian fantasy still fascinates as it clocks up 50 years

The Times